Moving is a major activity for seniors. Not only do you have to handle the specifics of the move, but you also have to consider your family's needs and worry about the logistics of packing.
By hiring professional movers, you can prep better for your move.
We present some tips to help you get started.
When it comes to long-distance moves for seniors and elderly people, a lot needs to be done to ensure safety, comfort, and ease.
Switching homes or downsizing to a smaller apartment, the moving process always needs to be organized to perfection.
The process starts from you planning the move, moving your items, and finally settling into your new home.
We understand how difficult this can be for elderly people.
This is why we recommend hiring movers' help.
But before you hire that moving company, there are some details you need to iron out first.
Every moving plan is unique; it is, therefore, imperative that you take a step-by-step approach to the whole process.
This is our top 7 moving tips for seniors: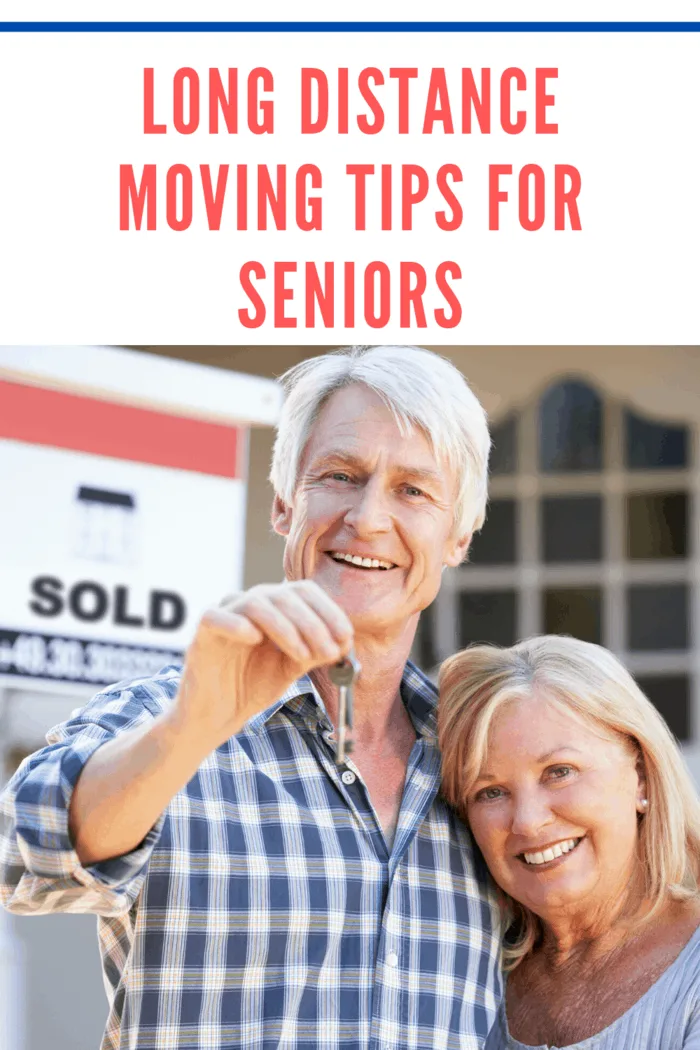 7 Moving Tips for Seniors
Make a Moving Checklist
Every move starts with a plan.
A checklist helps to certify your moving plans by breaking the whole process into tasks.
By working closely with this seniors moving checklist, you can stay on track before moving day.
To create a feasible moving checklist, work backward from your moving date, and create a timeline of events that need to be completed before the move.
Here are some essential tasks to include in your moving checklist:
Research Moving Agents:
Before you commit to any specific plans, contact moving companies, and request a quote.
Quality agents are very professional in their business.
Before acknowledging an estimate, the moving company must contact you by phone or in-person.
Remember to outline all your needs to get a full quote, so as to avoid moving day surprises.
Downsize Early:
Even if you don't have a moving date yet, you can still initiate the process.
Start by identifying clutter areas in your home.
These spaces often include the closets, garage, attic, and basements.
Sift through cabinets and drawers as well. By downsizing little by little, each day, you'll be ready to move in no time.
Communicate With Moving Partners
As a senior, your family may be moving with you.
If this is the case, it's important to keep them apprised of the moving process, as it progresses.
Consistent communication is needed to manage the stress of moving.
By keeping everyone in your family aware of the moving timeline, you can all sync your packing activities before moving day.
Visit the New Home
Whenever you can pay a visit to your new home, especially if it's really far away.
This gives you some context of what the residence needs to feel like home.
Carrying your family along allows everyone to understand what it feels like to live in the new home and neighborhood.
But don't get carried away; you still need to check your new home for appropriate living conditions such as mobility, room settings, and proximity to healthcare institutions.
Ensure you complete a few trips to your new home, at least two months before the scheduled moving date.
Notify Contacts of Impending Move
A change of address changes a lot of things.
Not only does it distance you from friends and family, but it also affects the commitments you have already made.
Before you complete a move, notify your bank, local associations, publication outlets, post office, and clinic of your impending move, a week before your move.
Ensure you cancel utility subscriptions as well, but only after you've cleared out of your old apartment and settled into your new home.
Organize Your Healthcare
Moving is a time-consuming activity, and it can cause you to forget very important commitments such as your health.
As an elderly person, your health is more important than anything else.
Healthcare is definitely not something to be put off.
So, before you move, it's important that you iron out the details of a new healthcare plan if need be.
Inform your doctors of your impending move and ask for healthcare recommendations in your new location.
If you're moving out of the country or to a different state, you should contact relevant health insurance providers in your destined locations.
With the help of your designated medical team, the details of your new health insurance plan can be ironed out rather quickly.
Lastly, schedule one final doctor or dental appointment before you move.
By doing this, you can receive really valuable care and advice that'll ease the stress of moving and settling down elsewhere.
Sort What You Can
Granted, you don't have to pack every single item or carry heavy boxes yourself, but you still need to do some groundwork.
By decluttering your home, you can better understand what items need to be moved, and what needs to be got rid of.
Use labels to keep track of your most valuable items, and donate or sell what you don't need.
As an elderly person, you only have to organize your items to a satisfactory degree; the moving company will handle the rest.
Hiring a moving company to handle your needs is still your best bet, as a senior, to get things done smoothly and efficiently.
Book Your Movers Early
Expert movers can get booked up quickly, especially during weekends or summertime.
After sorting and organizing your possessions, call your moving company and book a date immediately.
Remember, hiring a moving company is the best option for seniors, so you'll need to get them involved from the jump.
By hiring the right movers, you don't need to worry about packing items, lifting heavy boxes, and renting a truck.
They do all that for you.
An expert moving company creates unique moving plans for seniors and handles the entirety of the long-distance move with precision.
Click here to request a moving estimate from the best moving helpers for seniors.