Summer has us making ice cream to cool down. We are loving the adventure of making and trying new flavors. We recently made Lime and Mandarin Orange Ice Cream and it's too good not to share.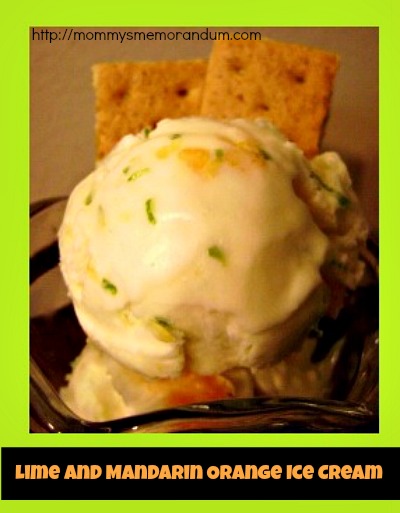 Ingredients:
1 1/2 cups whole milk
1/2 cup lime juice
1/2 cup heavy cream
Dash of salt
1 (14-ounce) can sweetened condensed milk
1/4 sugar
1 Tablespoon lime zest
Mandarin orange slices
graham crackers for garnish
Directions:
In a large bowl, combine milk, lime juice, heavy cream, salt, sugar, sweetened condensed milk and lime zest; whisk to combine until sugar is dissolved.
Pour mixture into your ice cream maker, and freeze according to manufacturer's instructions. during last five minutes add Mandarin orange slices.
Spoon ice cream into a freezer-safe container, and cover and freeze for 1 hour or until firm. Garnish with graham crackers.