Learn the "Arctic Shake" from #NormOfTheNorth and #ShakeYourBearThing
I just saw a commercial for the movie NORM OF THE NORTH and it looks adorable!
My mom, when I was little, use to always tell me how much she loved the polar bear.
It's one of my fondest memories from my childhood visits to the zoo.
I think Mom would love Norm!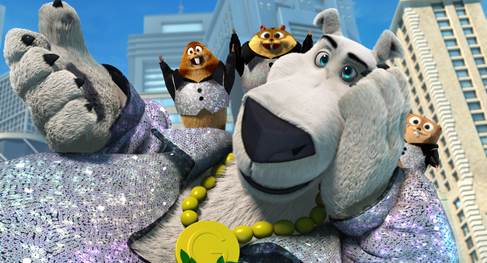 Shake your bear thing! Move to the groove and shake your tail with the arctic's chillest bear – NORM!
Learn the "Arctic Shake" in this all-new clip with Norm before he heads to theaters in the heart-warming family adventure NORM OF THE NORTH on JANUARY 15, 2016!
Get ready to Dance, Dance, Dance!
"Arctic Shake" Clip
NORM OF THE NORTH
In Theaters January 15, 2016
A polar bear of many words, Norm's greatest gripe is simple: there is no room for tourists in the Arctic.
But when a maniacal developer threatens to build luxury condos in his own backyard, Norm does what all normal polar bears would do…he heads to New York City to stop it.
With a cast of ragtag lemmings at his side, Norm takes on the big apple, big business and a big identity crisis to save the day.
Lionsgate presents a Splash Entertainment production.
Cast:
Rob Schneider
Heather Graham
Ken Jeong
Gabriel Iglesias
Loretta Devine
Michael McElhatton,
Colm Meaney
Bill Nighy
Directed by:
Trevor Wall
Screenplay by:
Jack Donaldson
Derek Elliott
Produced by:
Ken Katsumoto, Mike Young, Liz Young, Steve Rosen
#NormOfTheNorth
#ShakeYourBearThing