It wasn't until my thirties that I came to like coffee. A few years later, it was decided that I really love coffee. I like it black, with flavored creamers and syrups, iced and added to my recipes. This being said, coffee brewing was not one of my fortes. Ask my mom. She came to visit one year and I made a pot of coffee so stout we may as well have eaten the beans and swished it down with water. The next pot of coffee was too weak. I've made pots of coffee Charlotte the Great has deemed, "undrinkable"–and her only requirement is that it be piping hot and black!
Keurig is about to change all that and deliver a perfect cup of joe every single time.
Northeast Coffee offers Keruig brewing systems at a fraction of the cost–plus you can take advantage of the $50 Keurig Rebate that's floating out there.
I was really surprised at the price difference Northeast offers. Here's a look my research on the Keurig B-40 Elite Brewing System:
Here's Walmart: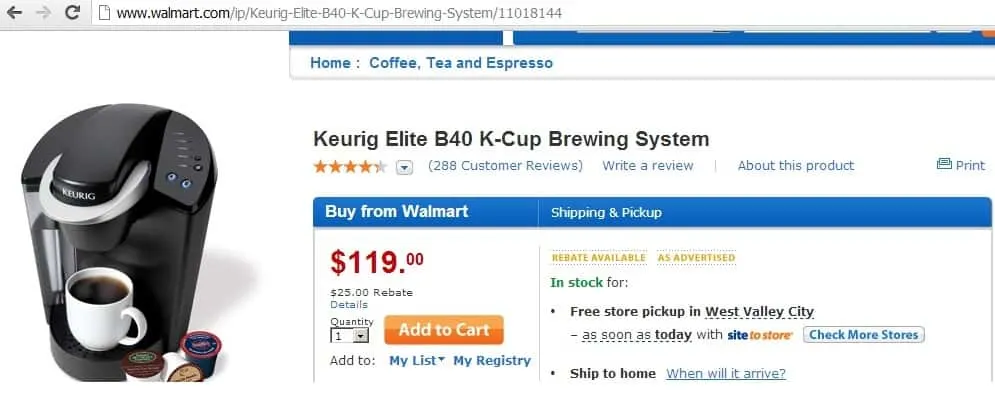 Here is Northeast Coffee: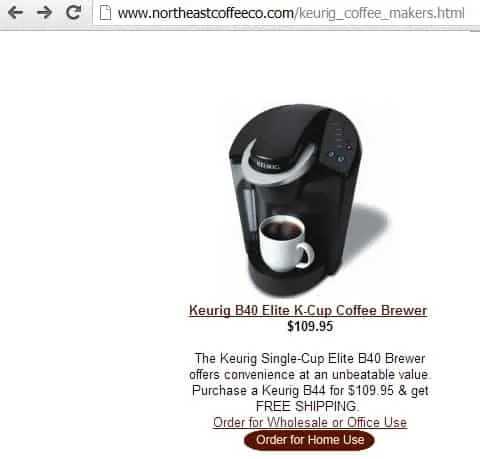 It's a savings of $10 and with Northeast Coffee, it's delivered directly to your door with FREE Shipping!
It's not just Keurig Brewing Systems Northeast beats the competitor on when it comes to price. Once you have the Keurig, K-cups will be on your shopping list. I used Green Mountain Coffee's Breakfast Blend for price comparison.
Walmart offers (2) 18 count boxes of Green Mountain Coffee's Breakfast Blend for $22.96 making each K-Cup .6377777 cents.
At Northeast Coffee a 24 count box of Green Mountain Coffee's Breakfast Blend is $12.75, making each K-cup .53125 cents.
Those cents add up!
In addition to the low pricing on both the brewing systems and K-Cups, Northeast Coffee offers one of the largest selections of K-Cups anywhere. Whether you are tried and true to one particular brand and coffee, or more adventurous and looking for new flavors in every cup, you'll find something to love with Northeast Coffee.
My Keurig B-40 Elite Brewing System arrived today and I've taken it for a test spin. I am impressed at the ease and perfection of this machine. Here's how simple it is!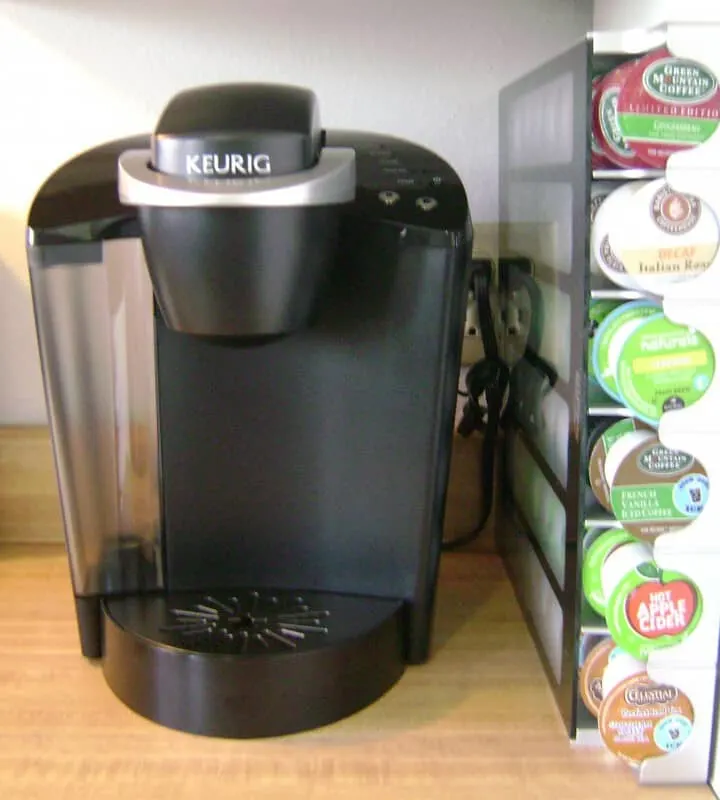 Let's start with how sleek the Keurig B-40 Elite Brewing system is. It is lovely out on the counter and doesn't take up a whole lot of room.
The process is simple. Begin by carefully removing the water reservoir lid.
Next, remove the water reservoir by lifting up and away from the brewer.
Rinse Reservoir, then fill with water. Bottled or filtered water is recommended.
Return the filled reservoir back to the brewer.
Return lid to the filled reservoir.
Press the Power Button.
Wait until both Brew Buttons are illuminated. It takes approximately 4-minutes.
Place mug on the tray. For larger mugs or travel containers, the tray slides out to accommodate the extra height.
Lift the Keurig Brewer Handle.
Choose your K-Cup!
Place the chosen K-cup portion pack into K-cup Assembly Housing.
Lower the Keurig Brewing Handle.
Press the appropriate cup size: 7.25 oz or 9.25 oz.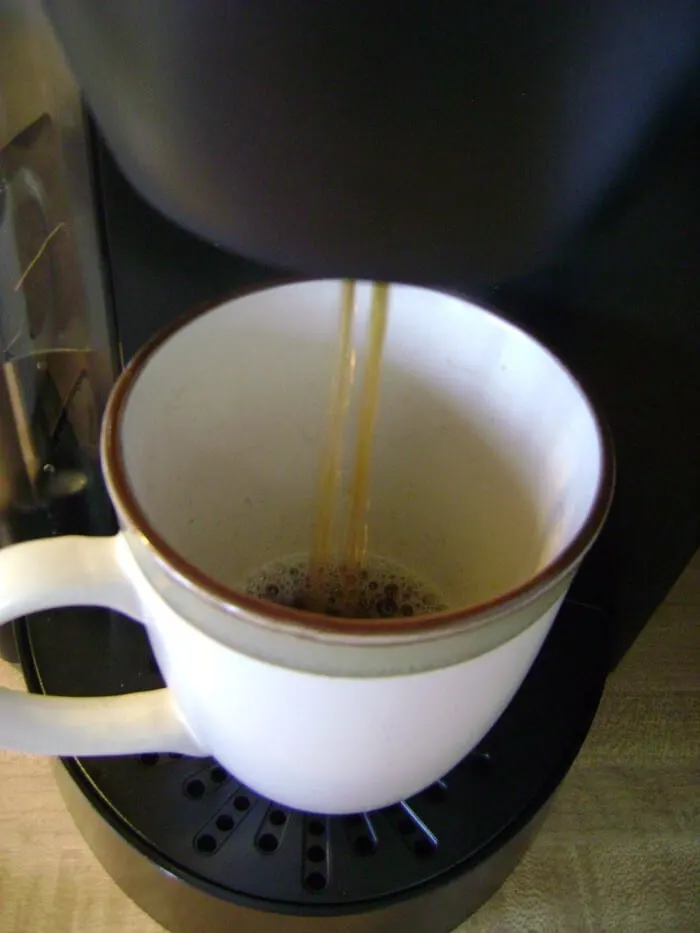 Voila! Coffee!
Now if I could only get it to come out like this:
Northeast Coffee Company prides itself on its HUGE selection of K-Cups and Low, Low everyday prices, as well as a great selection of KEURIG coffee brewers. The company is well-established (three generations) and does not use gimmicks, you will just find some of the lowest prices around. The service is both Fast and Friendly and usually the same days as long as the order is placed before 2:30 pm EST.
They offer a GREAT selection of K-cups, loose leaf teas, Keurig Brewers, and Vue Packs on the NORTHEAST COFFEE COMPANY site. Any orders over $75 receive FREE SHIPPING. NORTHEAST COFFEE COMPANY has some of the lowest prices on K-Cups, their 24 K-Cups are just a few pennies more than most 12 and 18 K-Cups with other companies.
Get Social with Northeast Coffee Company and stay up to date on the best prices and rebates for Keurig K-Cup Brewers and K-Cups and Vue Cups.
Don't forget to enter for your chance to win your very own
Disclosure of Material Connection: I received one or more of the products or services mentioned above for free in the hope that I would mention it on my blog. Regardless, I only recommend products or services I use personally and believe will be good for my readers. I am disclosing this in accordance with the Federal Trade Commission's 16 CFR, Part 255: "Guides Concerning the Use of Endorsements and Testimonials in Advertising.".