We all know that a dog is a man's best friend, but while dogs are generally known for the lifelong loyalty and companionship they offer, that's not all that they can do.
Working dogs can effectively learn to put their extraordinary natural abilities to work with intensive training.
This equips them to perform serious jobs in various fields, all of which serve to assist us humans daily.
We share the types of jobs dogs do and excel at in this article.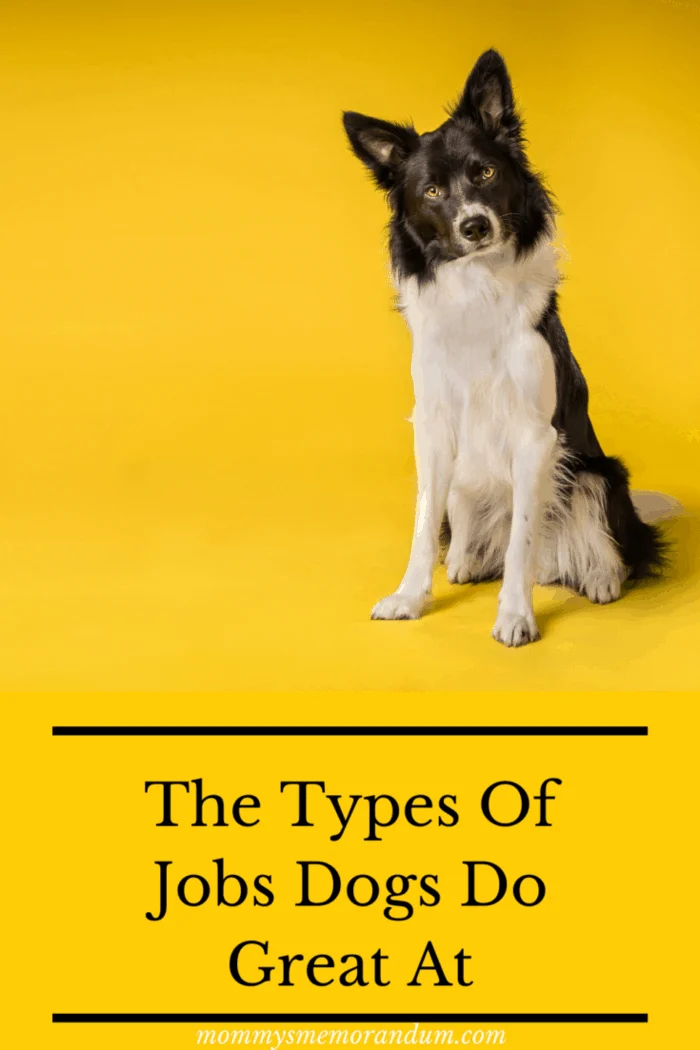 Below are some of the most prominent jobs that our four-legged companions excel at.
The Types Of Jobs Dogs Do Great At
Therapy and Emotional Support
Animal-assisted therapy relies on using trained and certified animals to aid patients along their road to recovery from emotional and psychological trauma.
While almost all domestic animals can be trained to do this job, dogs are generally the most popular emotional support animals (ESAs).
Perhaps it's their inherently outgoing personalities, or maybe it's their instinctively supportive nature.
Whatever it is, there's no denying that a dog makes the perfect animal for emotional support for patients struggling with their emotional and psychological wellbeing.
A therapy dog's sole purpose is to make you feel better by providing unconditional love, physical comfort, and emotional support when needed most.
It's just one of the many types of jobs dogs do.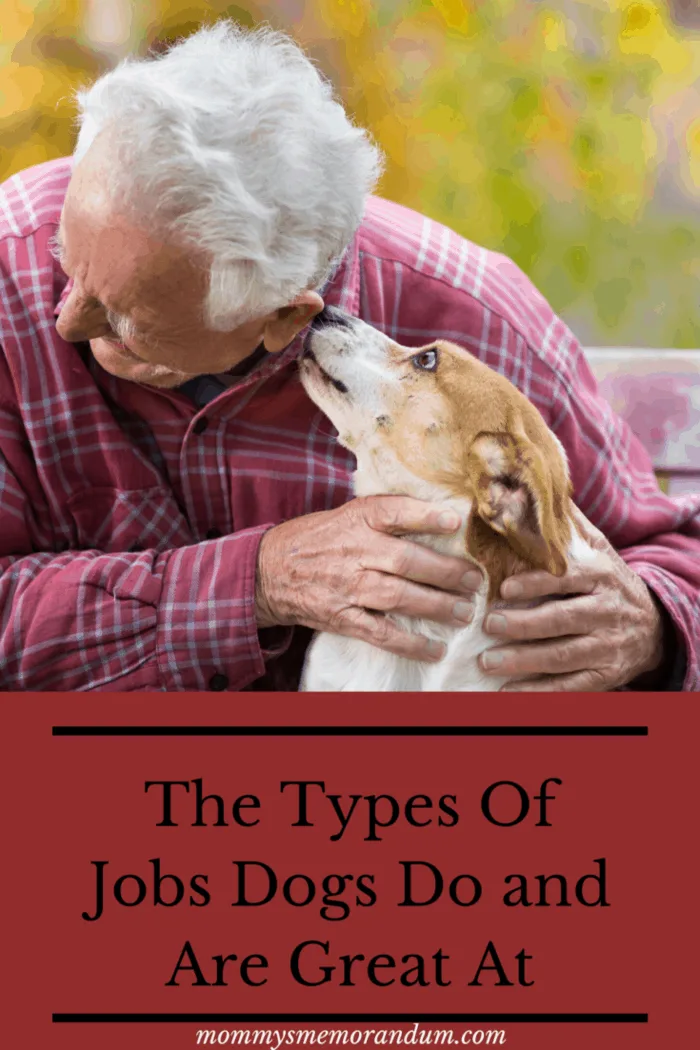 Physical Disability Assistance
Service dogs are specifically trained to help people with different disabilities.
Unlike therapy dogs, who focus more on dealing with emotional and psychological pain, service dogs specialize in helping those suffering from physical disabilities and discomfort.
The most common examples of service dogs include hearing dogs for the deaf or hard of hearing, guide dogs for the blind and the visually impaired, mobility assistance dogs for the physically disabled, and seizure dogs for those who have epilepsy. (National Geographic)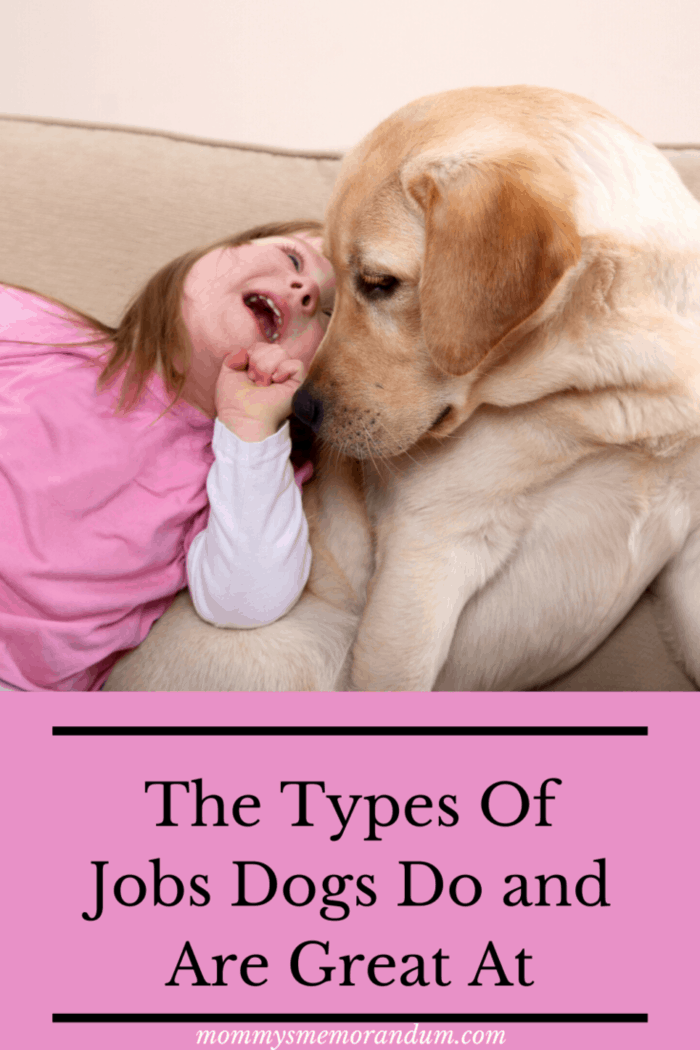 Search and Rescue
Pair a working dog's exceptional sense of smell and direction with their great agility and bravery, and you've got yourself a search and rescue dog (SAR) (List25).
Often a fundamental part of law enforcement, these highly trained heroes offer tremendous help in various fields, including avalanche rescue, specialized search, and cadaver tracking, among many others.
They also play a key role in criminal investigations, usually employed to track a missing person or object.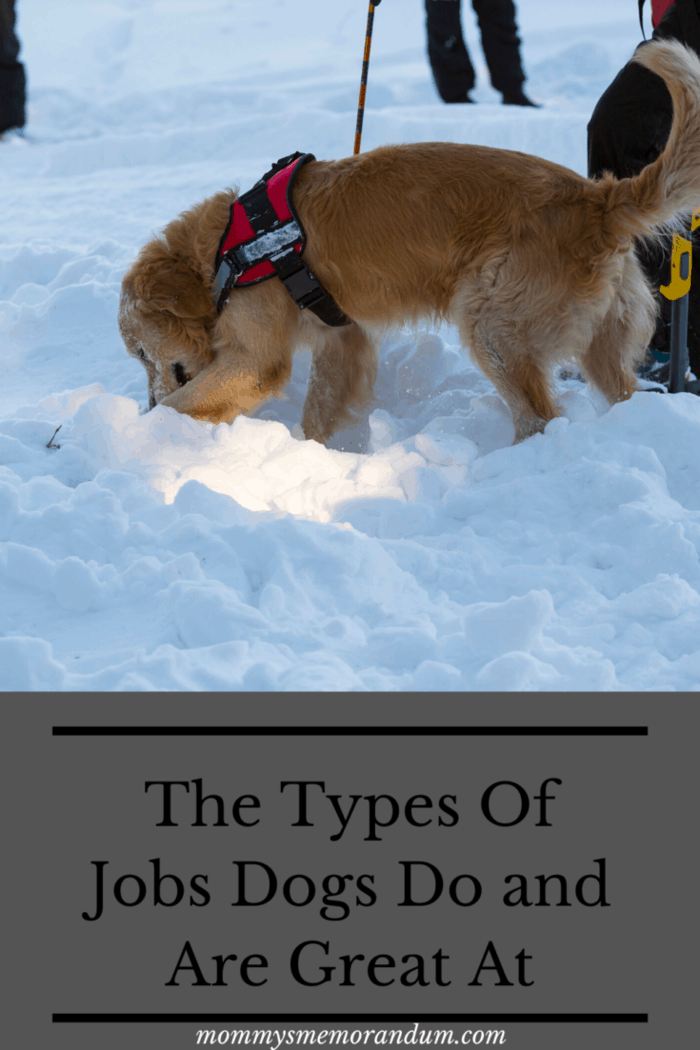 Detection Work
Among other things, K9s are trained to assist police and other law-enforcement personnel in their search for drugs, explosives, concealed weapons, blood, human remains, and other crime scene evidence.
Known for their extraordinary sense of smell, some detection dogs can even learn to sniff out diseases like various types of cancer and blood sugar abnormalities.
Commonly used in law enforcement, wildlife biology, and health care, a detection dog is basically a jack of all trades with a master's degree in sniffing arts.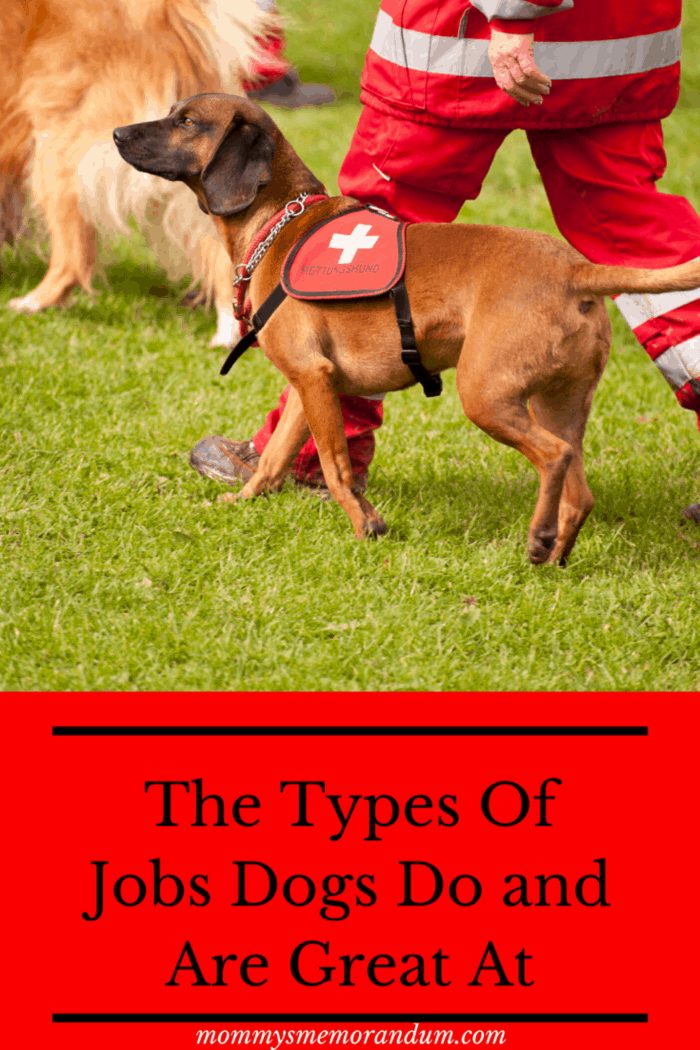 Herding Cattle and Sheep
Do you know how usually that one dog at the park won't stop barking and running around in circles?
Well, their herding DNA probably tells them to round up the rest of the dogs.
Herding dogs are specifically bred to work with various types of livestock. These highly energetic pups tirelessly run circles around the herd, moving them in an orderly fashion to their grazing pastures and then back to their appointed barns and shelters.
Since they're pretty much born for the job, herding dogs operate mostly on instinct and typically require little training to hone their innate skills before they can become expertly keep hundreds of rebellious cattle and headstrong sheep in check.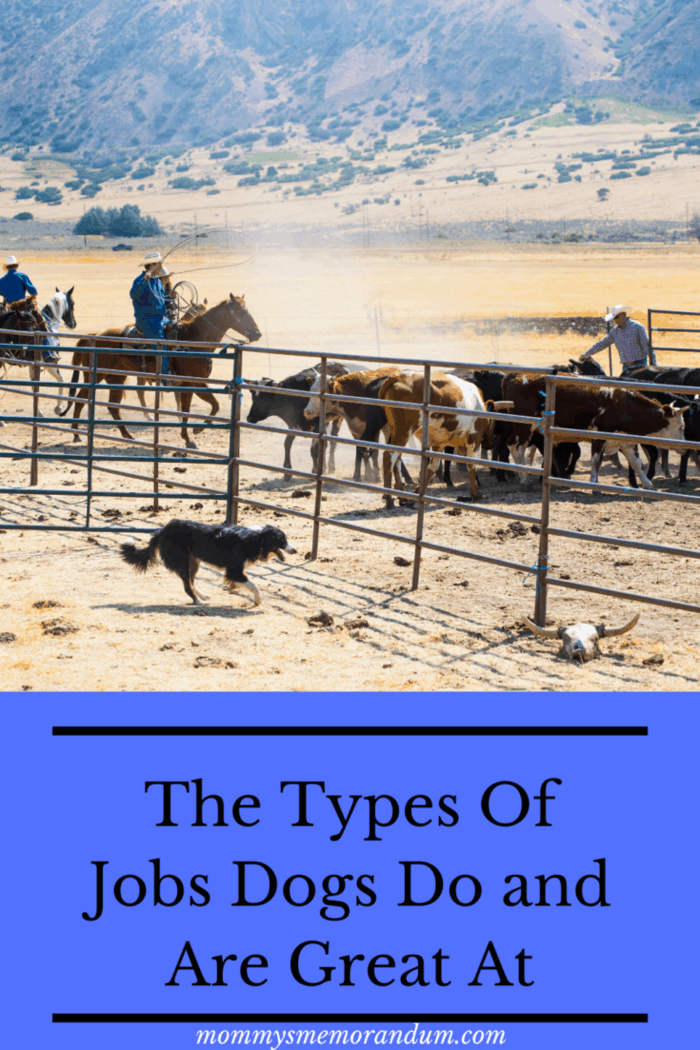 Livestock Guarding
Like most animals, dogs have strong, protective instincts, which is why it comes as no surprise that farmers who raise valuable livestock often recruit guardian dogs to chase off coyotes, wolves, and other imposing predators who come sneaking under cover of darkness looking for a delicious meal.
Instead of herding the animals, guard dogs fiercely protect the livestock like they're their own puppies.
Because they're required to keep a watchful eye around the clock, you'll often find that the dog breeds commonly used for livestock guarding typically have thick double coats that enable them to live outdoors in cold weather like the Great Pyrenees Dogs and the Komondors.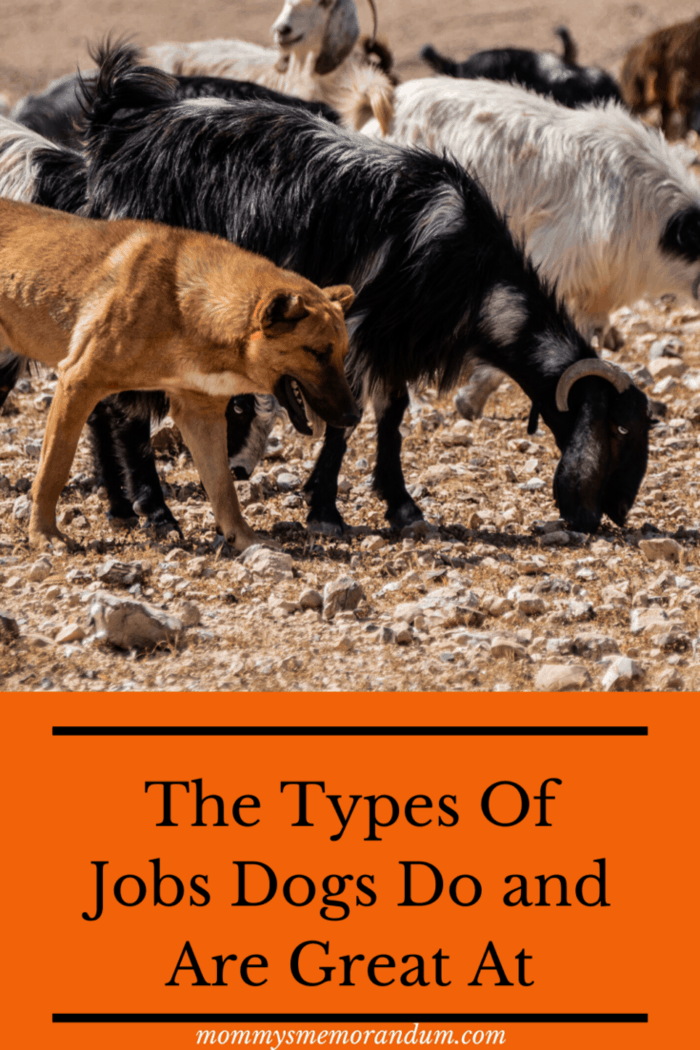 Our dogs will always stare at our food longingly at dinner, jump on us enthusiastically the minute we walk through the door, and bark excessively at every squirrel they see at the park.
But as you can see, we can count on our furry companions to do a lot more than that.
What's even more impressive is that many other jobs beyond this list working dogs can perform, such as delivering medications and supplies to remote towns and even acting!
Isn't it amazing what our canine companions can do?
Can you think of other types of jobs dogs do and are great at?