Clean water is a necessity. It's not something that you can go without because your body requires water to function properly. This is why the sale of bottled water skyrocketed decades ago and continues to rise.
There is much consideration, and it's not just about good tasting water, although that is a benefit.
Below are seven reasons why you actually need to install a water purifier in your home.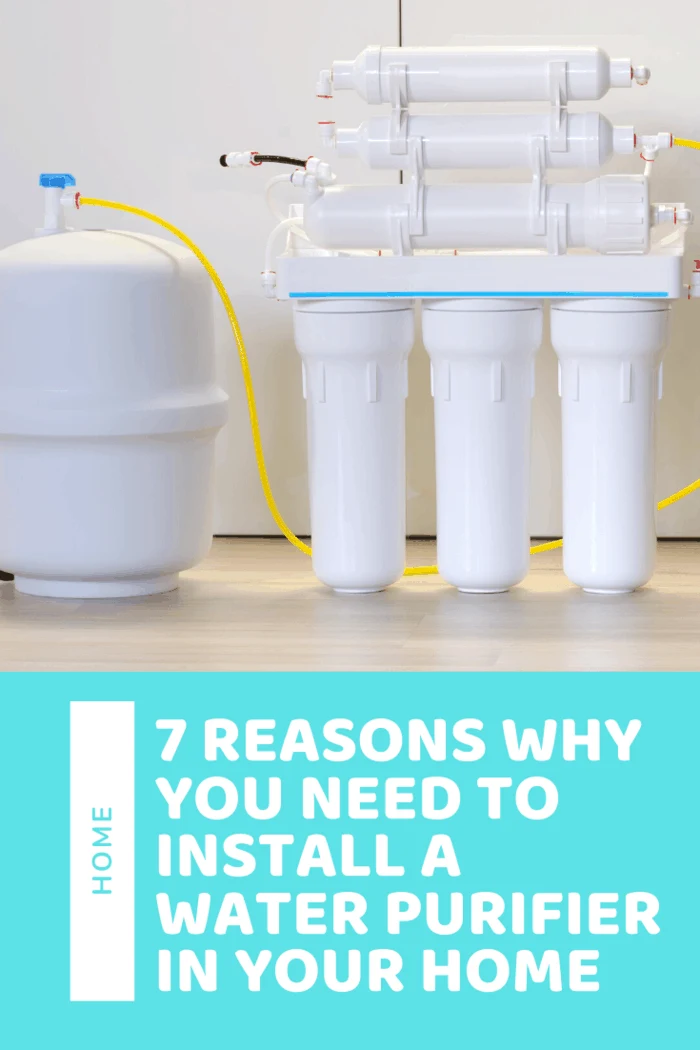 7 Reasons Why You Need To Install a Water Purifier In Your Home
Safer Drinking Water
Some people think bottled water is the safest option. Although there have been some discussions about issues with plastic, it's not something that most people know about.
As it turns out, there are chemicals in plastic that can actually degrade the quality of water, which is why a purification system is often recommended. Having a purification system in your home means you're able to improve upon faucet water.
Since tap water is generally treated with chemicals, a purification system enables you to eliminate any impurities. Unfortunately, there are many toxins in the water that need to be removed.
Better Skincare
Although most of the focus is on consuming water, there's also the issue of bathing because the water used to shower and bathe can significantly affect the condition of your skin.
It's common for people to experience skin problems when the water in their area is of poor quality. This can include rashes, eczema, and other conditions that can be frustrating and sometimes painful.
Improved Health
The type of water you drink is important for your health. There are a variety of intestinal issues that can arise as a result of poor water quality.
Since you generally can't see an issue that exists, it's important to realize that dangerous organisms can live in water. Some parasites can result in severe gastrointestinal distress and a variety of digestive struggles.
Having a water purification system in your home can help to address these issues.
Less Expensive
There was a time when the idea of spending hundreds of dollars on the water every year seemed unbelievable. Unfortunately, this is a reality for most families. Bottled water is expensive, and the prices are not going down.
A home purification system is an excellent investment because you'll be able to save hundreds of dollars every year. The cost of installing the system will end up being a lot less than the amount of money you would ordinarily spend on bottled water over a period of a few years.
You'll also end up saving money in other areas, such as products needed to improve the damage to your hair that's often caused by hard water.
Fewer Plumbing Problems
One of the problems that occur with plumbing is damage to pipes as a result of chemicals in the water. It's an issue that can harm your appliances, which means you'll end up having to replace them more often.
From the washing machine to the garbage disposal, the quality of water impacts many appliances.
Good Tasting Water
Nobody wants to drink water that tastes bad, which is why a home purifier can result in drinking more water. This is no small matter because drinking water is an important part of your overall health.
Having a purifier installed in your home can balance the pH of water, which can significantly improve the taste.
Environmentally-Friendly
Even if you're not enthusiastic about protecting the environment, you will probably appreciate that having a water purifier can help prevent millions of plastic bottles from ending up in landfills.
Everyone can play a role in protecting the environment, and this is a great way to contribute.
If you're looking for a solution, you can get help from plumbers specializing in water purification, as well as hot water systems Brisbane. Quite frankly, there isn't a reason to waste money on bottled water or drink water that can be damaging to your health.
Once you have a water purifier in your home, you won't be able to live without it.