How to Train Your Dragon Movie Review
I shared with you that over the weekend we went to see How to Train Your Dragon.
We saw it in 3-D, which was a new experience for me and the kiddos (Hubby, on the other hand, is spoiled rotten and it was "old school" for him).
If you are in a quandary about seeing this movie, I urge you to abandon hesitation and get yourself in a movie seat!
How to Train Your Dragon by Dreamworks, was amazing fun!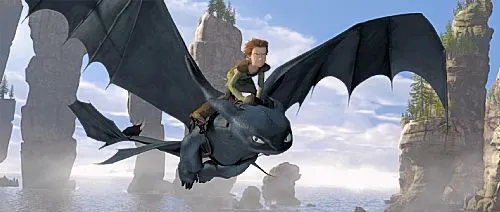 The movie takes place in the times of Vikings and tells the story of a boy named, Hiccup, who is scrawny and weak and truly the black sheep of his Viking village.
The movie starts with Hiccup's Vikings engaged in a battle with dragons.
Then progresses to a story of friendship when Hiccup befriends his dragon, "Toothless".
The animation was awesome!
I loved meeting "Toothless" and could easily sense his personality.
The 3D experience was really impressive!
At first, I was motion sick (don't ask!) but after a few minutes, my mind and eyeballs got it together and it was just jaw-dropping.
Even my four year old sat still and stayed focus on the movie!
The movie had me laughing, on the edge of my seat and at a couple of spots, crying.
Hiccup an outcast, even to his own father will appeal to everyone.
He realizes he needs to follow his heart and in doing so changes the course of his destiny and those of his fellow Vikings.
I was engaged through the entire movie, which is a rarity when it comes to movies the kiddos pick.
My children loved it as well as my cynical husband!
There are scenes of battle, but no blood and gore–it didn't give my kiddos nightmares but heads up that these scenes are present.
I recommend this movie.
It is a great storyline and some fun and endearing characters.
You can see the trailer in my post "How to Drain Your Dragon Sneak Peek"
If you've seen How to Train Your Dragon, I'd love to hear your thoughts!