One of the biggest questions that parents ask themselves when their child goes off to college is: how do I survive the actual drop off part. Of course, there are some logistical components to work out, but there are also emotional ones too. Indeed, empty nest syndrome is a real thing. It occurs after a parent drops their child off at college and there are no more children living at home. To get over this, you want to take your mind off the emotional burden. Eventually, it will start to dull, fade and go away. Here is how to survive dropping your kids off at college.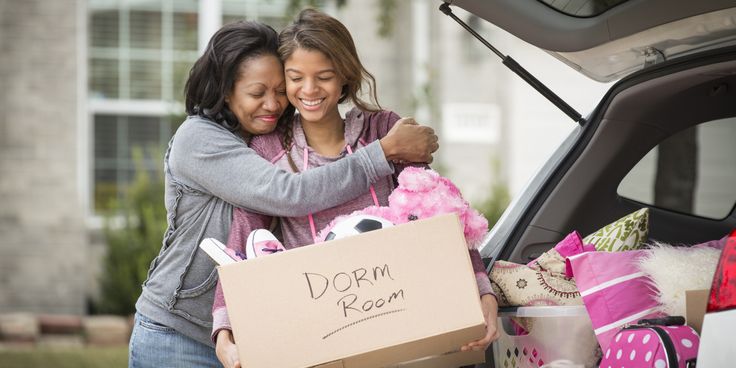 Bring a Trailer to Move Furniture and Large Items
While you can't exactly control how you will feel as you move your child into the dorms, you can, at least, make the physical act of moving as easy as possible. If your college student is bringing larger items like a mattress, couch or big floor lamps, you probably want to hitch a trailer to your car and bring everything that way. This is one of the most convenient ways to pack up to move into the dorms because you aren't paying a fortune for a moving truck. Plus, you won't have to be squeezed into the car if you try to fit everything into the trunk and back seat, which can actually be dangerous.
Box and Label Everything
It is also important to box and label everything, not only what your child is bringing with to the dorms but also any memorabilia and sentimental items that will be left home. You want to be meticulous. If your son or daughter is going off to college – whether he or she is taking a Case Western online course load or a degree in law somewhere else – you want to make sure that everything not needed gets stored, trashed or donated. Not only will this facilitate the moving in process, going through old items together can be a nice bonding experience with your child before he or she moves. Plus you'll get the bonus of a clean room!
Talk to Your Child About the Move in Advance
If you or your child is having reservations about moving away for college, then you want to talk about it long in advance of orientation week. The truth of the matter is that by moving away, you and your child will have to break a bond, which can be a pivotal moment in your relationship, so you want to do it gently. The last thing you want is to pretend like nothing will change and ignore this moment because it could just bite you both in the end. The further in advance you prepare, the better.
Confirm Housing
After preparing for this big move and emotionally preparing yourself for an empty house, the last thing you want is to arrive on campus and realize your child's housing isn't ready. Or worse yet, that they don't actually have that room reserved in the dorms that you both had expected.
Go on Vacation and Enjoy Empty Nesting
At the end of the day, you want to cap off an emotionally trying period with a nice, relaxing vacation. To make the transition into the empty-nester lifestyle, you may want to treat yourself to a vacation. This could be as simple as a 'staycation' in your home city or a true adventure. This will also give you and your spouse the opportunity to reconnect without having to worry about your kid(s).