Transform Your Space: Make Your Home Pet and Child Friendly with Expert Tips for Safety and Harmony.
Balancing work and home can be challenging. Add children and pets into the equation and it can seem like chaos. Here's how to make your home child and pet friendly.
Having a safe home helps bring peace of mind.
Your home should always be the epitome of safety, convenience, and comfort.
To satisfy lifestyle needs, homeowners should prioritize investing in furniture, appliances, and other items that are essential for daily living.
Waking up in a comfortable and friendly living space encourages occupants to be productive throughout the day.
Among the residents inside your home, pets and children require extra care.
Being a parent of children and pets isn't an easy task, especially if you have a handful at your home.
Fortunately, your home can assist you in becoming a better parent.
To make your home pet- and child-friendly, consider the following home investments and improvements: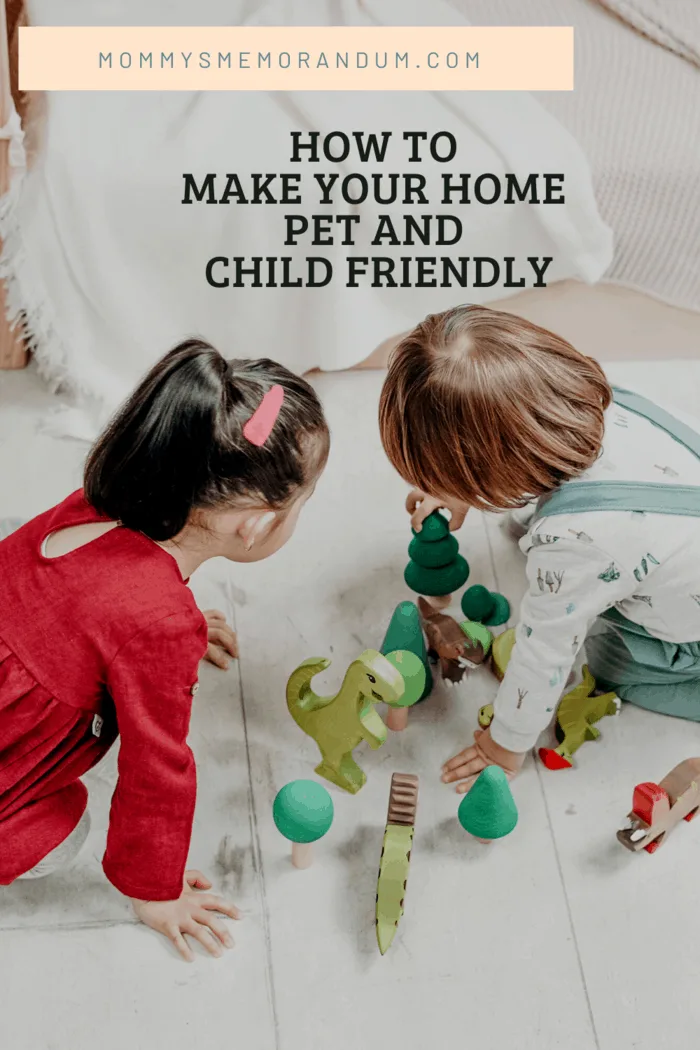 How To Make Your Home Pet And Child Friendly
Provide Accessible Food and Water
Although it's not advisable to leave your children unattended, you can't monitor their movements 24/7.
Your pets also need enough space to move around and be themselves.
During these moments, ensure that they have easy access to clean food and water.
For your child, assign a specific basket or tray where they can reach out for treats.
Case in point, you can place cookies and sandwiches on your living room's coffee table.
Also, provide individual water bottles for your children.
In this way, you'll minimize accidents like breaking drinking glasses.
If you're going to leave your pet alone at home, leave enough treats on your pet's food bowl to let them have fun without getting hungry.
These will keep your pets happy and healthy.
Keep Risky Items Away From Reach
As you may have noticed in many consumer products, the packaging label says "Keep out of reach of children."
Kids are naturally curious, and nothing can get in their way, not even dangerous items like medications and objects with choking hazards.
Chewing and biting are particularly common in toddlers who are starting to develop teeth and express their feelings through biting.
To avoid life-threatening accidents, put all your risky items on high shelves or cabinets.
Doing this will also prevent your pets from playing with these items and destroying them.
A rule of thumb in placing items on shelves is to put the heaviest items on the lowest level to stabilize the overall unit's weight and keep them from falling.
In terms of medications and chemicals, position them in a cool, dry place inside drawers and cabinets where children don't usually go.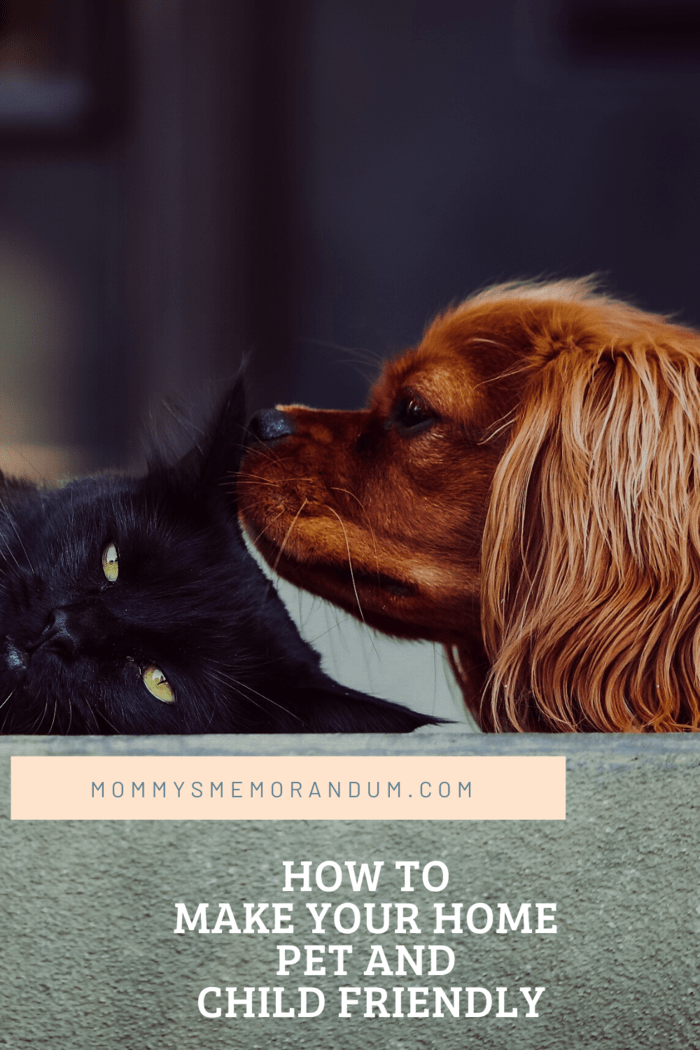 Create A Designated Playing Space
Inside your home, particularly in the common room, build a creative playing space where your small loved ones can enjoy their time indoors.
If you have both children and pets at home, make separate playing areas for them.
In making your children's creative space, ensure that the area is well-lit and well-ventilated to encourage them to stay in that area.
Whether your child loves to play, paint, read, or do other stuff, the items placed in that area should cater to their creative needs.
Also, get the children involved while decorating this area.
When setting up your dog or cat's playpen, choose a low-traffic area without any furniture and items that are difficult to clean.
This area can be a fully enclosed space if you have puppies, to stop them from escaping.
Keeping children and pets at specific places stops them from creating a mess in other areas of your home.
Moreover, this can save you time in cleaning and organizing their space.
Invest In Pet- and Kid-Friendly Flooring
Flooring is an essential visual aspect of your home's interior.
Beyond aesthetic value, you should prioritize safety in flooring by utilizing flooring options that will keep your children and pets safe.
Also, the flooring should be durable. Since you spend most of your time indoors, you should choose the best flooring for your health and safety.
According to The Spruce, carpets can provide a soft surface for your kids and pets to play on and make it a safe home.
They're slip-resistant and perfect for insulation. Another flooring option is natural hardwood that doesn't require glue and other chemicals during installation.
Aside from these considerations, here are other flooring properties you should take note of:
Designed for heavy traffic areas
Noise-absorbent
Easy to clean and maintain
Durable and long-lasting
Scratch-resistant
Stain-resistant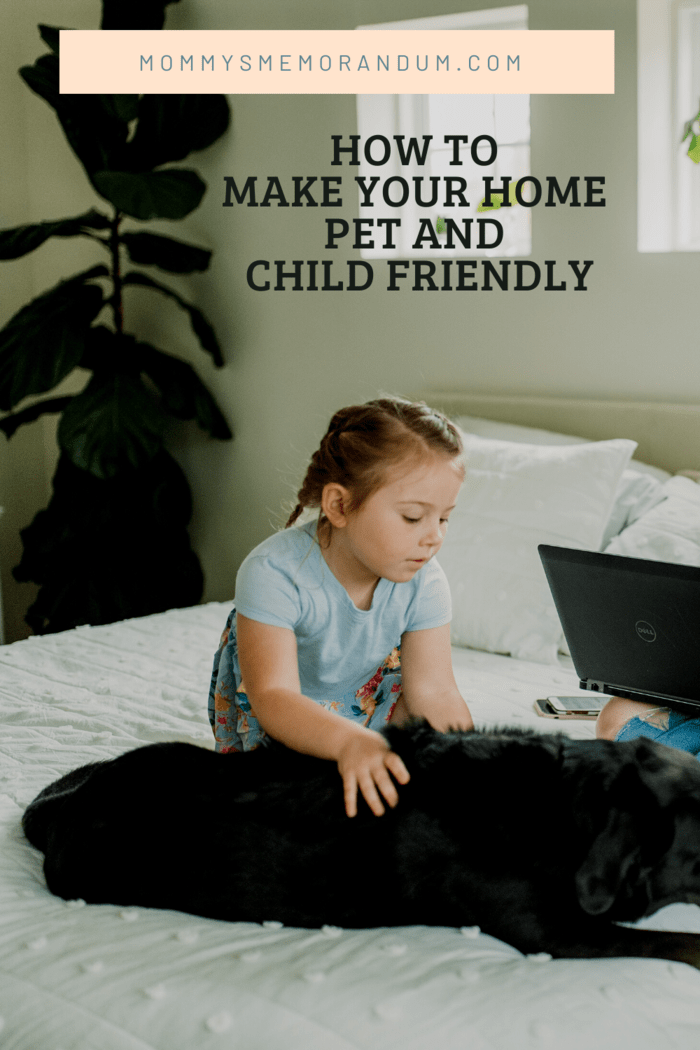 Vacuum Regularly
A comfortable home should be a healthy and safe haven where your children and pets can stay without any health risk.
Regular cleaning is always suggested in every household, but you'll have to do more frequent cleaning if you have pets at home.
Their fur and hairballs can cling to furniture, upholstery, carpets, and other items.
To clean your flooring, upholstery, and furniture, hire professional vacuuming services regularly.
Asking for help from professionals can guarantee that not only will the pet's hair be eliminated, but tough dirt and stains will also be removed.
The dirt and stains can adversely impact the quality and lifespan of your furniture and other stuff.
Avoid Furniture With Sharp Corners
Some furniture, especially the rectangular and edged tables, poses a safety hazard for children, pets, and other family members.
Small children naturally love to explore and frequently run around the house.
Any family member can hit sharp table corners and edges.
Children and animals are relatively smaller than adults. Therefore, the possibility of bumping their head into furniture with sharp edges is higher.
As much as possible, avoid purchasing furniture with pointy edges.
However, if they already exist in your home, the safest solution is to use rubber corner guards for protection.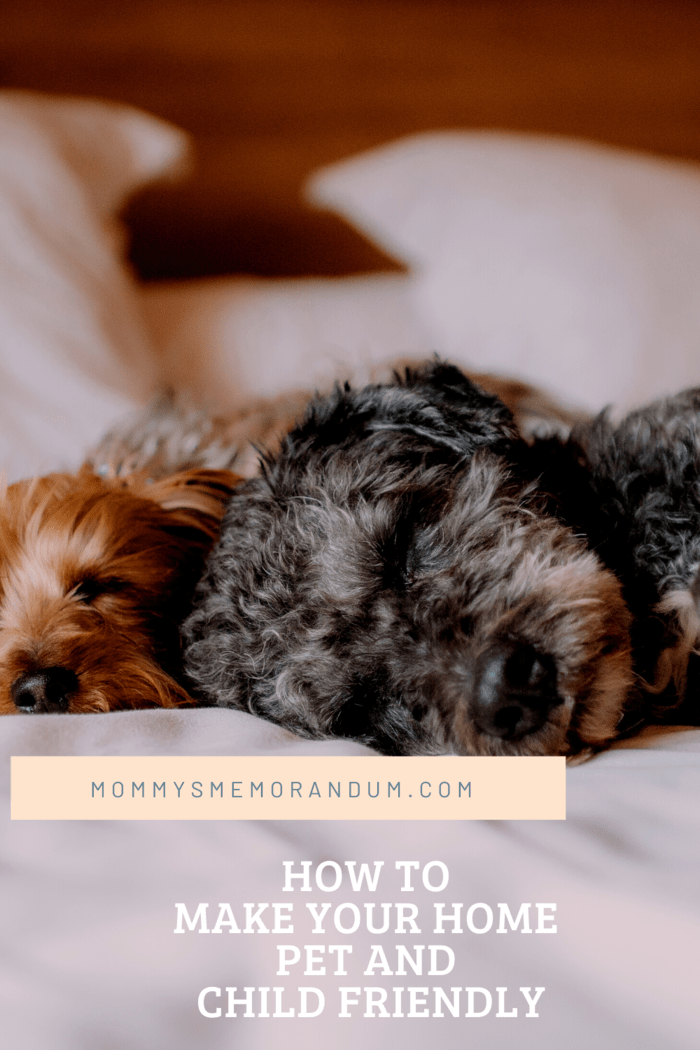 Observe Electrical Safety
Electricity is an essential household utility but its advantages come with dangers.
Make your home safe from any electrical hazard for everyone by practicing electrical safety.
Children and pets don't know how to identify which objects carry electricity.
When neglected, electrical accidents can cause shocks, burns, injuries, and even deaths.
Observe the following electrical safety tips to keep your children and pets safe even without your attention:
Ensure that all outlets and sockets are fixed on the wall and there are no hanging wires.
After using electrical devices and components, put them back in their proper places. The storage space should be closed.
Unplug appliances when not in use.
Cover unused outlets.
Don't run wires and cords under carpets as they can be a tripping hazard.
Install smoke detectors and fire alarms in every bedroom, in the living room, and at least one for every level.
Bottom Line
The key to keeping your home pet- and child-friendly is eliminating potential safety hazards inside your home.
You should never underestimate your child and pet's curiosity and playfulness.
They tend to play with any object they find interesting.
When pet-proofing and childproofing your home, the two most important aspects to keep in mind are safety and comfort.
Follow the tips discussed above for a safe home.