Today's Best Recipe is How to make Kahlua in the Instant Pot.
Looking for a delicious homemade liqueur that's easy to make? Try Instant Pot Kahlua! With just a few simple ingredients and your trusty Instant Pot, you can create a rich and flavorful coffee liqueur that's perfect for sipping on its own or adding to your favorite cocktails.
Our recipe uses premium coffee beans and high-quality vodka to create a smooth and delicious base, while brown sugar and vanilla extract add a touch of sweetness and depth of flavor. And with the Instant Pot's pressure cooking function, you can infuse all those delicious flavors in no time at all.
Serve over ice or add to your favorite cocktail for an indulgent treat that's sure to impress. And with the convenience of your Instant Pot, you can whip up a batch anytime you like! So why settle for store-bought liqueurs when you can create your own at home with Instant Pot Kahlua?
What are some ways I can Use Homemade Kahlua?
Homemade Kahlua can be used in a variety of ways.
Here are a few ideas:
As a stand-alone drink: You can serve homemade Kahlua on the rocks or straight up as an after-dinner drink.
In cocktails: Kahlua is a popular ingredient in many cocktails, such as White Russian, Espresso Martini, Mudslide, and B-52.
In desserts: Kahlua can be used to add flavor to desserts such as Tiramisu, cheesecake, brownies, or ice cream. Make a batch of Kahlua Fudge.
In hot drinks: Kahlua can be added to hot chocolate or coffee for a delicious and warming treat.
As a gift: Homemade Kahlua makes a great gift for friends and family. Pour it into a decorative bottle or jar, and add a tag with serving suggestions.
These are just a few ideas to get you started, but the possibilities are endless with homemade Kahlua.
How I Use Instant Pot Kahlua
We made a huge batch.
Then I created labels and we gifted them as Christmas presents for my family's "Homemade Christmas" gift. It was a big hit!
This Kahlua will still improve as it rests in the bottle.
Remember to give it a little shake before pouring it into your glass.
Please drink responsibly.
If you don't have an Instant Pot, use our homemade Kahlua recipe.
You may also want to check out my Pinterest Instant Pot board for more great recipes like this pressure cooker recipe for Kahlua!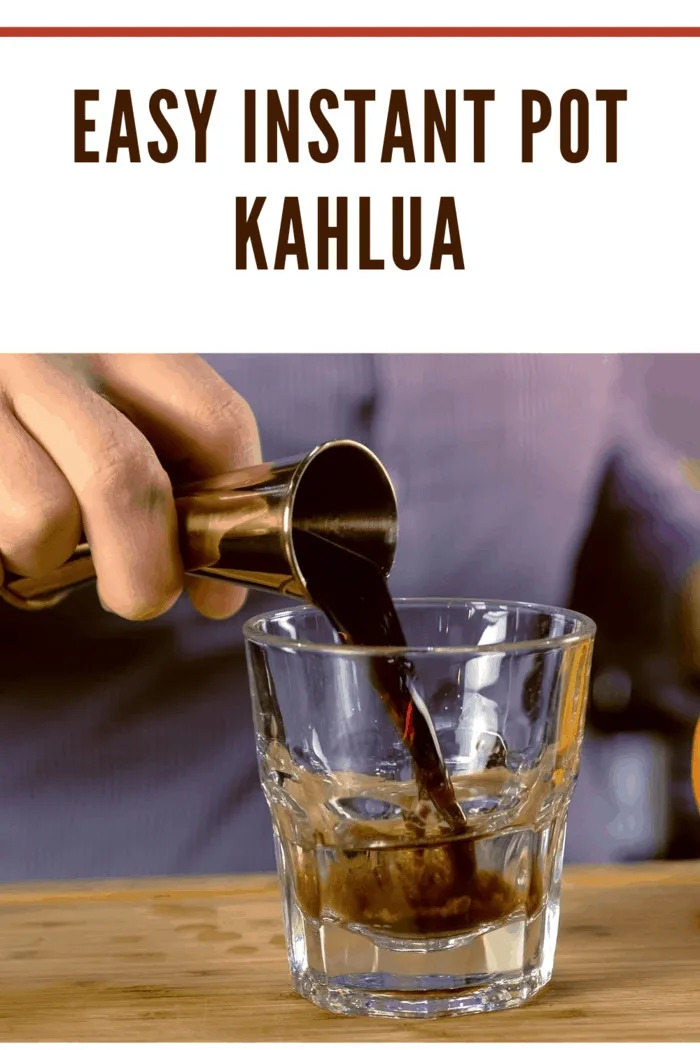 Raise a Glass to these Kahlua Fun Facts:
Here are some fun facts about Kahlúa:
Kahlúa was first produced in Veracruz, Mexico, in 1936.
The name "Kahlúa" means "house of the Acolhua people" in the Veracruz Nahuatl language.
Kahlúa is made from a blend of Arabica coffee beans, rum, vanilla, and caramel.
The Kahlúa bottle has a unique shape that was inspired by the matraca, a traditional percussion instrument used during Mexican religious processions.
Kahlúa has been featured in many popular cocktails, including the White Russian, the Mudslide, and the B-52.
The White Russian cocktail, made with Kahlúa, vodka, and cream, gained popularity in the 1998 movie "The Big Lebowski."
Kahlúa is also used in baking and cooking, adding a rich coffee and caramel flavor to desserts and savory dishes.
Kahlúa has won numerous awards over the years, including several gold medals at the San Francisco World Spirits Competition.
It's also an ingredient in some pretty spectacular tasting drinks:
Kahlua shines as the star in these cocktail recipes.
B-52-made with three liqueurs
Baby Guinness
Black Russian-most basic Kahlúa and vodka cocktail, and it's super easy to make.
White Russians-Basic Black Russian with the addition of heavy cream. Don't skimp here, use heavy cream because the fat content keeps the vodka from curdling the dairy.
Mudslide– dessert in a glass! A combination of vodka, Kahlua, and Baileys
Mind Eraser-combination of Kahlúa, vodka, and club soda
Espresso Martini
Caribbean Mudslide
Kodiak
Kahlua and Coke-dark coffee notes of the Kahlúa with the cola's complex flavors
Colorado Bulldog-Kahlua, vodka, heavy cream, and Coca-Cola
Dark, Sweet, and Stormy-Bermuda's national cocktail
Time Bomb
The Revolver-Whisky and Kahlua
Duck Fart-I don't ask why, but Alaska claims it as their shot
No matter how you consume it, this recipe is easy and delicious!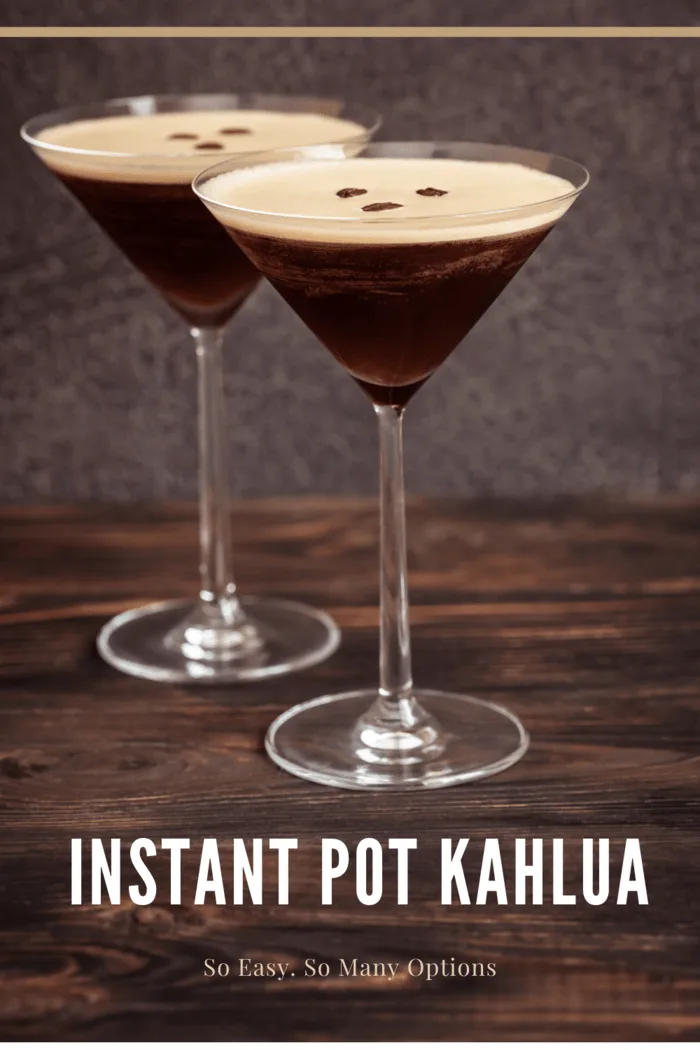 Kahlua and Pork
It's a thing.
It's delicious.
Kahlua pork is a traditional Hawaiian dish made by slow-roasting a pork shoulder in an underground oven called an imu. The pork is typically seasoned with Hawaiian sea salt and wrapped in ti leaves before being cooked in the imu. In modern times, the dish is often made by slow-cooking the pork in a regular oven or a slow cooker, and may include additional ingredients such as liquid smoke or Kahlua liqueur for added flavor. While Kahlua pork does contain the coffee-flavored liqueur, it is not typically served as a dessert or with sweet accompaniments, but instead as a savory main dish.
Ingredients Checklist:
4 cups granulated sugar
4 cups water
⅔ cup instant coffee granules (powder)
2 cups vodka
3 Tablespoons vanilla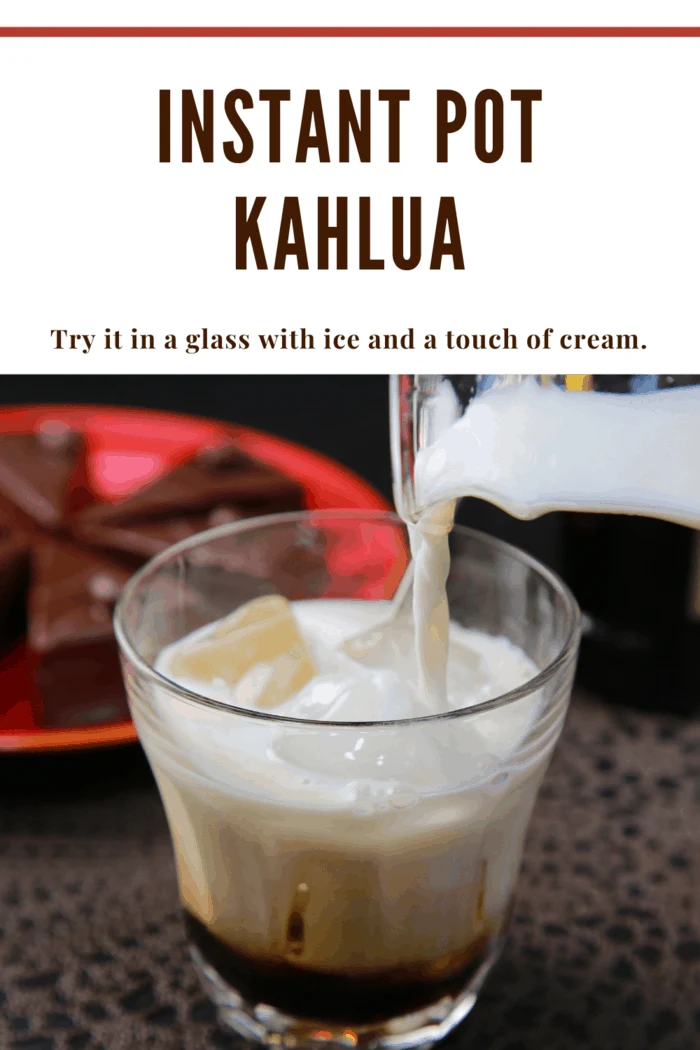 How to Make Instant Pot Kahlua
Add the water, sugar, and instant coffee* to your Instant Pot.
Press Manual on HIGH Pressure for 10 minutes.
When the timer beeps, do a Quick Release of the pressure.
Add the vanilla extract to the coffee mixture and stir until well incorporated.
Add the vodka
Pour into jars and allow to cool completely to room temperature before adding the lid.
Close the lid tightly.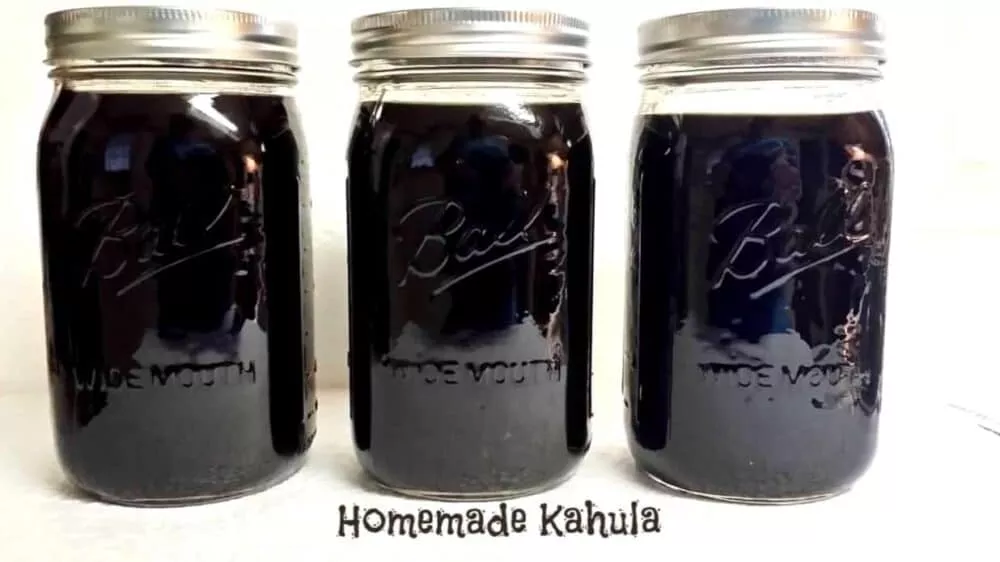 For the Best Instant Pot Kahlua:
• Double or Triple this recipe, just don't go above the "max" line on the stainless steel insert
Here are some tips for making the best Instant Pot Kahlua:
Use high-quality ingredients: Starting with high-quality coffee and rum will make a big difference in the final product. You can also use vodka for Moonshine, Dark Rum, Rum, Brandy or Everclear. Replace instant coffee with 4 cups of STRONG coffee. Add vanilla bean paste for extra flavor
Substitute Chocolate Vodka, or flavored vodka for a new twist
Adjust the sweetness level: Depending on your personal preference, you can add more or less sugar or sweetener to the recipe.
Choose the right cook time: Depending on your Instant Pot model and the quantity of the ingredients, the cook time may vary. Experiment with different cook times to find the perfect balance of flavor and texture.
Allow time for natural pressure release: When cooking with an Instant Pot, it's important to allow time for the pressure to release naturally. This will ensure that the flavors and textures are fully developed.
Strain the mixture: After cooking, strain the mixture through a fine mesh strainer to remove any impurities and create a smooth consistency.
Store properly: Store the Instant Pot Kahlua in a clean, airtight container in the refrigerator for up to 6 months.
How to Store Instant Pot Kahlua:
To store Instant Pot Kahlua, allow it to cool down first and then transfer it to an airtight container such as a mason jar or a bottle with a tight-fitting lid. Store it in a cool, dry place away from direct sunlight. It can be kept at room temperature or in the refrigerator. It is recommended to use it within 4 to 6 months for optimal flavor.
Gift It!
You can add this homemade coffee liqueur to a mason jar, make labels and gift this homemade Instant Pot Kahlua or tie twine or ribbon around the lid.
Kahlua makes a great gift for anyone who enjoys coffee and/or cocktails. Here are a few creative ways to gift Kahlua:
Kahlua gift basket: Create a gift basket with a bottle of Kahlua, coffee beans, chocolate, and cocktail glasses. You can also add a cocktail recipe book or a coffee mug.
Kahlua hot cocoa kit: Fill a jar with hot cocoa mix, marshmallows, and a mini bottle of Kahlua. Attach a recipe card for making Kahlua hot cocoa.
Kahlua cocktail kit: Put together a cocktail kit with a bottle of Kahlua and a few mini bottles of vodka, Bailey's, and other liqueurs. Include cocktail recipes that use Kahlua and the other ingredients.
Kahlua-infused baked goods: Make baked goods such as brownies or cupcakes and add Kahlua to the batter for a boozy twist. Wrap them up in a cute package for a unique gift.
Kahlua-flavored coffee: Mix Kahlua into ground coffee and package it in a decorative bag. This makes a great gift for coffee lovers who also enjoy a bit of alcohol in their coffee.
No matter how you choose to gift Kahlua, be sure to package it creatively and add a personal touch.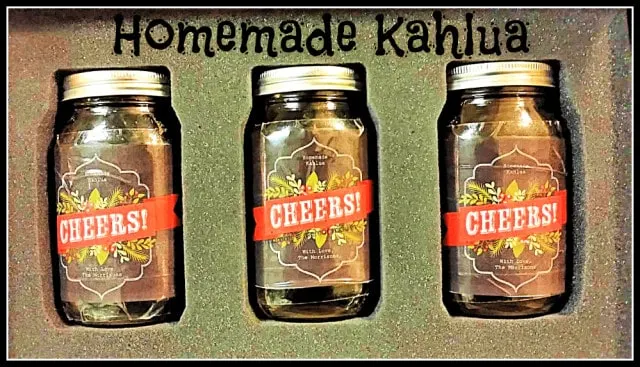 Drink Responsibly
Please drink responsibly.
This recipe contains alcohol. Mommy's Memorandum and its authors are not responsible for this recipe's outcome or the actions that occur after.
How to Make a B-52:
Using equal parts of the following–we suggest using 1/3 ounce of each per drink:
Grand Marnier (or orange liqueur)
Irish cream
Kahlua coffee liqueur
Directions:
Layer ingredients carefully, in the following order:
Kahlua
Baileys
Grand Marnier.
Use a pousse cafe glass so each ingredient floats on the preceding one.
Do not mix.
When you're finished, why not give your Instant Pot a deep clean with this guide.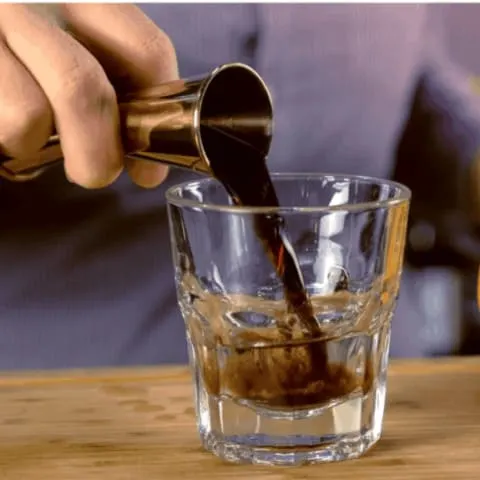 Easy Instant Pot Kahlua
Additional Time:
10 minutes
This Homemade Instant Pot Kahlua recipe may not be the same as the one Pedro Domecq produced in 1936, but it's pretty darn good.
Ingredients
4 cups granulated sugar
4 cups water
⅔ cup instant coffee granules (powder)
2 cups vodka
3 Tablespoons vanilla
Instructions
Add the water, sugar, and instant coffee* to your Instant Pot.
Press Manual on HIGH for 10 minutes.
When the timer beeps, do a Quick Release of the pressure.
Add the vanilla extract to the coffee mixture and stir until well incorporated.
Add the vodka and stir well
Pour into jars and allow to cool completely before adding the lid.
Close the lid tightly.
Nutrition Information:
Yield:

96
Serving Size:

1
Amount Per Serving:
Calories:

44
Total Fat:

0g
Saturated Fat:

0g
Trans Fat:

0g
Unsaturated Fat:

0g
Cholesterol:

0mg
Sodium:

1mg
Carbohydrates:

8g
Fiber:

0g
Sugar:

8g
Protein:

0g
The Nutritional Information may not be accurate.