Are you wondering how to install your new electric tankless water heater?
This sensitive and vital unit requires you to be handy and have good plumbing and electrical skills. Which most times may be a tough ask, calling for the need for professional assistance.
However, DIY is possible, especially when you can take a few hours to complete the task.
Do you want to learn what you need to consider before installing? You can learn about electric water heaters in the guide below.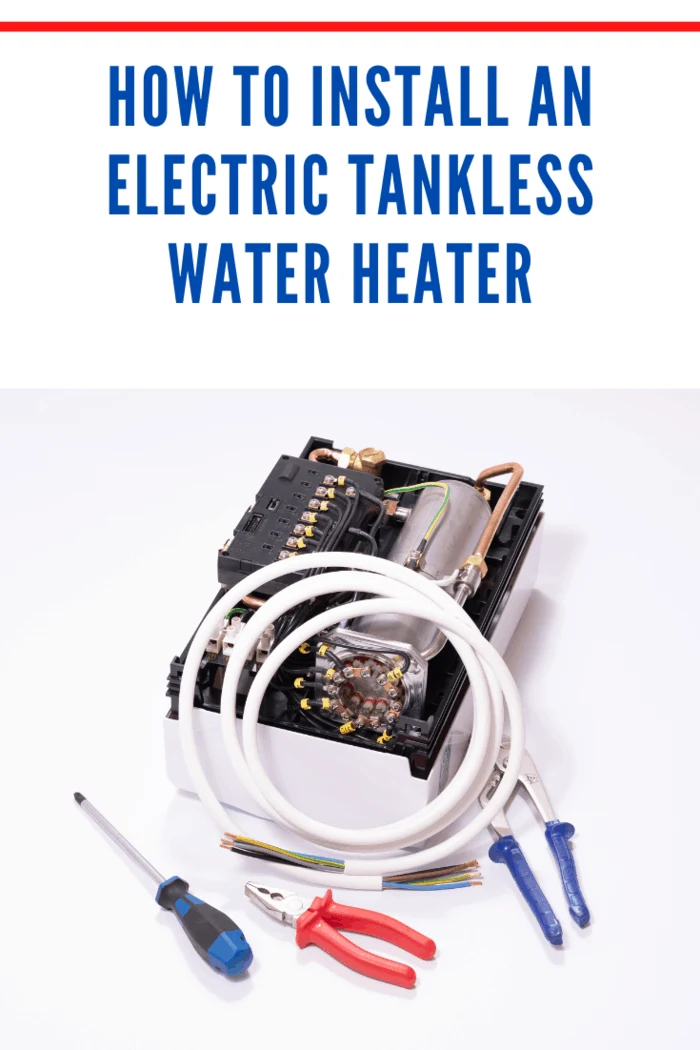 What to consider before installing an electric tankless water heater
Permits
Most states recommend pulling a permit before installation to allow for a safety inspection. Therefore seeking a permit or checking whether your state adheres to such requirements should be top on the list.
Electrical service requirement
This system's amp draw may be a bit high; therefore, it might not be ideal for every home. So check on your home's electrical service's current size to find out if it can contain your water heater. You can do this by checking on the electrical breaker box or looking for a label on your electrical panel. You can also consult your electrician.
Water pressure requirement
Knowing your water pressure range is essential and helps you to plan early. Most of these heaters work at a water pressure range of 30-150psi. So any pressure range above 150psi may require an additional installation of a pressure-reducing valve.
Tools and supplies
To properly install your heater, you will need appropriate tools and supplies. They will help you breeze through the task.
Location of the place to install
This sensitive system requires installation in a suitable area and position to offer durable and practical performance.
Step-by-step guide of the installation process
Step 1
Installing this electric tankless water heater is highly sensitive, risky, and critical. Therefore, it's important first to turn off all involved circuit breakers.
Step 2
Ensure you have shut off the main water supply to prevent water wastage and spills.
Step 3
Check whether any screws need to be removed on the front cover of your unit. Cautiously take off the front cover and remove one or more plugs before you set it aside.
Step 4
Use the screws and anchors included in the package to mount your unit on the wall. Ensure it's securely and safely mounted
Step 5
Establish the hot water connection and the cold water connection The hot connection is usually on the left in most systems, and the cold water connection is on the right. Moreover, you can use stainless steel flex pipe for a comfortable and effortless experience in combination with Teflon tape. Alternatively, you can use copper or PEX tubing rated for high temperatures.
Step 6
Open the hot water outlets to purge air from the water heater and the pipes. Also, check on any leaks on all connections before you shut them off again.
Step 7
Now you can make the electrical connection with your heater on one side and the other side connect with the electrical panel. Refer to the manufacturer's guide for the right wire and circuit breaker number and size. You will need to cut each wire set to length and strip it. Then feed it through the bottom holes of the water heater housing. So that you can attach it to the appropriate slots on the terminal block. Overall it would be best to connect a ground conductor for each circuit to the unit grounding busbar and the circuit breaker panel.
Step 8
Carefully double-check your connection to ensure you have not missed or mixed up any critical connection.
Step 9
Reattach the unit's front cover and then turn on the circuit breakers
Step 10
Turn on your electric tankless water heater and configure your preferred temperature levels.
Step 11
Finally, open your hot water outlet and wait to see if the temperature stabilizes. If it does not, it's time to go back and adjust it. All in all that is the last process.
Final remarks
Adhering to the requirements and the step-by-step guide will enable you to install your water heater properly. It will provide an avenue to improve or test your plumbing and electrical skills and save you on the cost of hiring a professional. Ensure to stay safe while putting your hands and skills to the task.