What is your city like in the summer? Is it a colorful, vibrant city in the summer with lots of potentially exhilarating outdoorsy things to do? Perhaps, you live near the beach known for its perfect barrel waves that surfers are crazy about. Or maybe a trekking adventure on that breathtakingly beautiful mountain is just a two-hour drive away from your home. Really, the generous sunshine and warmth you receive every summer could spell countless new adventures.
The downside, however, is, as we mentioned, the generous amount of warmth. In some cities, the sun's generosity has become incredibly intense to the point that it's not only warm anymore but sweltering hot. You'd feel like you're trapped in an oven. In situations like this, all you could wish for is relief. Some fresh cool breeze. A tall glass of cold water or fruit shake. Anything that could cool your body down.
For most of us, a good air-conditioning unit is also mandatory when the humid days come. You never want to imagine it breaking down now that you needed it most. But it can happen though. Of course, it's inevitable. The only choices left are either to have it repaired or have a new AC unit installed depending on the circumstances.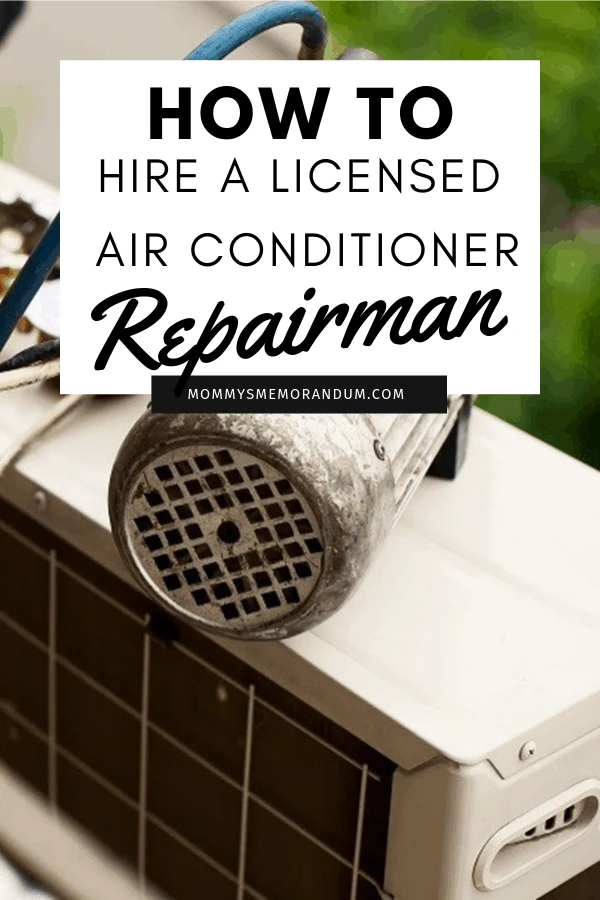 How to Hire a Licensed Air Conditioning Repair Contractor
Why Hire Licensed AC Contractors
The question to the first option mentioned above is that who are you going to hire to do the repair. Are you going to DIY, call a friend or find a qualified licensed technician? It's tempting to either DIY or call a friend. After all, both options seem more economical than spending long hours asking around about a qualified technician. Are these really more economical or they just look that way?
Granted, there are some minor AC repairs that you can do on your own without having to call a professional. But if you're not sure what you or your friend is doing, you better drop those tools down and scour the internet, directory or whatever source you can think for a professional AC Repair contractor.
When we say professional aircon technician, it means that the individual in question is properly licensed and complete with all the necessary permits to be able to perform his expertise commercially. Getting those permits and license is not that easy. They have to adhere to certain laws and policies of the state. They have to undergo proper screening to measure their knowledge and skills in this profession.
In simple words, these licensed professionals know their trade well. They never do guesswork the moment they lay their hands on your unit. They analyze the problem and once they know what it is, they apply the solution. It's fast service that can be carried out in just a day. Doing it on your own might take a lot of guesswork and time wasted, yet you're never sure whether you can solve the problem or no.
It's also hard to trust someone who promises to know how the work is done but can't show enough proof of his professional expertise. We're talking about those who claim to know how to do the repair but can't show their license. You might end up paying for the service that's not worth it or worse, the service that has done irreparable damage to your unit.
To avoid being ripped off, you need to work only with an HVAC company that's properly registered and houses licensed technicians alone. It's more likely that they will provide you with reasonable pricing as based on the kind of repair they would perform. Still, you need to check the reputation of these companies to determine if it's worth trying their service.
How to Hire Them
Now, how can you find them? How can you hire the right people? The first step is to know where to look for them. Sometimes, your colleagues know some information so always ask them. If not, the easiest way is to look up online about companies that can provide this service. These days, you can easily find what you're looking for through local search results.
Is it actually possible to know whether a contractor is legit even if you haven't met him yet to discuss the job? This site is the answer. There, you can find nationally-recognized HVAC contractors in your city. If you have a particular name in mind, you can use the site to check whether this HVAC contractor is really licensed.
After you've verified that the technician is recognized in the country, it's time to check his reputation or that of the company he's affiliated with. What do previous clients say about them? Are they satisfied with the outcome? Did they respond promptly to their needs? What are their ratings? These questions will help you analyze if hiring that particular company is a good idea.
Next step is to pool qualified candidates and know their rates. Also, what are their policies for the warranty? Are they willing to come back in case some issues reoccur after the repair? Are the workers insured? Depending on the answers to these questions, choose the best option that will address your needs and concerns.
All these steps may seem like a tedious process, but once you get to it, you'll realize that it's pretty easy. What's more, following these steps will help ensure that you're only spending your money on the service that's worth it.