HOTEL TRANSYLVANIA 3 is now available on Digital HD and arrives on Blu-ray™ Combo Pack and DVD on October 9th!
We're sharing a whole batch of Drac-tastic material featuring a DracuStraws activity page, a recipe for Drac's Spooky Smoothie, and a few adorable bonus features clips!
But first, some fun facts:
Redbox.com conducted a Halloween survey of more than 1,200 members of the Redbox Customer Panel. The survey was conducted Sept. 11 – Sept. 18, 2018.
The Hotel Transylvania Franchise made the Top 5 for Favorite Family-Friendly Halloween Movies!
Here are all the results.
Favorite Family-Friendly Halloween Movie, Ranked Top 5
1. Hocus Pocus
2. It's the Great Pumpkin, Charlie Brown
3. Beetlejuice
4. The Nightmare Before Christmas
5. Hotel Transylvania
Scariest Movie Ever Seen, Ranked Top 5
1. The Exorcist
2. The Silence of the Lambs
3. The Ring
4. The Shining
5. Saw
Staying home and watching a scary movie (37%) edged out trick or treating (31%) as respondents favorite way to spend Halloween, while understandably parents with children at home prefer trick or treating (53%) over watching a scary movie (26%).
When given the option to choose popcorn or Halloween candy as their favorite snack while watching a scary movie, popcorn was the clear winner for 72% of responders. But these Hotel Transylvania 3 treats might creep into your list of favorites!
Hotel Transylvania 3 DracuStraws Smoothie Recipe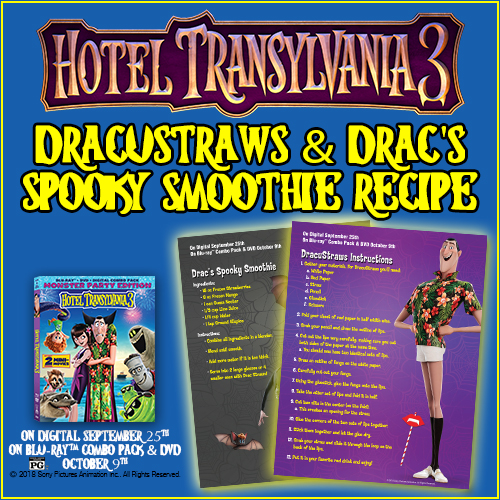 Make it a Hotel Transylvania Movie marathon and plan your own Spook-Tacular Sleepover!
Pick up your copy of Hotel Transylvania 3 and enjoy a fun family-friendly Halloween Movie Night!