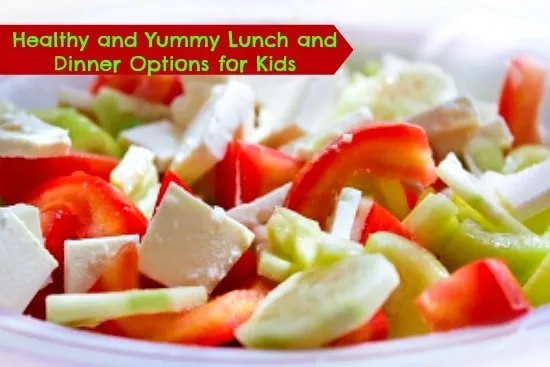 Breakfast is often touted as the most important meal of the day, but once you've gotten your kids hooked on scrambled eggs and fruit for breakfast, you still have two meals to get through.
And parents will quickly discover how picky kids can be when it comes to lunch and dinner.
You can't really blame them for pushing aside veggies and casseroles in favor of chicken strips – after all, their taste buds still have a lot of developing to do.
But in the meantime, you need to find ways to make meals both tasty and nutritious so that kids can get all of the nutrients they need to grow strong and healthy.
Here are just a few options that should help you to keep your kids on track with delicious and balanced meals.
The first thing to mention is that kids need significantly smaller portions than adults, so don't expect them to clear their plates when you offer up heaping portions.
They'll simply fill up on the stuff they like and leave the rest.
That said, there are also several tricks you can use to get kids to eat the veggies and whole grains they'd rather forego.
Casseroles are a standby of most moms looking to sneak in vegetables.
Still, you might also consider frittatas, which look like the fried foods many kids prefer but feature a lot of nutritional value, depending on what you add to them.
Frittatas are easy enough to make, provided you have a skillet that is oven-safe.
In the most basic form, you'll brown breakfast potatoes in the skillet, then add eggs, cheese, veggies, meat, and whatever else you want before putting the entire kit and caboodle into the oven to bake.
The result will be a crispy treat that is chock full of all the ingredients you want your kids to have in their diet.
And if you want to make it a bit more fun, you could spoon the egg mixture into a muffin pan before adding portions of potatoes, cooking individual frittatas that feature each child's favorite meats and veggies.
Plus, they can be cooked ahead of time and reheated, making for an easy lunch or dinner when paired with fresh fruit and milk.
You might also think about incorporating tofu into your family's diet.
There are two good reasons to do this. For one thing, tofu comes in a variety of textures, and it can be flavored and prepared to emulate just about anything, from meat to ice cream.
And the fact that it's made from soybeans means that your kids can forego a measure of meat and dairy.
Although meat and dairy are essential parts of your children's diets, you don't want to go overboard, and tofu can offer a vegetarian alternative.
It would be best if you also thought about getting creative with your vegetable choices.
Kids might turn away from leafy greens and brussels sprouts, but you may be able to tempt them with peas, sweet potatoes, and other options that feature both delicious flavor and tons of vitamins.
Of course, these foods are rather starchy, but they have their benefits in moderation.
The trick is to try all kinds of healthy recipes and note the ones that your kids like. And of course, you can always add healthy extras like hummus, nut butter, and cheeses, to meals to make them more appealing.
Learning how to feed your kids in a way that offers appropriate nutrition while also appealing to their limited tastes is no easy feat. But with trial and error, it can be done.