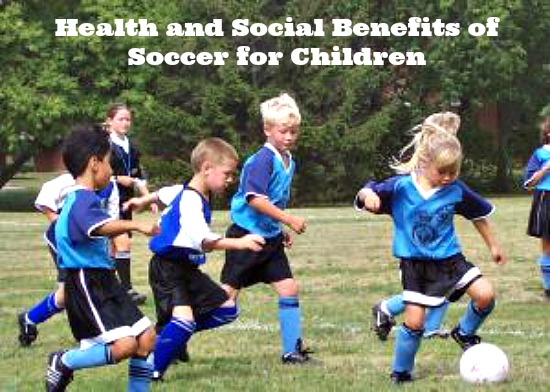 With the U.S. team going further than anyone expected in the recent World Cup tournament in Brazil, something of a soccer craze has been sparked. Although soccer seems to be the most popular sport worldwide, it has often played second fiddle to uniquely American sports like football, baseball, and basketball on the domestic front. But the World Cup fervor has changed all that, at least temporarily, raising awareness of this incredible sport. And the kids in your household may now be interested in joining a team in order to emulate the moves of their favorite players on the pitch. Or you might be keen to sign them up for soccer so that they can enjoy the many benefits that such activity imparts. Here are just a few of the advantages to be gained when children play soccer.
The health benefits for children that play soccer cannot be overstated. This sport not only allows for abundant cardiovascular exercise, thanks to two periods of extended running during each game, but kids who participate will also work on dexterity and mastering motor skills. Whether they're running drills and learning fancy footwork in practices or moving the ball up the field, guarding against opponent attacks and getting the ball to teammates (or into the net), soccer is one sport that will help your kids to burn off excess energy, improve cardiopulmonary performance, increase strength and dexterity, remain at a healthy weight, and learn to control their developing bodies as they grow.
Plus, soccer is a sport where kids will be called upon to develop their mental prowess along with their physical attributes. Soccer can be a fast-paced game, and children will need to be able to make speedy decisions during the course of gameplay. To some degree, training and drills will take over, allowing them to rely on muscle memory to move the ball around the field. But performing in concert with teammates in order to get past opposing players and score goals requires careful orchestration and a level of mental dexterity. And a sport that improves both physical and mental health is certainly one that your kids should consider.
But in addition to the many health benefits that come with playing soccer, your children will also enjoy all kinds of social rewards. For one thing, they'll learn to perform as part of a team, increasing their ability to interact with their peers in a healthy and productive manner. And you'll be amazed how much participating in this sport will boost their confidence and self-esteem. In fact, soccer for kids can lead to improvements in every aspect of your children's lives, carrying over into other activities, the time they spend at school, and even their interactions with family members.
If you're interested in finding activities designed to improve your children's mental, emotional, and physical health while simultaneously boosting their confidence and helping them learn how to interact with their peers appropriately, soccer is a great option. So pick up some Golme products to practice at home and look for local leagues to sign your kids up for. The end result will be healthier, happier kids.