Reusable paper towels are a new concept to me. I appreciate not wasting anything. I have never seen a product like Bambooee. I've read about this brand of washable bamboo towels for a while and now I have received Bambooee in order to facilitate an honest review.
Reusable Paper Towels Have Long Term Benefits
Sure, the first thought here is that it's doing good things for our planet. Bamboo is the world's fastest growing plant. Here in North Carolina it seems to be common. My kiddos think it's magical to walk through the Bamboo forest at Tanglewood and explore.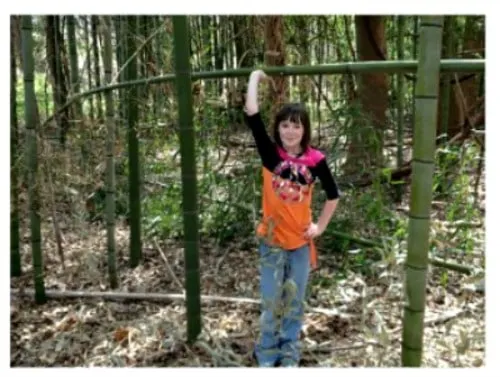 As a crop it requires no pesticides, no insecticides and no fertilizers.
Bamboo dates way back, according to Philippine mythology, creation began with one half of a split bamboo stem on an island between the sky and the Ocean.
So? We have a rapid growing crop, that's been around since perhaps the making of man and it's being used to create reusable paper towels. One roll of Bamboo replaces 286 rolls of standard paper towels. That's amazing!
It's not only helping Earth, but having a long-term benefit for my budget!
More than 3,000 tons of paper towel waste are produced every day. Sadly, I give to this because, well, I love paper towels!
Bambooee The Amazing Reusable Paper Towels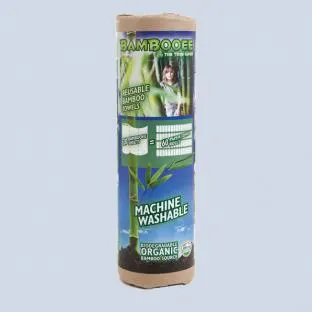 Bambooee reusable paper towels work best when wet. I've been using mine, just like that. I wet one and wipe the counter. I rinse and use the same one to wipe the door where little hands grab and go. I rinse and move on to the next task…cleaning a spilled mess, wiping the dog's area. When the day is done, I toss it in the washing machine.
Bambooee Resusable Paper Towels are Machine Washable!
So? Let's talk about a few things…I'm going to use my grandmother's dish towel as an example. Once I use to go down to her house every morning for coffee. The morning would fade into the afternoon and I'd use her dishcloth to wipe around the kitchen and keep on top of our coffee spills and lunch mess. Her dishcloth would be soggy, filled with water. I'd ring it out and drape it to dry somewhat between uses. That dishcloth would wreak of stank! It happens. Grandma would wash the cloths and they smelled clean coming out of the laundry but after a couple of uses, gone was the spring freshness!
Another favorite kitchen of mine is the sponge. Even putting the sponge in the dishwasher each night, doesn't take away the foul smell that a sponge can absorb. That smell transfers to counters.
The bamboo towel doesn't keep smells. I use the same Bambooee over and over and have yet to get dish-soap out to hand-wash the towel to clean it from smelling bad. There is no smell. It's an organic sheet, nothing added to the soil where it grows. It just does its thing!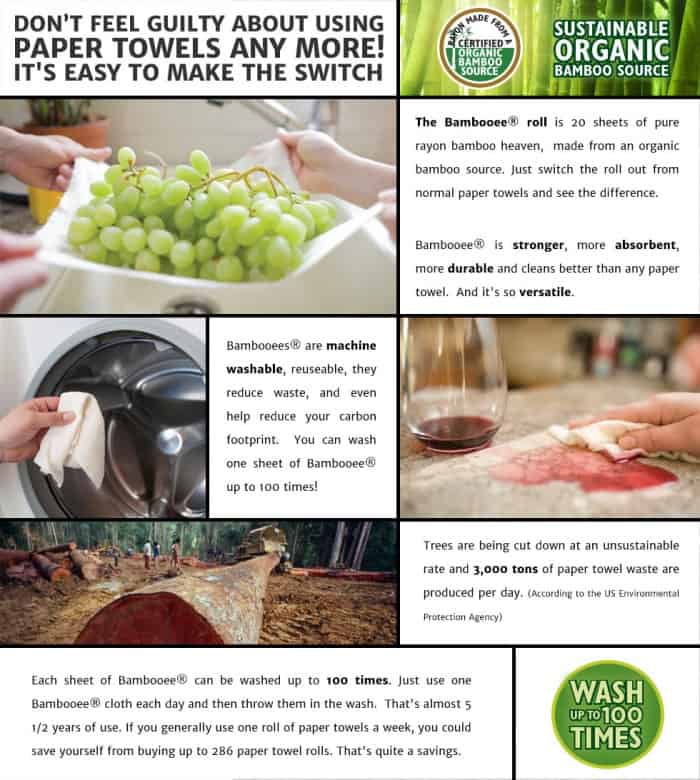 I Love Bambooee Reusable Paper Towels
I am loving Bambooee. I can still feed my obsession with using paper towels, only making a more environmentally conscious choice and using Bambooee Reusable Paper Towels. The savings add up as I use the same Bambooee over and over again. I toss them in the wash (they can also be bleached) and start again. It's incredibly empowering!
Now that you know about Bambooee Reusable Paper Towels, I hope you'll look into this product more and see how it can save you money and help keep your home happy and healthy through the holidays!