Holiday periods are the perfect time for family bonding. Visit barbecue restaurants while traveling as a family during the holidays. Most families take advantage of the holidays to travel and spend time together away from their usual routines. There is a great deal to do while traveling as a family, but only a few beats visiting barbecue restaurants. Dining at a barbecue restaurant is a delightful experience, and what better way to enjoy a good meal than with family? If you need more reasons to visit barbecue restaurants while traveling with your family, continue reading below.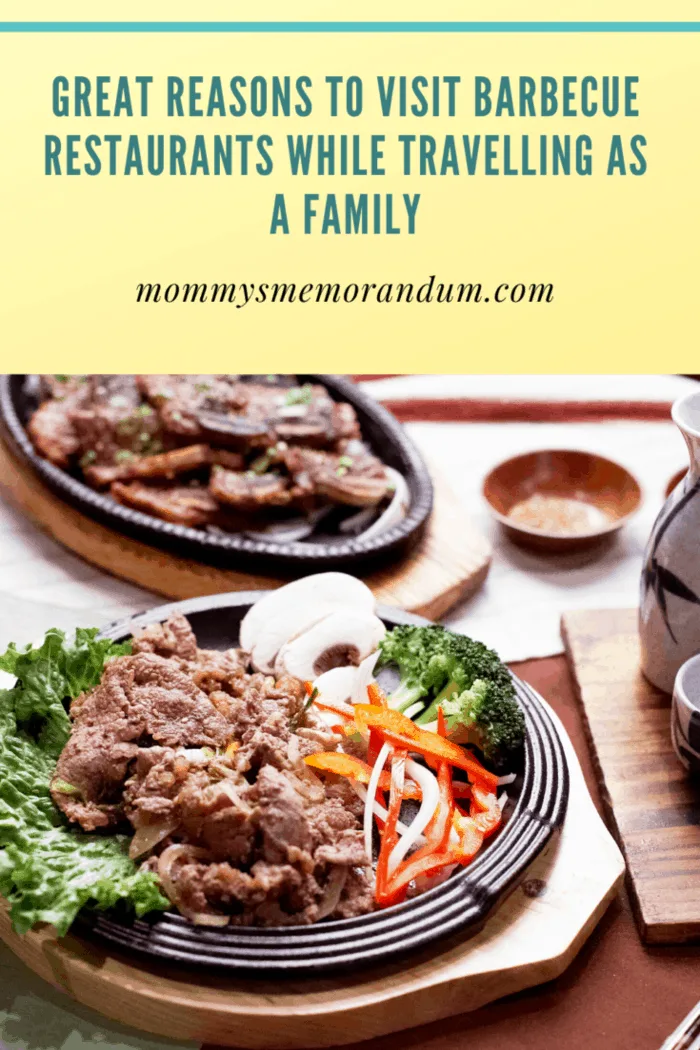 7 Great Reasons To Dine At A Barbecue Restaurant While Travelling As A Family
Affordability:
Looking for someplace where you could have an excellent time with your family without burning a hole through your pocket?
Then, visit a barbecue restaurant!
Dining at a barbecue restaurant is generally affordable–you all can eat your hearty share and not worry about the mounting bill.
A fun fact about barbecue restaurants is that they serve perfect size portions, unlike regular restaurants where you might get small portions of food.
You can combine other side dishes to make the ideal meal for you.
Easy To Find:
Barbecue restaurants are becoming popular with most people; as a result, they are almost everywhere you go.
You will not want to stress over where to eat when traveling with your family, especially if it is your first time visiting and you have toddlers and young children.
A convenient solution will be to ask locals for the closest barbecue restaurant nearby, or go online to get their address, then search for it on Google Maps.
Get An All-round Treatment:
Barbecue restaurants are perfect spots to receive all-around treatment.
You can try food varieties with the BBQ, such as salad, mac-and-cheese, stewed tomatoes, french fries, beans, cocktails, sausages, noodles, etc.
These varieties allow your family to explore different BBQ combinations.
Barbecue restaurants also provide people with family menus that suit both adult and children's meals.
You will usually find separate menus for adults and kids, simplifying things for people with families.
Apart from the meal, most barbecue restaurants, such as Dino BBQ, offer free live music, drink specials, outdoor seating areas, and even a place and food for your pets.
So, you can be sure of a remarkable experience with your family and fur babies, too!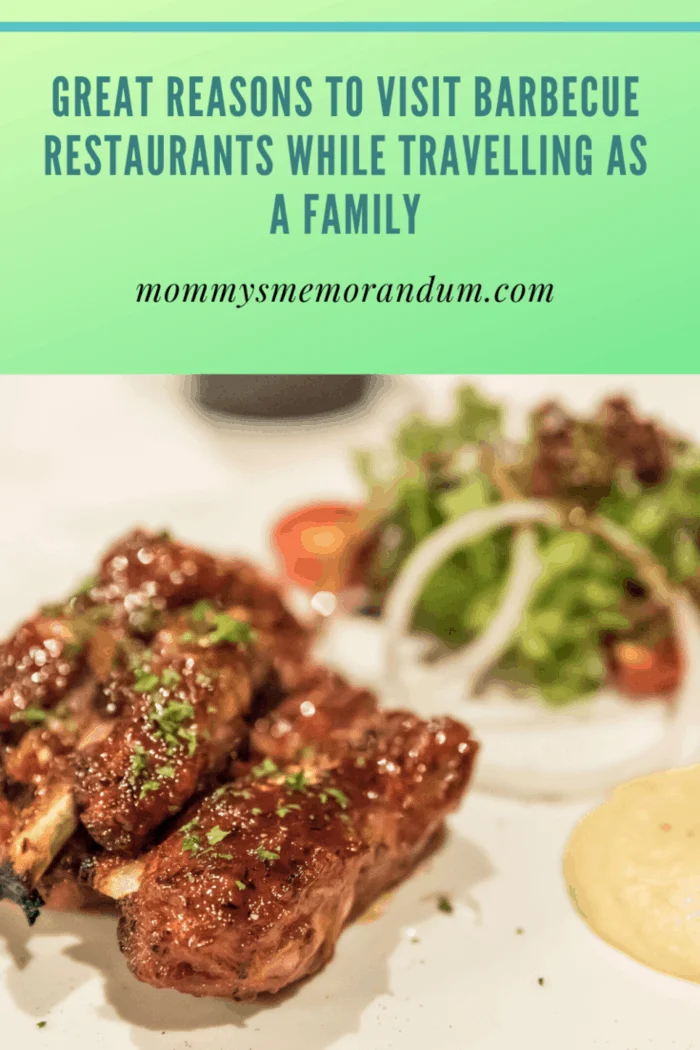 Welcoming Ambience:
Barbecue restaurants have one of the most welcoming settings you will ever see.
If you are looking for a place where you and your family can have a nice evening dinner and relax, then barbecue restaurants are a perfect choice.
The staff are usually friendly and are also welcoming towards children.
Some barbecue restaurants feature a family-style setting that will make your family feel right at home, making them some of the best places to visit while traveling as a family.
A Chance To Try A Good Barbecue:
Who doesn't love barbeque, right?
Yes, you must have tried grilling BBQ at home (Forbes), but what about experiencing the real deal?
Visiting a barbecue restaurant with your family while traveling will allow you to try authentic, mouth-watering, smoky BBQs that will leave you coming back for more.
There are other options, such as fish, prawns, etc., in case you or any other family members are not fans of red meat.
Moreover, your family gets to experience this feeling, too, and it becomes a memory you can all share and reminisce over when the holidays are over.
Talk about creating unforgettable memories and bonding as a family!
This bonding can be done at barbecue restaurants!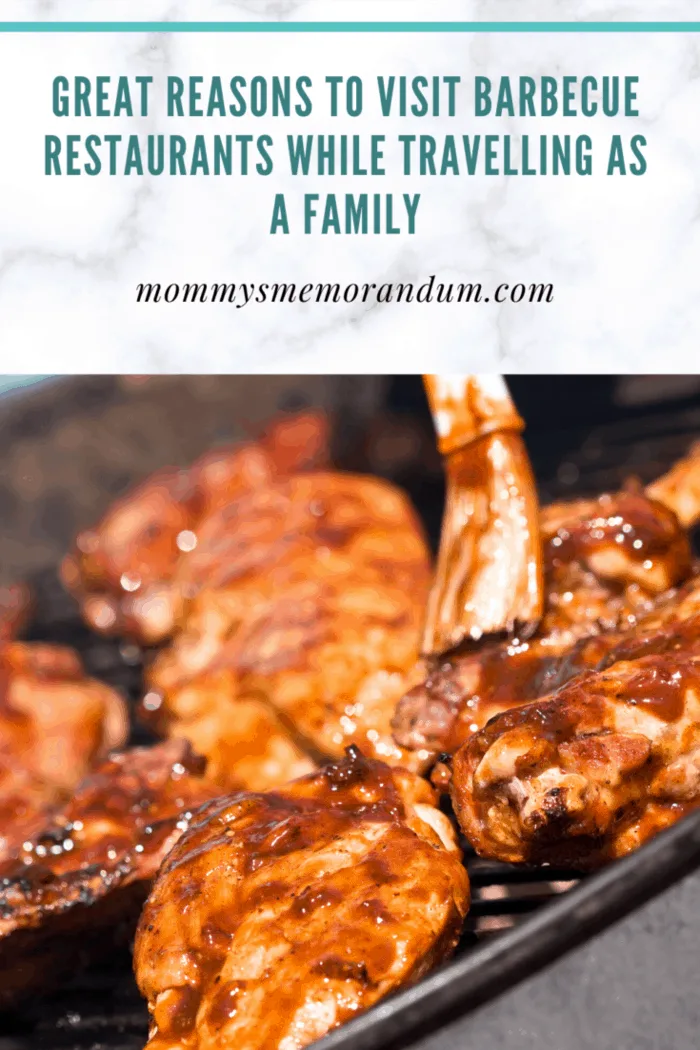 Fun And Educational Experience:
While traveling as a family, especially with kids, you will want fun and informative experiences, and this is part of what barbecue restaurants offer.
BBQ has a rich history of culture and tradition, and visiting barbecue restaurants could be a perfect opportunity for your family to gain knowledge about the tradition behind BBQ recipes, meals, and drinks.
You also get to experience barbecue as an art.
There are a lot of processes involved in making the perfect barbecue meal.
From getting the right recipe to making and blending the right sauce to the presentation, all these take great skills to achieve, and seeing this "art-making" in real life can be both fun and educational experience for you and your family.
Great Recipes:
Barbecue restaurants are famous for their mouth-watering recipes.
Get to enjoy great recipes when you visit with your family while traveling.
These recipes have been fine-tuned over the years to offer the best experience.
Each barbecue restaurant usually has a unique style that is difficult to get elsewhere.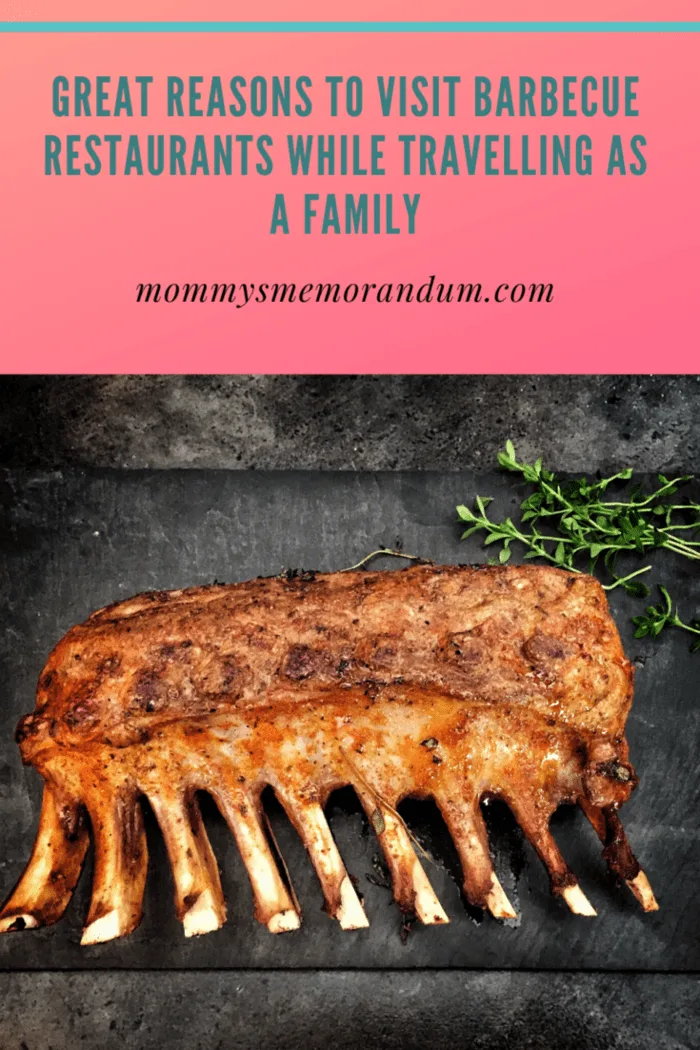 Conclusion
Barbecue restaurants are some of the best places for your family to unwind after an eventful day of sightseeing and exploring your travel destinations.
Apart from the fantastic food, you also get to experience the BBQ culture that has been around for centuries, plus it is also a great way of spending family time together.