"What I Love and Why I ShouldWear it EVERYWHERE"
Fibers.com T-shirt REVIEW
Today is Jon Bon Jovi's Birthday! It's one of the BEST days of the calendar!
As you know, I Heart Bon Jovi in a really BIG way!
The man (and the band) has rocked my world since 1985!
There is a reason that album was named 7800 Degrees Fahrenheit, People! The man is HOT!
In the 1980s Bon Jovi T-shirts were everywhere.
I should have stocked up because as my love affair has carried on for two and a half decades, the shirts have become less common.
I know! What is this world coming to with NO Bon Jovi T-shirts!?
So when Fibers.com gave me the opportunity to review their shirts…and said I could create my own custom T-shirt...I accepted.
"It's My Life" as Jon says and Fibers.com gave me the opportunity to make a statement about my life, what I love and why I want to wear it.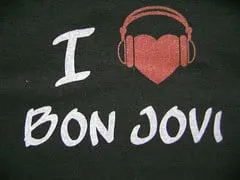 They have a large selection of unique designs all with a 100% satisfaction guarantee.
Advanced direct-to-garment printing and your choice of design are available on T-Shirts, Hoodies, bibs, onesies, and underwear!
I spent a lot of time on the site looking through the designs.
They have EVERYTHING.
My daughter was excited about their 100 Days shirts.
It is a milestone they just celebrated at her school.
Fibers.com offers political and current event shirts.
We liked the Green Peace Heart sweatshirt.
It fits in with our resolution to be kinder to our environment.
And you just know all the little Bon Jovis at Jon and Dorthea's probably already own this fibers.com "Dad Rocks" shirt.
Vanity even set in and I toured their great Mom T-shirts.
Afterall, I'm Mom Extraordinaire and would be proud to dress my children in shirts like the "Mommy Heart Tatoo" shirt.
And how clever is the Mom 27-7-365 shirt…that's DEFINITELY THIS Mom!
But, remember, folks, this post is about what I truly "heart"–Bon Jovi!
After pages and pages of designs and shirts that made me smile, laugh and were indeed SOME of the things I love, in the end, I knew what shirt it was that I came to get…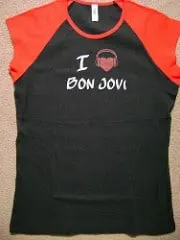 It's pretty stinkin' amazing…just like the man!
I love everything about this shirt.
It's soft.
It declares what I heart.
I made it….yup!
All by myself!
I picked the colors.
I picked the font.
I picked the heart for the "heart" part.
It's just what I always wanted…well, aside from Jon himself!
It's Soooo COOL!
I love how the "heart" is wearing headphones.
That cracks me up!
In addition to this shirt being a proclamation of how much I heart Bon Jovi…it's also high-quality stuff.
The writing is not stiff…it actually moves with me and the shirt!
Fibers.com has an easy layout.
It was really simple, even for myself <–technically challenged.
You start with a simple template.
You select the style of shirt you want.
The color you want.
Then progress, pain-free, through each of the steps.
You can see how your design will look on the shirt as you progress.
It's a lot of fun!
You should try making your own I heart shirt!
My fibers.com shirt has been put to the test.
After all, I'm not going to deny having Bon Jovi that close to my heart.
I've worn this shirt A LOT.
I've worn it as a tee-shirt and when my husband complained because he was sick of seeing me in it, I wore it UNDER my sweatshirt. ;)
I'm no dirt girl…so it's been washed as much as it has been worn.
The print is still vibrant…no cracks.
The threads are still where they started…the neck is not stretched and I'm still totally in love with it.
It doesn't even have those annoying pills that irritate me!
Fibers.com makes wearing tee-shirts not only comfortable but gives the experience to be yourself whether you choose one of the unique templates, or make your own custom tee. It's a great quality product!
Disclosure: No monetary compensation was offered or accepted for this post. I was provided the shirt mentioned in the post for review purposes. The opinions above are my own and were not in any way influenced by the sponsor. Other's experience may vary.
We appreciate your subscription to Mommy's Memorandum