Crunch up some gimme seaweed snacks, or add to your favorite salad or pasta dish for extra flavor and texture!
gimme Seaweed is a light and savory on-the-go snack perfect for lunchboxes, travel, and little hands. It's a snack loaded with minerals and vitamins, heat-healthy Omega-3, and a tangy, crunchy taste of perfection.
There are a variety of flavors to keep your snacking delicious, and gimme just introduced new flavors–Chili Lime and White Cheddar. Yum!
gimme uses clean, high-quality ingredients to keep our diet and environment clean.
Every product in the gimme product line is USDA-certified organic and non-GMO project-verified Seaweed that is sustainably cultivated and harvested in South Korea. Except for Teriyaki, all gimme products are Soy-free.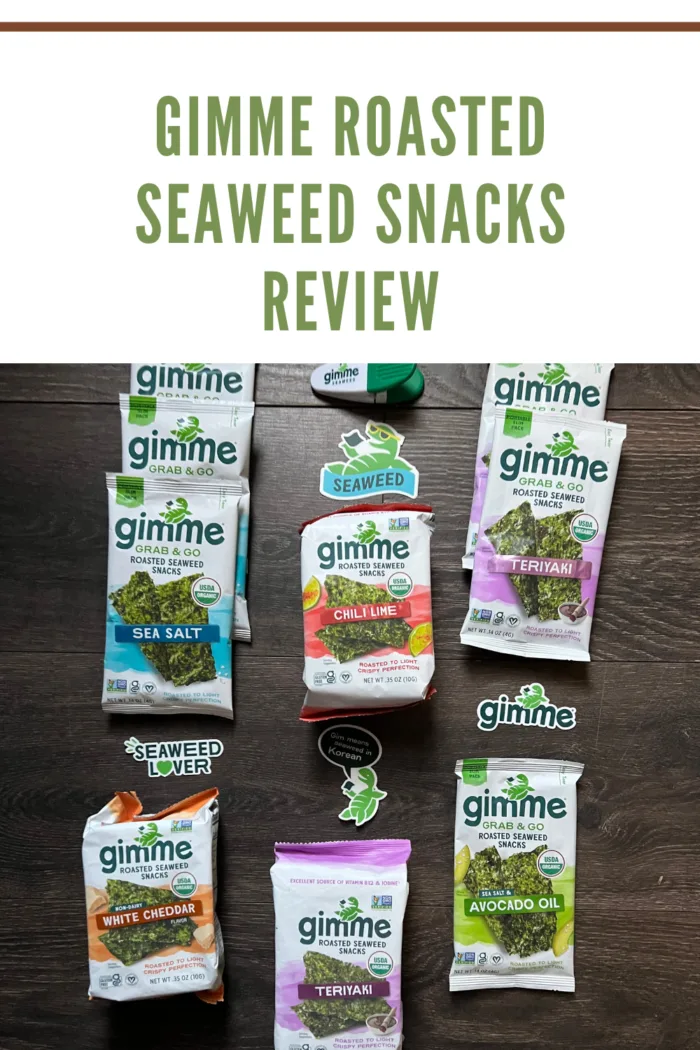 gimme Seaweed Review
I've been eating gimme Seaweed for a long time. I love the crunch of the roasted seaweed snacks, and the flavors are delicious. My kiddos love the seaweed strips as well.
I appreciate the clean ingredients, and did you know Seaweed is a superfood?
The single-serving packets are great for travel or snacking on the go, and the larger package is a significant share size for binge-watching television.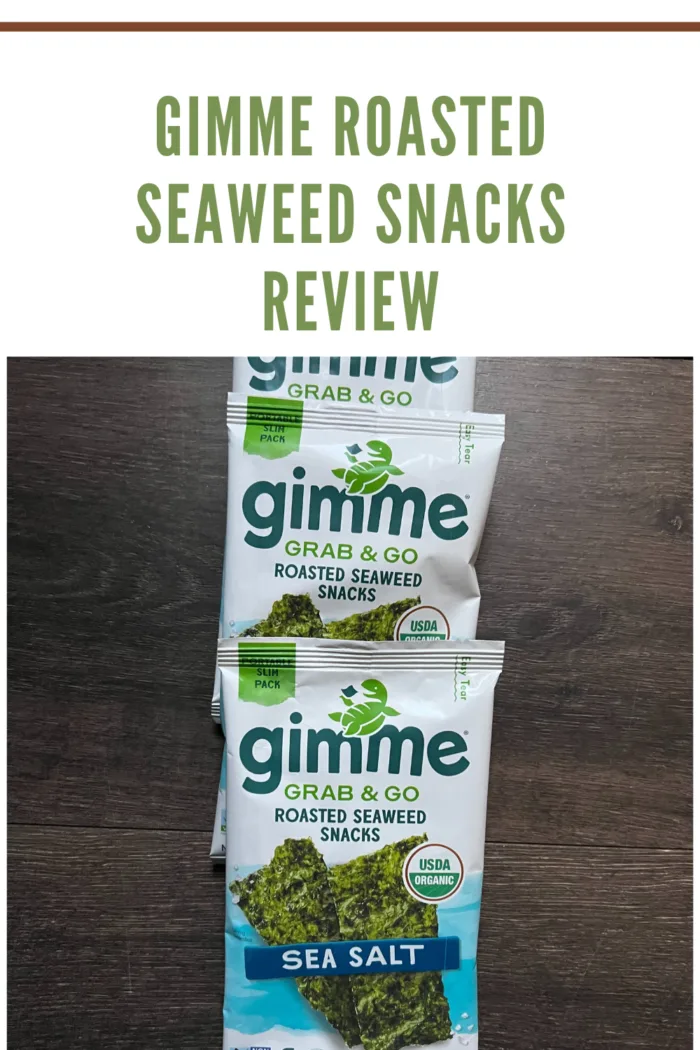 gimme's Roasted Seaweek Snack Flavors:
gimme's Roasted Seaweed Snacks come in these crave-worthy flavors:
Sea Salt
Avocado Oil
Teriyaki
Extra Virgin Olive Oil
Toasted Sesame
Wasabi
Chili Lime (new)
White Cheddar (new)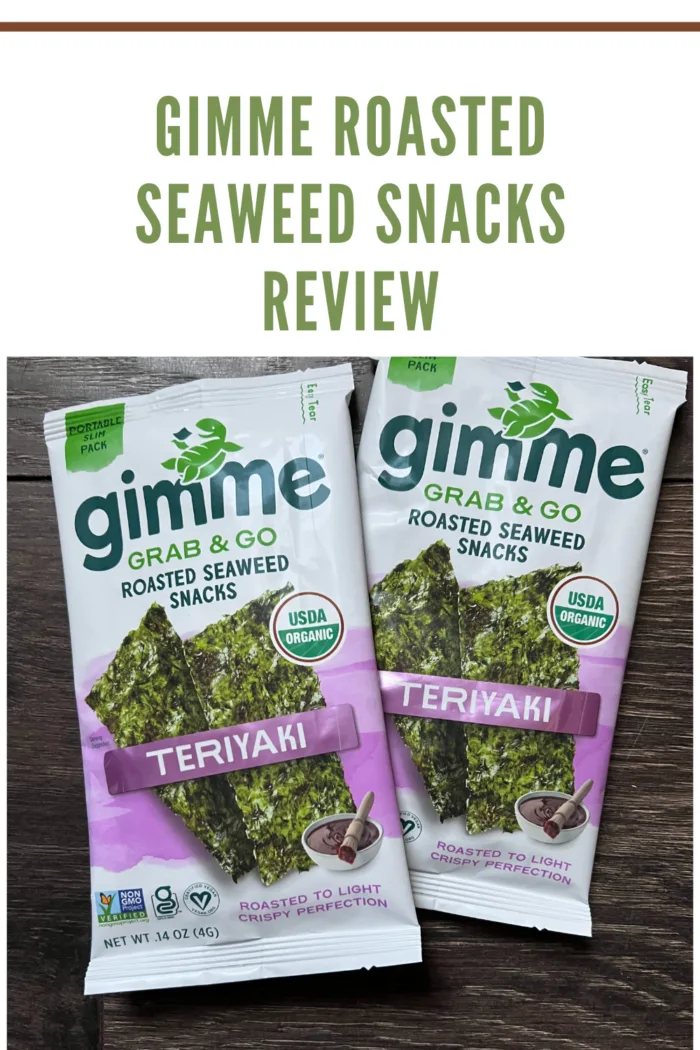 NEW gimMe's Chili Lime
It's not spicy and disappeared the fastest in our taste test. Just a hint of chili with the subtle lime flavor.
These would be delicious crumbled on top of fish tacos or grilled salmon.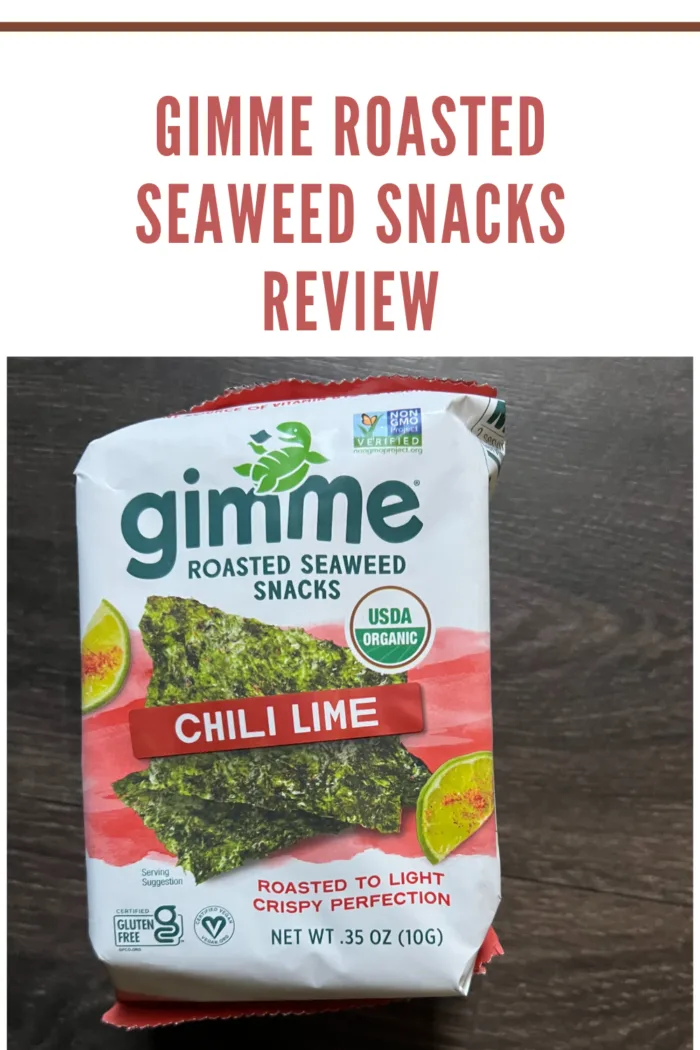 NEW! gimme Roasted Seaweed White Cheddar:
New delicious on-trend flavor, Vegan White Cheddar. This Non-Dairy White Cheddar roasted seaweed has all the flavor of aged white cheddar.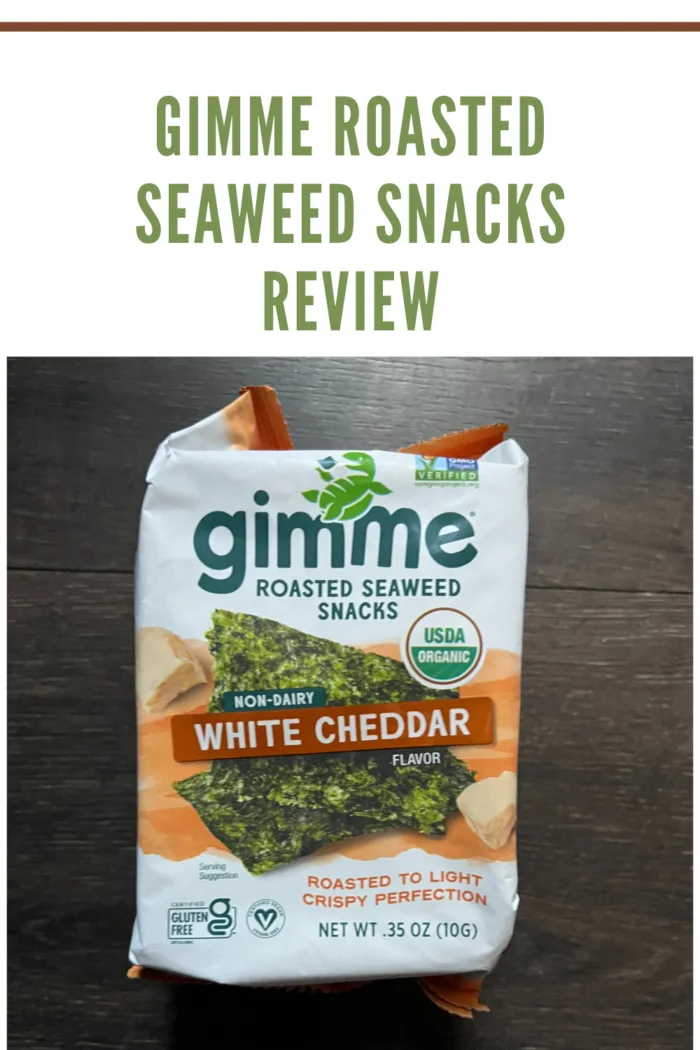 Seaweed as a Superfood:
One of nature's most healthy snacks is Seaweed. It is the highest density of vitamins and minerals of any vegetable on our planet–containing 10-20 times the mineral concentration of land plants. This snack is loaded with vitamins and minerals, vitamins A, C, B-12, and K, and a very good source of Folate, Magnesium, Iron, Calcium, and iodine. It's gluten-free, USDA Certified organic, and only 25 calories per serving. Outside of the United States, Seaweed is called "sea lettuce ." gimme Seaweed makes eating Seaweed something beyond the "green stuff wrapped around the sushi!"
gimme snacks include:
Organic Roasted Seaweed Snacks: Crispy, yummy sheets of savory, crunchy deliciousness
Seaweed Thins: Thin layers of roasted Seaweed, delicately brushed with sauce and stacked with Almonds, Sesame Seeds, or Coconut in between.
Organic Seaweed Chips: These chips are created with Organic Brown Rice, Lentils, and Sesame Seeds, packed with pieces of Roasted Seaweed, then seasoned with a pinch of Sea Salt. They are also available in Sesame Teriyaki and Sriracha.
Organic Sushi Nori: This 100% Organic Sushi Nori is perfect for traditional sushi & other healthy wraps. They are also zero-calorie and zero-carb!
About gimme Health Foods:
Food lovers, parents, entrepreneurs, Seaweed obsessed wife and husband Annie Chun and Steve Broad own and operate gimme Health Foods.
Annie was born and raised where the Seaweed is the best, Korea, and Steve grew up in Northern California.
Annie is the company's soul with her Korean culture and Asian cooking, while Steve brings management, business experience, and sales to the company. They credit their teenage daughter, Mia, with the idea of starting a company that sells the best-roasted Seaweed. They named it gimMe, after the Korean word "gim" which means Seaweed.
Both cultivate the brand with their passion for healthy Asian foods.
Their first natural food company, Annie Chun's, is a leading US food brand!
WHERE TO BUY gimme Roasted Seaweed Products:
gimme foods are available in their Online Store, or check out their Store Locator to find the location that sells them nearest you.
For more information about gimMe, please visit www.gimmesnacks.com or www.facebook.com/gimmeseaweed