Introducing "Gilmore Girls: The Official Cookbook" by Elena Craig and Kristen Mulrooney! Indulge in the culinary delights of Stars Hollow with the Gilmore Girls Official Cookbook. From Luke's Diner favorites to Sookie's creations, experience the tastes that fueled Lorelai and Rory's charming adventures. Recipes, quotes, and nostalgia await!
Are you ready to dive into the culinary world of Stars Hollow? Unleash your inner chef with this delightful cookbook inspired by the iconic TV series, Gilmore Girls. Step into the kitchen and embark on a gastronomic adventure alongside Lorelai and Rory, as you recreate the mouthwatering dishes that have become a beloved part of the show's legacy.
Inside this captivating cookbook, you'll find a treasure trove of over 50 recipes that capture the essence of the Gilmore Girls universe. From Luke's famous pancakes to Sookie's delectable desserts, this cookbook unveils the secrets behind the show's most memorable culinary moments. Each recipe is thoughtfully crafted, allowing you to experience the flavors that brought the Gilmore household to life.
Immerse yourself in the warm nostalgia of the series as you whip up delectable dishes for breakfast, lunch, dinner, and even those cozy movie nights. Whether you're a seasoned chef or a kitchen novice, this cookbook caters to all skill levels, providing clear instructions, helpful tips, and a dash of Lorelai's signature wit to guide you every step of the way.
"Gilmore Girls: The Official Cookbook" isn't just about food; it's about creating lasting memories and reliving the magic of Stars Hollow. Prepare a Sunday dinner with your loved ones, indulge in a Thanksgiving feast straight out of the Dragonfly Inn, or surprise your friends with a Friday night dinner that would make Emily Gilmore proud. With this cookbook in hand, the possibilities are endless!
But the excitement doesn't stop there. Delve deeper into the world of Gilmore Girls with bonus features that take you behind the scenes of the show. Discover exclusive anecdotes, trivia, and never-before-seen photos that will transport you back to the quaint streets of Stars Hollow.
So, grab your apron, put on a pot of coffee, and get ready to savor the flavors of Gilmore Girls. Order your copy of "Gilmore Girls: The Official Cookbook" today and let the culinary magic unfold in your kitchen. It's time to cook like a Gilmore!
"Gilmore Girls: The Official Cookbook" is a hard-cover, high-resolution colorful graphic feast exuding charm and nostalgice with tie-ins to the series that will delight even the hardest-core fans. I love that this isn't a gimmicky book "inspired by" this book features the actual food, meals and restaurants that made the Gilmore Girls the show we love. The food here, like on the show, brings the series to life.
What Are Some Recipes from Gilmore Girls The Official Cookbook?
Here are a few popular dishes from the series that fans may particularly enjoy:
Luke's Diner Pancakes: Luke's pancakes are an iconic breakfast staple in the show. Fluffy and delicious, they are sure to be a hit among fans who crave a taste of Stars Hollow.
Sookie's Magic Risotto: Sookie, the talented chef at the Dragonfly Inn, is known for her incredible culinary skills. Her magic risotto recipe, which is likely to be a fan favorite.
Miss Patty's Founders' Day Punch: Miss Patty, the eccentric dance teacher, often hosts festive events in Stars Hollow. Her Founders' Day Punch, will provide fans with a refreshing and celebratory beverage.
Friday Night Dinner Roast Chicken: The Friday night dinners at the Gilmore household are a recurring event in the series. A recipe for a mouthwatering roast chicken, inspired by those special family gatherings, could be a beloved choice among fans.
These are just a few examples, and the cookbook contains numerous other beloved recipes that fans of the show will relish.
Sadly, Trix's Mock Turtle Soup is missing. Richard will be so disappointed.
Eat Your Way Through Stars Hollow Based on Location!
The "Gilmore Girls: The Official Cookbook" offers a delightful culinary journey through the various locations and iconic dishes from the beloved TV series.
Let's take a closer look at the breakdown of recipes by location:
Luke's Diner: Step into the cozy atmosphere of Luke's Diner with a selection of classic diner favorites. Indulge in the classic Hot Fudge Sundae with a side of grapefruit, savor Luke's Special Omelet, or try the mouthwatering Santa Burger. For a sweet treat, there are the aptly named Danish Day-Danishes and the irresistible Caesar's Chilequiles.
Independence Inn, The Dragonfly Inn, & Sookie St. James' Creations: Get ready for more refined and delicious offerings influenced by the talented chef, Sookie St. James. Delight your taste buds with Roquefort Puffs, indulge in Jackson's Blueberry Shortcakes, or experience the magic of Sookie's signature dish, the acclaimed Magic Risotto. For a unique twist, try the Deep Fried Turkey Leg or transport yourself to a medieval feast with the Plum Pudding. And, of course, you can't miss Sookie's critically acclaimed Zucchini Soup or her flavorful Roasted Acorn Squash Soup. And last but not least, there's the intriguing recipe for Norman Mailer's Legendary Iced Tea.
Stars Hollow Potluck: Bringing a healthier touch to the cookbook are the recipes influenced by the meticulous Mrs. Kim. Explore Mrs. Kim's Eggless Egg Salad Sandwiches, indulge in Mrs. Kim's Everything-Free Muffin Drops, and savor the Extra Chunky Multigrain Pudding. Don't miss Lane's Wedding Dumplings, the flavorsome Cashew Chicken, the refreshing Beef Noodle Salad, or the shrimp dish from Al's Pancake World. These recipes will transport you to the eclectic and health-conscious world of Stars Hollow's potlucks.
Lorelai and Rory's House: Junk food central and the ultimate comfort foods await you in this section. Treat yourself to Homemade Peanut Butter Sandwich Cookies, experience the joy of Homemade Edible Cookie Dough (meant to be enjoyed raw), or join Rory in her international pretzel adventure with Rory's Pretzels from around the world. For a unique twist, try the playful Dessert Sushi or indulge in Cream Puffs for Hands, a treat that will surely bring back memories of Lorelai and Rory's sweet tooth.
With this breakdown of recipes by location, the "Gilmore Girls: The Official Cookbook" offers a delightful and diverse range of dishes that will transport fans back to the heartwarming world of Stars Hollow, allowing them to savor the flavors and culinary delights inspired by their favorite characters.
The Gilmore Girl Quotes Are a Fun Addition:
In addition to its mouthwatering recipes, the "Gilmore Girls: The Official Cookbook" offers fans a delightful bonus in the form of popular quotes from the show, all of which are, of course, food-related. One such quote that is sure to bring a smile to fans' faces is, "This is a jumbo coffee morning. I need coffee in an IV."
This witty and caffeine-fueled quote captures the essence of Lorelai Gilmore's love for coffee, a central theme throughout the series. Lorelai, portrayed by the talented Lauren Graham, is known for her unabashed adoration of coffee and her insatiable need for a daily dose of caffeine. Her affinity for this caffeinated beverage is a defining characteristic of her character, creating many humorous and relatable moments.
The quote exemplifies Lorelai's sharp wit and her ability to use humor to express her deep appreciation for coffee. It resonates with fans who understand the feeling of needing a jolt of energy to kickstart their day. It encapsulates Lorelai's spirited personality and her unapologetic indulgence in life's simple pleasures, like a steaming cup of coffee.
By including memorable quotes like this one, the cookbook not only provides readers with delicious recipes but also allows them to reminisce about the show's iconic moments. It celebrates the quirky and memorable dialogue that has endeared Gilmore Girls to fans worldwide.
As fans flip through the pages of the cookbook and encounter these food-related quotes, they will be transported back to the witty banter, fast-paced conversations, and heartwarming family moments that made Gilmore Girls so beloved. It's a charming reminder of the show's unique blend of humor, love, and the profound connection between Lorelai and her daughter Rory.
So, as readers navigate the delightful recipes within the cookbook, these food-related quotes add an extra sprinkle of Gilmore Girls magic, ensuring that fans can savor not only the delicious flavors but also the nostalgic charm of the series.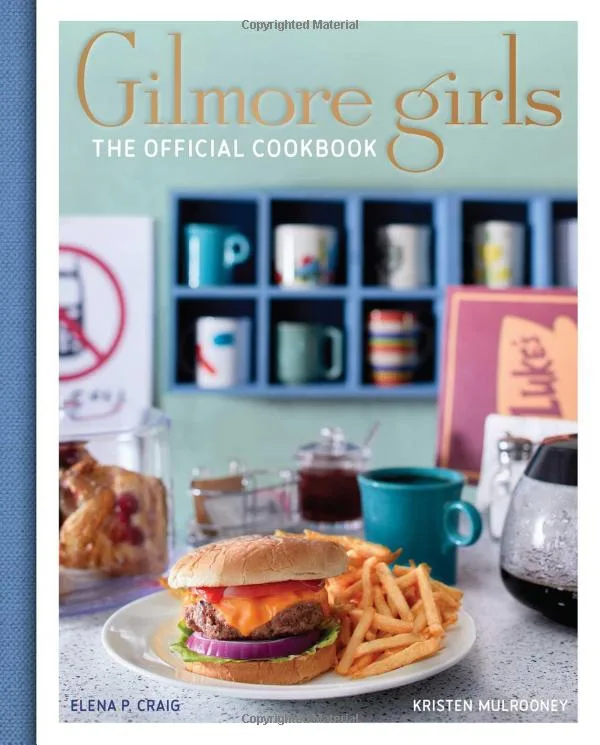 Why Gilmore Girls Fans Will Love this Cookbook:
Gilmore Girls fans will absolutely adore this cookbook for several reasons:
Nostalgia: The cookbook allows fans to relive their favorite moments from the show by recreating the dishes that were prominently featured. It's a wonderful way to bring the essence of Stars Hollow into their own kitchens and evoke the cozy, heartwarming atmosphere of the series.
Connection to Characters: The recipes in the cookbook are inspired by the characters themselves, reflecting their unique personalities and tastes. From Lorelai's coffee addiction to Sookie's culinary creations, fans can experience the food that played such a significant role in the lives of their beloved characters.
Culinary Exploration: The cookbook offers a diverse range of over 50 recipes, providing fans with the opportunity to try their hand at a wide variety of dishes. From breakfast staples like Luke's famous pancakes to signature items from the Dragonfly Inn's menu, there's something to suit every taste and skill level.
Shared Experience: Cooking and enjoying meals together have always been a central theme in Gilmore Girls. The cookbook allows fans to engage in the same rituals as their favorite characters, whether it's Friday night dinners, movie nights, or Sunday brunches. It offers an opportunity to bond with friends and family over a shared love for the show and its delectable cuisine.
Overall, this cookbook is a celebration of Gilmore Girls' rich culinary heritage, inviting fans to step into the world of Stars Hollow and create their own memorable dining experiences. It's a delightful way for fans to indulge their passion for the show while satisfying their taste buds with dishes straight from the Gilmore Girls universe.
Gilmore Girls: The Official Cookbook Synopsis:
Oy with the poodles already! The first official collection of recipes inspired by the world of the fast-talking Gilmore Girls.
Gilmore Girls: The Official Cookbook features dishes from every corner of Stars Hollow and beyond, including the Dragonfly Inn, Weston's Bakery, Al's Pancake World, Luke's Diner, and Emily and Richard's dinner table . Fans will delight in recreating iconic dishes from the beloved series, such as Sookie's Risotto, Mrs. Kim's Flaxseed Muffins, Luke's Cheeseburger and Fries, and, of course, the perfect cup of coffee! This official cookbook also includes clever cooking tips from Sookie, hosting tips from Michel, etiquette tips from Emily Gilmore, and the wisdom from Lorelai and Rory for cooking fast and talking faster.
MORE THAN 50 RECIPES: Dozens of recipes for Stars Hollow favorites from Sookie's Risotto to Luke's Cheeseburger.
TIPS FROM SOOKIE: Recreate iconic dishes from Gilmore Girls with tips from Chef Sookie! Where easy-to-follow step-by-step directions lead, you can follow.
RECIPES FOR EVERY OCCASION: Whip up delicious dishes for everything from a mother-daughter brunch to a family dinner to a celebration for the whole town!
FILLED WITH PHOTOS: Includes gorgeous full-color photos of recipes to help ensure success, as well as beloved moments from the series.
THE FIRST OFFICIAL GILMORE GIRLS COOKBOOK: The only cookbook with official recipes direct from the set of Gilmore Girls.
About Gilmore Girls:
Gilmore Girls is a beloved American television series that originally aired from 2000 to 2007. Created by Amy Sherman-Palladino, the show follows the lives and relationships of three generations of women in the fictional small town of Stars Hollow, Connecticut.
The series primarily focuses on the close bond between single mother Lorelai Gilmore (played by Lauren Graham) and her daughter Rory Gilmore (played by Alexis Bledel). Lorelai, who became pregnant with Rory at a young age, defied her wealthy and traditional parents, Richard and Emily Gilmore (played by Edward Herrmann and Kelly Bishop), and raised Rory on her own. Lorelai works as the manager of the Independence Inn and later fulfills her dream of opening her own inn, the Dragonfly Inn.
Gilmore Girls is known for its fast-paced and witty dialogue, pop culture references, and strong emphasis on family, friendship, and love. The series explores a wide range of themes, including ambition, education, career aspirations, romance, and the complexities of familial relationships.
The charming and quirky residents of Stars Hollow, including Luke Danes (played by Scott Patterson), a grumpy yet lovable diner owner, and Sookie St. James (played by Melissa McCarthy), Lorelai's best friend and a talented chef, add depth and humor to the show. The town itself becomes an integral part of the narrative, with its unique festivals, colorful characters, and tight-knit community.
Throughout its seven-season run, Gilmore Girls garnered a dedicated fan base and critical acclaim for its writing, performances, and relatable storytelling. The series returned for a limited revival in 2016, titled "Gilmore Girls: A Year in the Life," consisting of four feature-length episodes that catch up with the characters nearly a decade later.
Gilmore Girls continues to resonate with audiences for its heartwarming portrayal of family dynamics, strong female characters, and its ability to balance comedy and drama. It remains a cherished and iconic television series that has left a lasting impact on popular culture.
Disclaimer: I opted to review the book solely for the fact it was Gilmore Girl-related. A copy was provided to me to review and share my honest opinion.