Explore the Prehistoric World with "Early Man" Free Printable Activities!
Step back in time and join Dug and his hilarious Stone Age tribe on a thrilling adventure with our "Early Man" free printable activities! Unleash your creativity and embark on a journey to the prehistoric world where cavemen and dinosaurs roamed. Get ready for some roaring fun with these engaging and educational resources that are perfect for kids and families!
Immerse Yourself in the Stone Age: Unleash your inner archaeologist with printable coloring pages featuring Dug, Hognob, and the quirky Stone Age characters. Let your imagination run wild as you bring the vibrant world of "Early Man" to life with your own colorful twist!
Score Big with Stone Age Football: Get into the sporting spirit with a fun-filled Stone Age football activity sheet. Test your skills as you guide Dug through an exciting maze to reach the goal, avoiding obstacles and discovering hidden surprises along the way. Can you help Dug become the champion of the Stone Age pitch?
Exciting Word Searches and Crossword Puzzles: Challenge your mind with entertaining word searches and crossword puzzles themed around "Early Man." Test your knowledge of the film's characters, animals, and Stone Age vocabulary. Can you find all the hidden words or solve the puzzling clues?
Get Your Free Printables Now: Visit our website and download these exciting "Early Man" free printable activities to embark on a prehistoric adventure from the comfort of your own home. Gather your family, unleash your creativity, and let the Stone Age fun begin!
Don't miss out on this fantastic opportunity to engage, learn, and have a blast with "Early Man" free printable activities. Get ready to journey back in time and make memories that will last a lifetime. Download your activities today and let the Stone Age adventure begin!
About Early Man:
Early Man" is a British stop-motion animated comedy film released in 2018. It was directed by Nick Park, the creator of the popular Wallace and Gromit series, and was produced by Aardman Animations, known for their claymation films like "Chicken Run" and "Shaun the Sheep Movie." The movie takes place during the Stone Age and follows the story of a tribe of primitive humans who face the challenge of defending their land from an advanced Bronze Age civilization.
The protagonist of the film is a young caveman named Dug, voiced by Eddie Redmayne. Dug's tribe, led by Chief Bobnar, lives a simple life in the valley, hunting rabbits. However, their peaceful existence is disrupted when Lord Nooth, the ruler of the Bronze Age city nearby called "The Bronze Age," invades their territory and drives them out. Determined to reclaim their land, Dug sets out on a journey to challenge the Bronze Age invaders.
Dug's quest leads him to the city, where he discovers that the people there are obsessed with football (soccer). He sees this as an opportunity to challenge the mighty Bronze Age champions in a winner-takes-all football match. With the help of a talented Bronze Age girl named Goona, Dug assembles a team of misfit cavemen and trains them to become skilled football players.
The film combines humor, adventure, and sports, as the underdog cavemen face off against the powerful Bronze Age team in a humorous and epic football match. The outcome of the match determines the fate of Dug's tribe and their home in the valley.
"Early Man" features the distinctive claymation style of Aardman Animations, known for its attention to detail and quirky characters. The film received generally positive reviews from critics, who praised its animation, humor, and heartwarming story. It also has an ensemble voice cast that includes Tom Hiddleston, Maisie Williams, Timothy Spall, and Richard Ayoade.
Overall, "Early Man" is an entertaining animated film that combines prehistoric adventure with the universal appeal of sports, delivering a lighthearted and enjoyable experience for viewers of all ages.
Lionsgate's Early Man is available on Blu-ray Combo Pack, DVD, and to celebrate, we have a fun new activity button! Activities include Tic Tac Toe, Spot the Differences, Word Scramble, and more!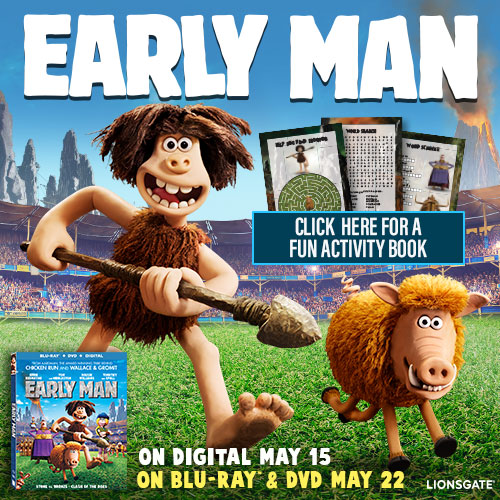 Meet the team that rocked the Stone Age when Early Man Arrived
From Aardman, the award-winning tribe that brought you Wallace & Gromit, Chicken Run, and Shaun the Sheep Movie, this prehistoric romp tells the epic story of Dug the caveman and his goofy friends who challenge invaders to a game of soccer in order to win back their home.
Perfect for the young and young-at-heart alike, the cheerful tale told in charming, well-crafted claymation is Certified Fresh™ on Rotten Tomatoes and is full of "abundant delights" (Ella Taylor, NPR).
Starring in the film Early Man are:
Oscar®-winner Eddie Redmayne (Best Actor, The Theory of Everything, 2014; Fantastic Beasts and Where to Find Them)
Tom Hiddleston (Thor: Ragnarok, Kong: Skull Island)
Maisie Williams (TV's "Game of Thrones")
Timothy Spall (Sweeney Todd: The Demon Barber of Fleet Street, Harry Potter Franchise).
Set at the dawn of time, when prehistoric creatures roamed the Earth, Early Man tells the story of courageous caveman hero Dug (Eddie Redmayne) and his best friend, Hognob, as they unite their tribe against a mighty enemy — Lord Nooth (Tom Hiddleston) and his Bronze Age City — to save their home.
The animated world of Early Man has extensive special features including never-before-seen featurettes that reveal the love, passion, hard work, and magic that goes into creating an Aardman Studios animated film. Early Man will be available on Blu-ray Combo Pack and DVD for the suggested retail price of $24.99 and $29.99, respectively.
Free Downloadable Early Man Activites
EarlyMan_ActivitySheets