Hey, do you wanna play a game that will give your brain a workout?! A game that is fun and tests how well your hand and eyes work together. It's the game that is so fast it will have your reflexes on edge! Do you like squishing bubble wrap? If this sounds like your kinda fun, then the Go POP! Presto game from Fox Mind is the game for you!!
Gather your friends and family for a few hours of some friendly competition.
You could also make it a tournament game for the day.
Mensa, Toy of the Year, Game of the year, and others have nominated or Awarded FoxMind for their toys and games of Education, family, and strategy.
Foxmind creates toys & games that STEMulate the brain.
FoxMind creates games that help develop skills associated with Science, Technology, Engineering, and Math.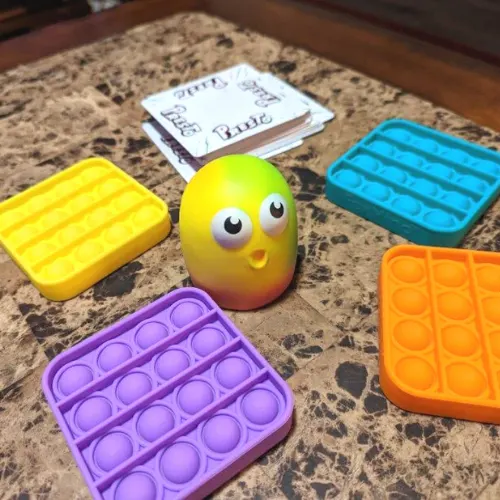 What is the GoPop game?
FoxMind Go POP! Presto game is a tactile toy combined with a simple logic game designed to stimulate senses and develop logic and reasoning skills.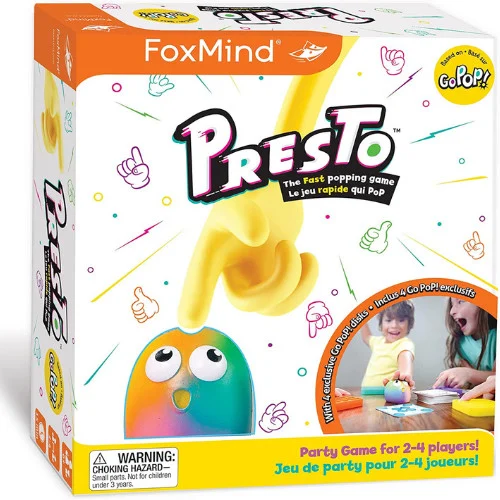 Who made the original pop it?
Theo and Ora Costa, a husband and wife team from Israel, created the original PopIt fidget toys.
According to the BBC, they also invented 189 games, including the globally popular "Guess Who?", "Face to Face," and "Zingo."
Theo also produced the first business promotional products.
Fun Fact:Theo grew up in Amsterdam. He was a classmate of Anne Frank. Before World War II, he was known as Maurice Simon Coster. He told his story of surviving in the documentary "Ann Frank's Classmates" and his 2009 book "We All Wore Stars."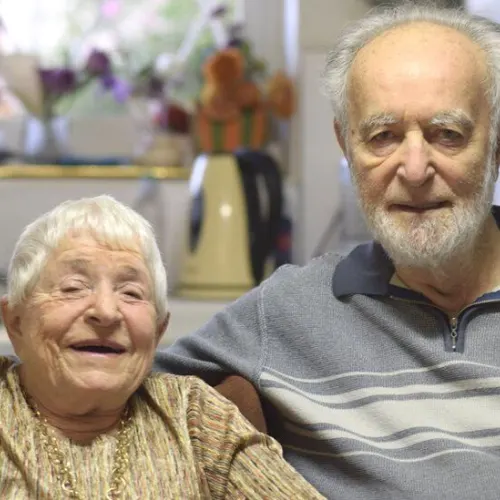 The Costa's Pop-It was created in the 1970s, when rubber was expensive, keeping it from mass production.
Fast forward several decades where brothers Boaz and Gideon, sons of Ora and Theo, join the business and license the idea of pop-it to a Canadian toy company named Foxmind.
In the last 18 months, consumers have bout more than seven million Go POP! Pop-its.
They attribute the toy's success to a North Carolina capuchin monkey named Gaitlyn Rae, who went viral on TikTok last year playing with Go POP!
Math-STEM!
This game is entertaining, but it also encourages Math and STEM learning.
Playing with FoxMind toys and games will keep family and friends busy learning while having fun!
FoxMind Go POP! Presto is a fast-moving, fun game featuring Bubblo!
Bubblo is the Squishy Bubble with the CUTE FACE!
Fans of squishy will love this bubble character crated with the best quality foam.
He loves to be pressed, and Bubblo enjoys leaving the game to be carried around by active hands.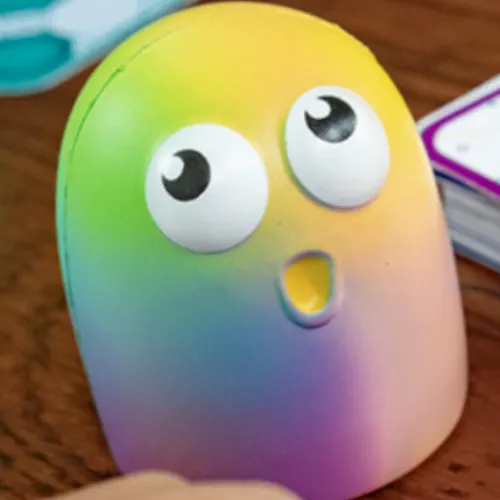 How to Play Go POP! Presto
To win the Go POP! Presto game, you have to race the other players to be the first to complete the tasks that are on the Presto cards.
Each player takes their turn drawing from the deck.
The task on the Presto cards has to be duplicated on the Go POP! Card by popping the bubbles on the Go POP! card and then tapping Bubblo to win the round and collect the Presto Card.
The first player to collect six Presto cards wins the game!
Go POP! Presto games include:
4 Go POP! Cards
A deck of Presto game cards
Bubblo the Squishy bubble with the Cute Face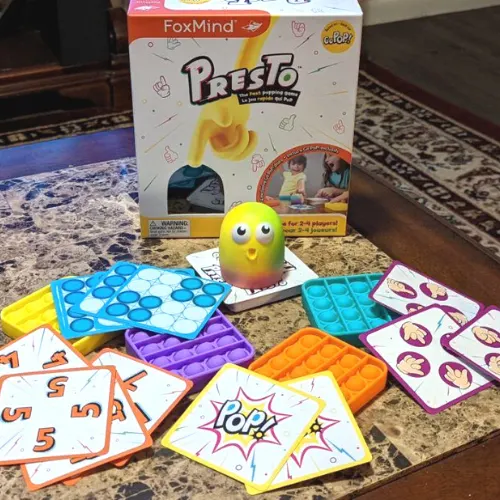 FoxMind Go POP! Presto game is the perfect size to take to the Lake, Cabin, in the RV, or for the trip to Grandma's.
It is the ideal size to take with you during the holidays or play on Family Game Night!
What better way to have fun with the family after holiday meals.
This dexterity game is based on the original Go POP! game by FoxMind.
Go Pop! Presto is safety tested and hygienic, made with 100-percent food-grade silicone.
It can be cleaned by placing in a mixture of hot water and dish soap to keep it clean.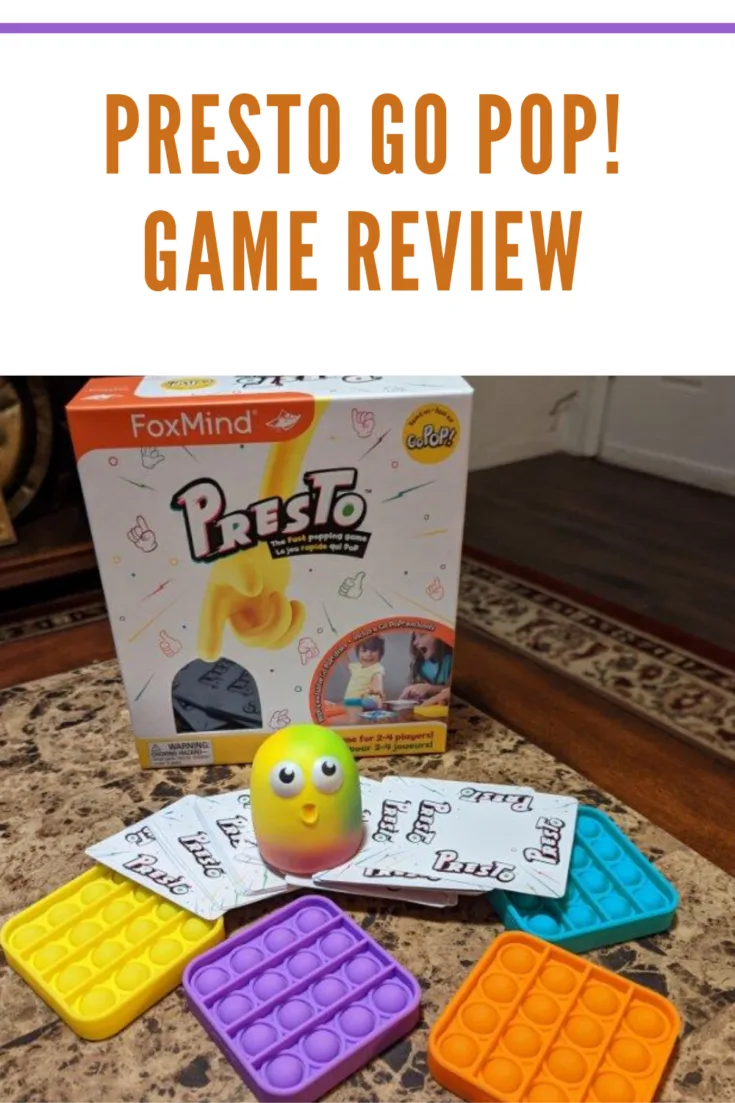 Get Your Game On:
FoxMind Go POP! Presto is available on Amazon for $24.95. Go Pop! is part of the Go POP! collectible popping games.
About FoxMind:
FoxMind publishes and distributes popular family games and logic puzzles, which are both fun and original for all ages.
The FoxMind line helps to develop reasoning skills, verbal expression, creativity, and the ability to think strategically.
With numerous international prizes already on its mantle, FoxMind is the favorite of many parents, teachers, and people around the world.
---
We received a FoxMind Go POP! Presto Game in exchange for this review. All opinions remain our own.