Feeding hummingbirds help you attract wildlife and build trust with them. Over time, you may be able to tame the hummingbirds enough to let them sit on you or even eat from your hand.
Hummingbirds eat a lot: up to half their body weight every day in sugar. They also eat frequently, often stopping for more food every 10 minutes.
That voracious appetite works to your advantage when trying to get closer to the birds.
Use these tips to attract and feed hummingbirds.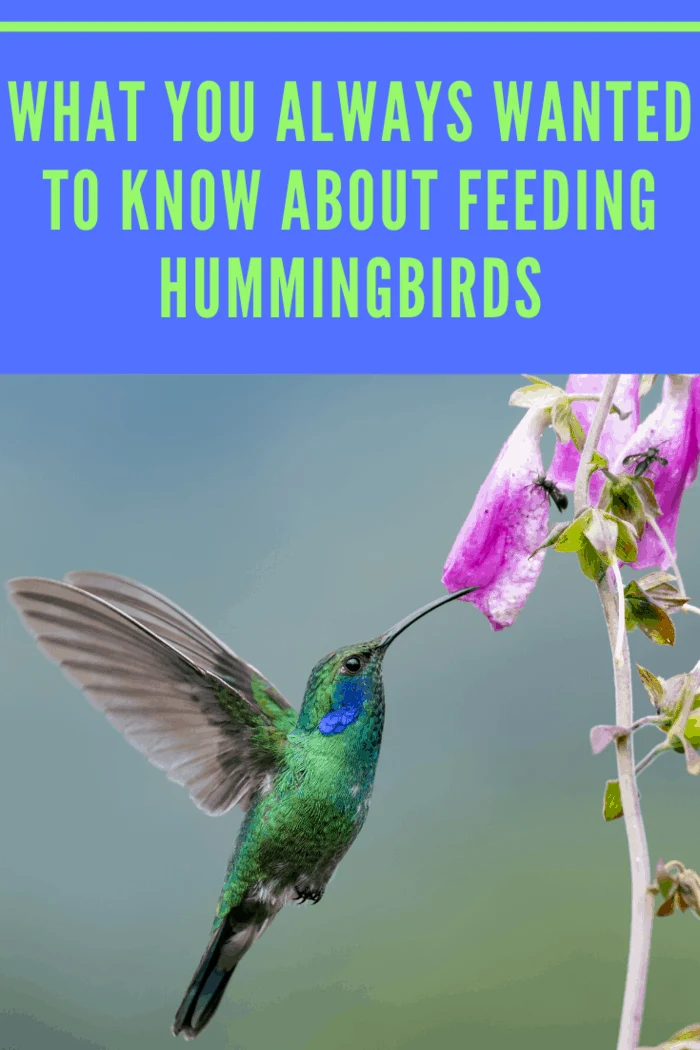 What You Always Wanted To Know About Feeding Hummingbirds
Choose Your Hummingbird Feeder
Hummingbird feeders offer an easy way to attract birds to your yard. The best hummingbird feeder is large enough for the hummingbirds to easily eat the nectar. They're often red since hummingbirds are attracted to the color.
Buying a few different styles of feeders may help attract more birds. Some may be attracted to one style over another, so installing different feeders can help.
Fill the Feeder
You can use prepared hummingbird nectar, but it's easy to make your own. Mix 1/4 cup of regular white granulated sugar for every cup of water. Boil the sugar water and let it cool before you fill the feeder.
You don't need to add red food coloring into the mixture. Artificial coloring may be harmful to the birds, so it's best to skip it.
The nectar can ferment or grow bacteria quickly, especially in hot temperatures. Empty and clean your feeder every few days or at least twice per week. Refill it with fresh hummingbird food.
Observe the Birds
Track the hummingbird activity in your feeders. This helps you determine the busiest feeding times. Use that information to know when to approach the feeders.
Stand Nearby
Before you can hold or feed a hummingbird by hand, you need the birds to get used to you. Stand several feet from the feeder so the hummingbirds get used to you being around.
Being as consistent as possible in how you look and act helps put the birds at ease and helps them get used to you. Avoid quick movements or any sounds, as they'll likely scare the birds.
Each day, move a step closer to the hummingbird feeder. They may initially fly away, but if you're patient, they'll usually return. Continue until you get within a few feet of the feeder.
Hold the Feeder
When the hummingbirds get used to you, try holding one of the feeders they frequently use. Remain very still while they eat from the feeder.
Don't try to grab a bird. Just let them enjoy the meal and let yourself enjoy the close-up view of the hummingbirds.
Hand Feed Hummingbirds
If your regular hummingbirds seem okay you holding the feeder, you may be ready to move on to hand-feeding the birds. Remove your feeders when you want to hand feed. This eliminates other sources of food and encourages them to eat from you.
Place some of the sugar water in your slightly cupped palm. You can also put the nectar in a red lid or other shallow container and hold it in your hand. Hold it out so the birds can see it, and wait for them to land and eat.
Start Feeding Hummingbirds
Feeding hummingbirds gives you a chance to observe them up close and provide food they need. Over time, the hummingbirds may get used to you enough to let you hold the feeder or to eat from your hand. Check out more of our articles for more fun ideas around your home.