When warmer, more pleasant weather comes in the spring, many of us are eager to head outside and enjoy it. None of us want to spend our beautiful spring and summer days sweating and working on our homes, but this is the best time to do it.
If you remember to do your preventative maintenance every year, you may save yourself from costly or time-consuming repairs down the road.
In this post, we'll highlight some of these most essential maintenance jobs that homeowners neglect (and often pay for later).
Exterior Maintenance Tasks That Every Homeowner Shouldn't Forget
Clean Your Gutters
Your gutters should be checked at least two times per year in most climates, and you may need to check them even more if you have trees that drop debris in them frequently.
In many ways, water is the enemy of your home, and gutters are your home's main line of defense against it.
When your gutters aren't draining rain away from the house, water could be sitting on your roof or soaking into your foundation, both of which can incur substantial repair bills.
You can do the cleaning yourself, but for thoroughness– and safety– have a professional, clear your gutters twice a year.
Inspect Your Home
While you're on the roof cleaning out your gutters, make sure to look around for any loose shingles or holes, as well.
In fact, you should do a thorough once-over on your home at least once per year, usually when winter is over, and everything has thawed.
You may want to take another look after, particularly bad storms, too. Inspect your home for things like cracking caulk, space around pipes and wires entering the home, and ill-fitting windows.
Anything that's fallen away or isn't aligned as it should be can allow pests or water to enter your home, and you don't want either of those things to happen.
To avoid that from happening, at Refined Exteriors you will find a caring team that will look out for your house. With expertise and hassle-free procedures, they'll help you spruce up worn-out exteriors.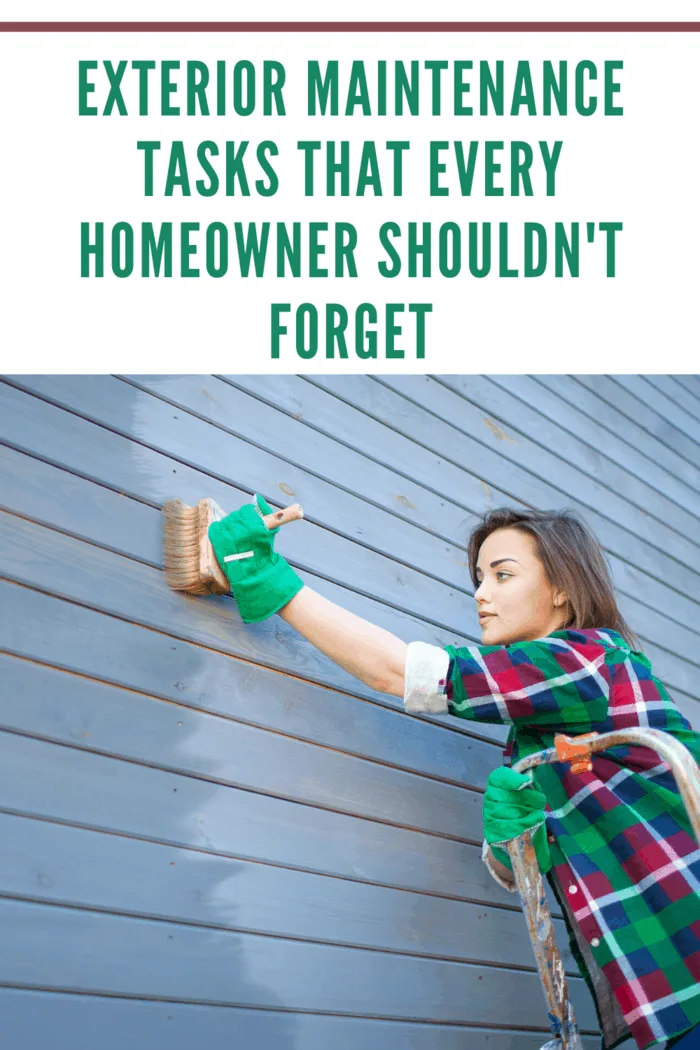 Finish Your Landscaping
We all loathe pulling weeds when they start to invade our lawns and gardens.
However, preventing these pests from taking root is much, much easier than having to pull them out later.
Use a lawn fertilizer to prevent dandelions and other weeds from spreading in your lawn, and use mulch or stones to deter weed growth in planters and gardens.
Weed killers are an excellent last resort, especially for areas like driveways and sidewalks, but be careful that you don't damage your other plants or your lawn.
Take this time to trim or remove dead or diseased trees, too.
While removing a tree can be expensive, having a tree fall on your house and cause damage is much worse.
Make sure to do all these exterior maintenance tasks before the weather changes to safeguard your home and your family.
Not only will it save you time, but it'll also save you a fortune on costly home repairs.