Tomorrow is a great time to start working on reaching your fitness goals, and your dog can join in the fun.
It's important for your dog to stay active in order to be healthy.
Keep in mind dogs aren't designed to lay around the house all day, they're designed to run, jump, and play.
If you work 9-5 it's likely you want to come home after work and crash on the couch.
This practice will start hurting your health and the health of your dog.
This article will teach you how to get up and get moving with the help of your pup and some dog exercise toys.
9 Fun and Creative Ways to Exercise Your Dog
Know Your Dog Breed
Not every dog is created equal regarding the amount of exercise they need each day.
Be sure to research your dog breed for the ideal amount of time they should be moving.
For instance, a corgi needs at least an hour of exercise per day to prevent boredom.
Corgis are traditionally herding dogs that spend a lot of time running after cattle.
Know your dog and what his or her needs are.
A corgi will have different needs than a german shepherd golden retriever mix.
Join a Meet Up Group
Many cities have meet-up groups where you can bond with other dog owners.
You can meet people who have the same breed of dog as you do and go on adventures with them.
Typical meetup group activities for dog groups include walks in the park, hikes, and meetings at dog-friendly restaurants.
It's healthy for your dog to regularly meet and bond with other dogs.
This keeps them social and entertained, rather than sitting at home alone.
Visit a Dog Beach
Dog beaches have everything you could want for your pup: sun, surf, and sand.
Your pup will love running on the beach and splashing in the water.
Be sure to check the parameters of your dog beach and only let your dog off-leash in designated areas.
Where are the Best Dog Beaches in the United States?
There are many great dog beaches in the United States, each with their own unique features and amenities.
Here are some of the best dog beaches in the country:
Huntington Dog Beach in California: This beach is a paradise for dogs and their owners, with a large stretch of sand where dogs can run and play off-leash. There are also plenty of amenities, including dog showers, waste bags, and water fountains.
Cannon Beach in Oregon: This beach is known for its stunning natural beauty, with towering rock formations and clear blue waters. Dogs are allowed on the beach off-leash, but must be under voice control.
Montrose Dog Beach in Illinois: Located in Chicago, this beach is a popular spot for dogs and their owners. There is a fenced-in area where dogs can play off-leash, as well as a dog-friendly section of the beach where leashed dogs are allowed.
Fiesta Island in California: This man-made island in San Diego Bay is a popular spot for dogs, with a large off-leash area where dogs can run and play in the sand and water.
Fort De Soto Park in Florida: This beach has been named the best dog beach in the country by several publications. There is a large off-leash area where dogs can play in the sand and water, as well as amenities like showers and waste bags.
These are just a few of the best dog beaches in the United States. Be sure to check local regulations and leash laws before visiting any dog beach, and always clean up after your pet to help keep these beautiful places clean and safe for everyone to enjoy.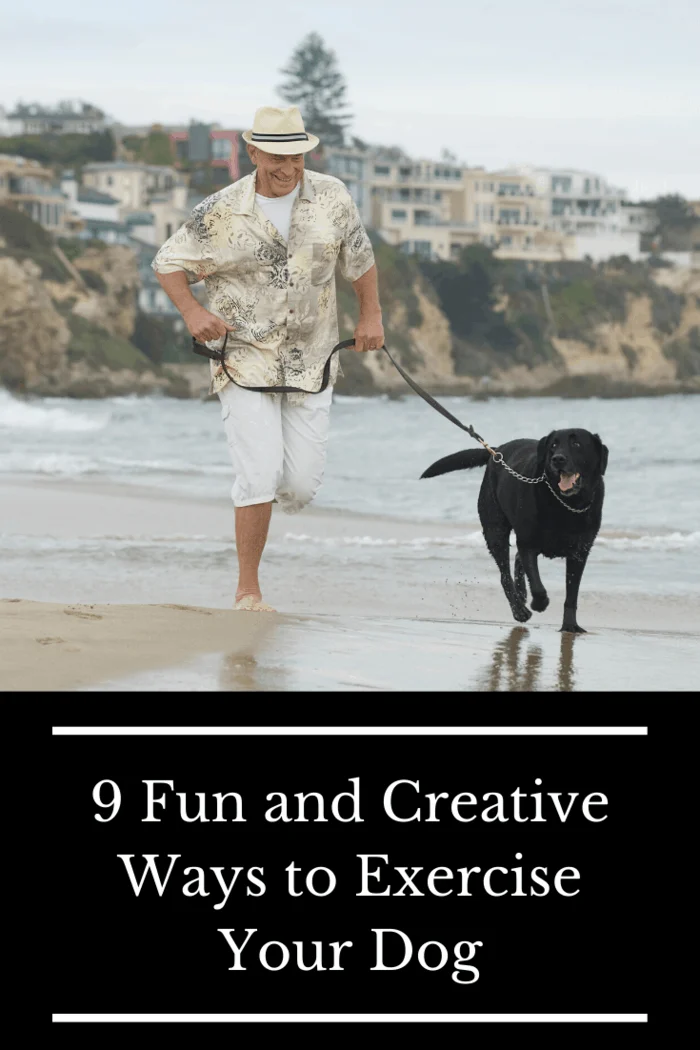 Start a Running Program
It is difficult to take your dog running if you get winded easily.
It's very likely that your dog can run faster and longer than you can, but there are ways to improve your stamina.
Start a running program like Couch Potato to 5k that will help you run for 30 minutes straight.
Once you complete the program, you and your dog can start running 5K's together.
You can map out a route in your neighborhood or head to a local park.
Running together will help you both shed pounds and it will also get you out in the world to meet all sorts of interesting people – and dogs.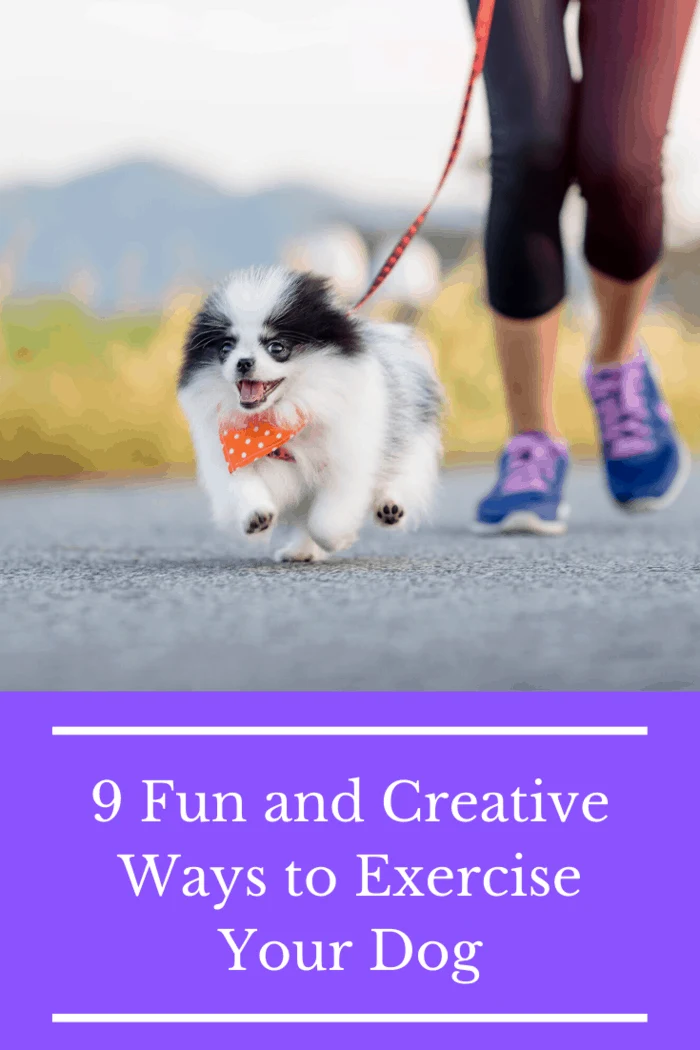 Teach An Old Dog New Tricks
Teaching your dog new tricks is a great way to get them active and exercise their minds.
Cut up dog treats into very small pieces so as to avoid overfeeding them.
Teach your dog a trick he doesn't know yet.
If he already knows to sit, teach him to roll over.
If he already knows rollover, teach him to fetch.
Set aside a half-hour every evening to work with your dog on a new trick.
He will love this bonding time with you and feel pride in accomplishing a new task.
Take a Hike With Dog Exercise Toys
Hiking is a great way to explore new terrain and get your dog exercising.
Buy a hands-free leash so you don't have to hold on to Fido the entire time.
You can wear these leashes around your waist for a smoother dog walking experience.
Check out hiking trails in your area and write on your calendar when you'll be visiting each one.
Be sure to bring plenty of water and poop bags on your hike.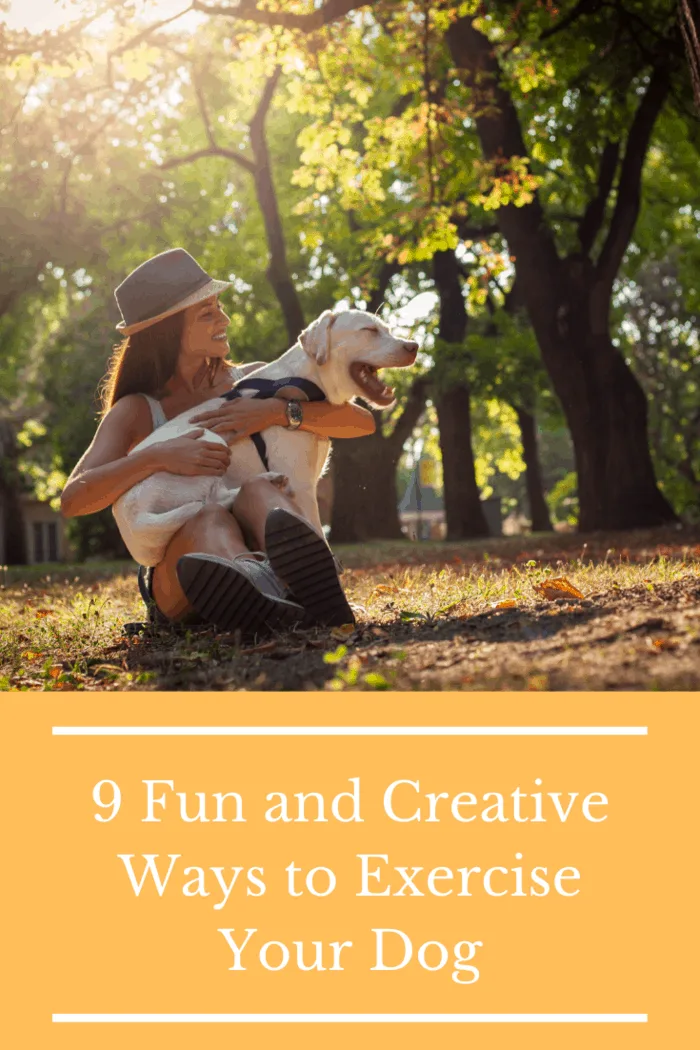 Roller Blade
Rollerblading is coming back in fashion and it's a good way to keep up with bigger dogs who run fast.
Strap on your rollerblades and let your dog guide you for a while.
Find an area away from cars so you can rollerblade safely without worrying about you and your dog getting hit.
Go Swimming
Not all dogs love to swim, but it's important that your pup at least knows how.
You want your dog to be a proficient swimmer in case they get caught in a tough situation near the water.
Give your dog swimming lessons so they won't be afraid of the water.
Teach them to do a doggie paddle across your pool.
This is also a way to get them exercising and using new muscles.
Your dog may love it and become a regular swimmer.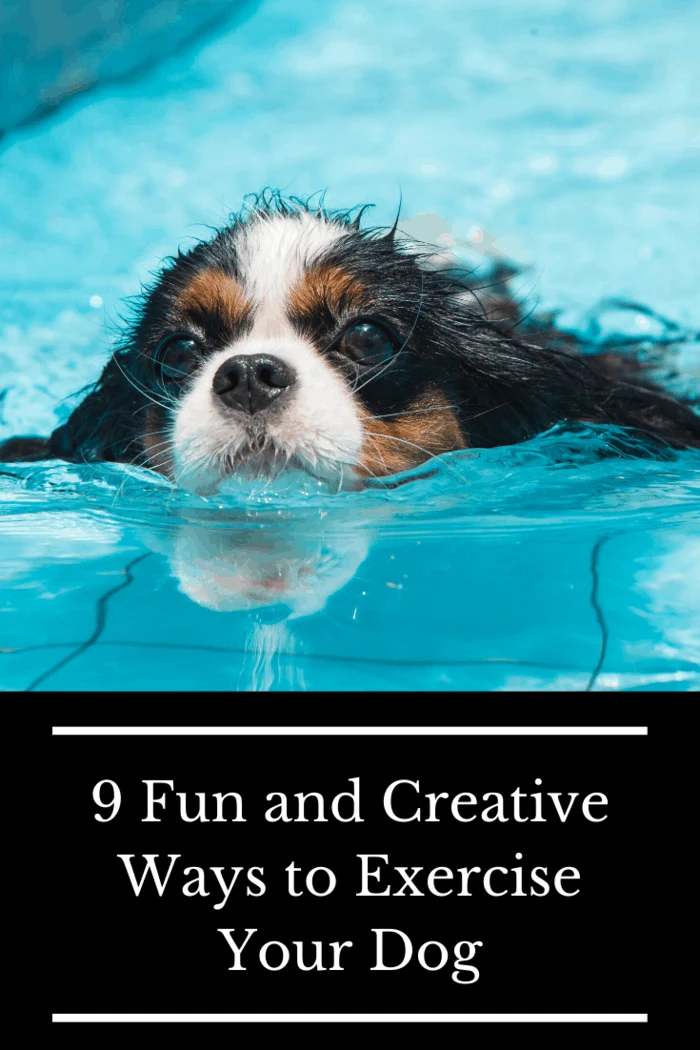 Lay Off the Treats
With their wagging tails and puppy dog eyes, it can be tempting to spoil our dogs.
We want to feed them every time we eat and give them treats just for looking cute.
This behavior, however, is very detrimental to their health.
Your dog should be eating the amount of food prescribed by their vet.
There is no need to feed them table scraps every time you eat or to reward them blindly.
Reserve dog treats for training time and food for mealtimes.
This will teach them to value food more instead of taking it for granted.
Plus, if you're always giving your dog treats, they won't learn when they're behaving well.
Enjoy Your Time With Your Pup
You want your dog to live as long as possible so you can keep making memories with them.
In order for this to happen, you need to keep your dog active with dog exercise toys.
Check out our other articles for more lifestyle tips.