Prepare yourself for a heart-pounding, adrenaline-fueled horror experience with "Evil Dead Rise," a bone-chilling thriller set to arrive digitally in the comfort of your own home on May 9. Directed by the talented Lee Cronin and boasting a stellar cast, including Lily Sullivan ("I Met a Girl," TV's "Barkskins") and Alyssa Sutherland (TV's "New Gold Mountain," TV's "Vikings"), this gripping film will keep you on the edge of your seat. For those who prefer physical copies, "Evil Dead Rise" will also be available for purchase on 4K UHD Combo Pack, Blu-ray, and DVD starting June 27.
Brought to you by New Line Cinema and Renaissance Pictures, "Evil Dead Rise" features an ensemble of talented actors, including Morgan Davies (TV's "The End," "Storm Boy"), Gabrielle Echols ("Reminiscence"), and introduces the captivating Nell Fisher ("Northspur"). With longtime franchise producer Rob Tapert at the helm and executive producers such as series creator and horror icon Sam Raimi and cult legend Bruce Campbell (known for his role as "Ash"), alongside John Keville, Macdara Kelleher, Richard Brener, Dave Neustadter, Romel Adam, and Victoria Palmeri, this film promises to deliver the quintessential Evil Dead experience.
"A Wonderfully Sick New Installment in the Beloved Horror Franchise."
HOLLYWOOD REPORTER / Lovia Gyarkye
Evil Dead Rise
The Latest Installment of the Iconic Horror Franchise Debuts For
Premium Digital Ownership on May 9
4K UHD Combo Pack, Blu-ray Combo Pack and DVD arrive on June 27
Evil Dead Rise Digital and 4K UHD
On May 9, "Evil Dead Rise" will be available for early premium digital ownership at home for $24.99. Additionally, a 48-hour rental option will be offered via PVOD for $19.99 SRP on various digital platforms, including Amazon Prime Video, AppleTV, Google Play, and Vudu.
For those who crave the tactile experience of physical media, mark your calendars for June 27. On this date, "Evil Dead Rise" will be released on 4K UHD Combo Pack, Blu-ray Combo Pack, and DVD. The film will continue to be available in high definition and standard definition from participating digital retailers.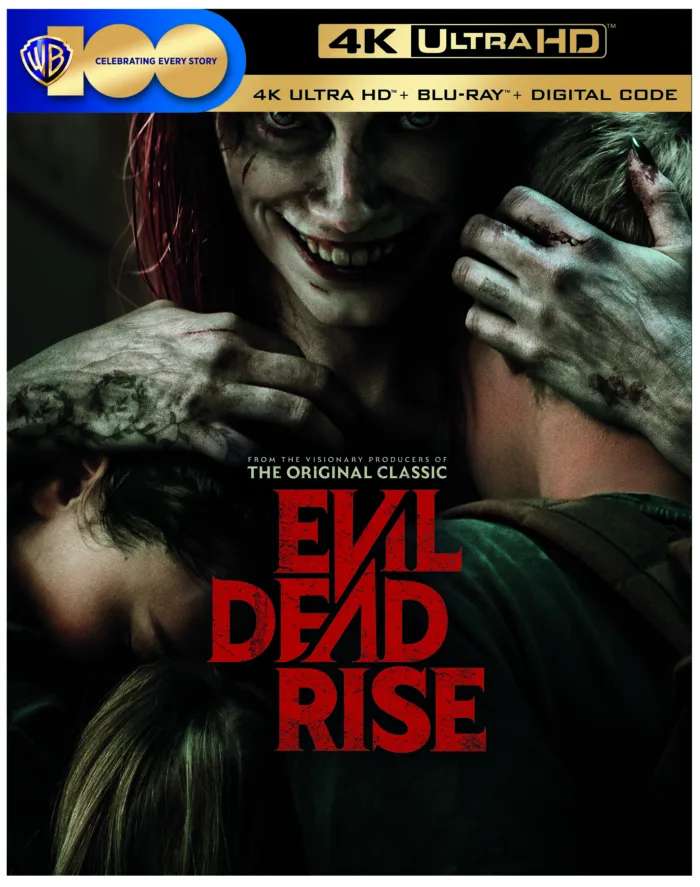 About Evil Dead Rise:
Evil Dead Rise" brings the terror to the city as two sisters battle flesh-possessing demons in a twisted fight for survival.
In "Evil Dead Rise," the terrifying action shifts from the familiar woods to the heart of the city, immersing audiences in a twisted tale of two estranged sisters, portrayed by Sullivan and Sutherland. Their long-awaited reunion is abruptly cut short when flesh-possessing demons emerge, thrusting them into a primal battle for survival against the most nightmarish version of family imaginable.
"Evil Dead Rise" takes the iconic horror franchise in a new direction, venturing away from the familiar woods and thrusting the terror into an urban setting. Directed by Lee Cronin, known for his work on "The Hole in the Ground," the film offers a fresh and thrilling take on the beloved series.
The story centers around two estranged sisters, played by Lily Sullivan and Alyssa Sutherland. Their long-awaited reunion is abruptly interrupted when a horrifying outbreak of flesh-possessing demons engulfs the city. Forced to confront a nightmarish version of family, the sisters find themselves in a primal battle for survival.
As the demonic forces multiply and the terror escalates, the sisters must rely on their wit, resilience, and resourcefulness to navigate the dark and treacherous landscape. With relentless horror and intense action, "Evil Dead Rise" promises to keep audiences at the edge of their seats.
The film features a talented ensemble cast, including Morgan Davies, Gabrielle Echols, and the introduction of Nell Fisher. Their performances contribute to the gripping atmosphere and heighten the sense of dread and vulnerability that permeates the story.
Produced by Rob Tapert, a longstanding figure in the franchise, and executive produced by Sam Raimi, the creator of the original "Evil Dead" series, along with Bruce Campbell, the beloved actor who portrayed the iconic character Ash, "Evil Dead Rise" carries the spirit and legacy of the series with the involvement of its esteemed creators.
With its blend of chilling horror, gory visuals, and intense storytelling, "Evil Dead Rise" aims to captivate both longtime fans of the franchise and newcomers to the world of the Evil Dead. The film promises to deliver an exhilarating and terrifying experience that will leave audiences craving more.
Purchase Options
For home entertainment enthusiasts, "Evil Dead Rise" offers several purchase options. The 4K UHD + BD + Digital edition is priced at $44.98, providing the ultimate viewing experience. The Blu-ray + DVD + Digital combo pack is available for $34.98, offering a comprehensive package. DVD lovers can acquire the DVD edition for $29.98.
The language options cater to a wide audience, with Parisian French, English, and Latin Spanish available on the DVD, Blu-ray, and 4K versions. Subtitles in English SDH, Latin Spanish, and Parisian French are also provided. The film's runtime is approximately 97 minutes, and it carries an R rating for strong bloody horror violence, some language, and gore. The DVD format features DLBY/DGTL audio, while the Blu-ray format boasts ATMOS TrueHD sound.
"Evil Dead Rise" is the brainchild of director Lee Cronin, with Rob Tapert serving as the producer. The film has garnered support from executive producers Sam Raimi, Bruce Campbell, John Keville, Macdara Kelleher, Richard Brener, Dave Neustadter, Romel Adam, and Victoria Palmeri.
About Warner Bros. Discovery Home Entertainment
Warner Bros. Discovery Home Entertainment (WBDHE) distributes the award-winning movies, television, animation, and digital content produced by Warner Bros. Discovery to the homes and screens of millions through digital transactions on major streaming, video-on-demand cable, satellite, digital, and mobile channels, and through physical Blu-ray Disc™ and DVD retail sales. WBDHE is part of Warner Bros. Discovery Content Sales, one of the world's largest distributors of entertainment programming.