Emilie M Handbags will be launching this fall and they're changing how I view handbags.
I've been using the Riley 3-compartment double shoulder bag in black and raking in the compliments. I chose the bag because of it's classic color and size. It goes with everything and as we gear up for our favorite season, the Emilie M. Riley bag is the perfect size to keep my girlie stuff at hand and store whatever the kiddos collect at Fall Festivals.
It looks pretty darn fab! I love the textures and if you could touch it, it is S-O-F-T!
The inside lining is incredible. We're talking soft satiny material that complements the bag's out side. It's done in blues with a soft aqua hue. It makes reaching into the bag an experience.
There are two outer compartments on the Riley. They secure closed with a zipper. Each compartment is as deep as the purse. It holds an 8″x10″ piece of paper with ease.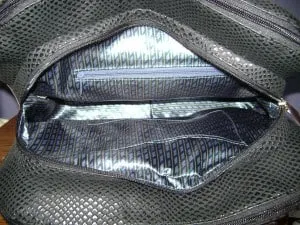 The Riley has a center pocket that is also as deep as the bag. This pocket has a smaller zipper pocket inside as well as two smaller pockets without zippers. All three compartments have the same interior fabric.
The picture above shows the texture of the top of the bag. It sorta resembles snake skin. The bag is two toned. Mine is black on top of a deep brown.
While the bag is large, it is surprisingly light. I love this feature because the kiddos and I can easily fill this bag up and toting it is much easier without the bulky weight included in most bags this size.
On the down side, the bag relies on its rectangular bottom to hold it upright. I wish this bag had some sort of support to help it stand upright better on its own.
About Emilie M.
From Madison Avenue down to SoHo, we know how hard it is for women to find the perfecthandbag – one that fits their life in every pocket while accentuating their own personality. Launched in collaboration with Mondani Handbags & Accessories, Emilie M features timeless silhouettes, soft and rich animal-friendly materials and multi-organizational function. An easy weekend bag for a trip to the Hamptons. An attainable fashion statement for the mom on a budget. At a retail range of $50-$80, every Emilie M handbag is an investment piece without the investment.
The Riley is modern, stylish purse with a classic vibe. It is roomy and lightweight. Once the Emilie M. store opens its doors (Early August 2012), the Riley 3-Compartment bag will retail for $80.
While I chose the Riley, there are other bags in the Emilie M. collection of handbags. All can be viewed on the Emilie M. Pinterest page.
Get social with Emilie M. through these social media sites:
Website: www.emiliemshop.com
Facebook: www.facebook.com/emiliemstyle
Pinterest: www.pinterest.com/emiliemstyle
Twitter: www.twitter.com/emiliemservice
Disclosure of Material Connection: I received one or more of the products or services mentioned above for free in the hope that I would mention it on my blog. Regardless, I only recommend products or services I use personally and believe will be good for my readers. I am disclosing this in accordance with the Federal Trade Commission's 16 CFR, Part 255: "Guides Concerning the Use of Endorsements and Testimonials in Advertising.".