You are likely to eat unhealthy while traveling.
Picture this; you are in a rush to get prepared, so you miss breakfast.
As you go to the airport, you take a sandwich or buy fast food in the terminal before you board the plane.
In the plane, you take the food and even consume some of the alcohol that is offered.
Out goes your eating healthy.
Research has shown that those who travel often face challenges in maintaining a healthy lifestyle.
Also, most people gain weight during trips.
People are also more likely to eat unhealthy foods when traveling.
In case you have already gained weight, and you want to go back to your healthy self, there are various remedies.
You can go for diet retreats such as those found on Fitstays.
However, that does not have to be the case.
You can still eat healthy while traveling.
How do you do it?
Eating Healthy While Traveling
Take breakfast
Take breakfast before you leave, even if you don't feel hungry.
This way, you will not be tempted to overeat or fall prey to too much of the airline's free food.
A healthy breakfast should contain eggs, tomatoes, salmon, mushrooms, and baked beans.
Take porridge, plain yogurt, or wholegrain cereals and avoid cereal sweetened with sugar.
If you don't have time to make breakfast at home, look for healthy alternatives at restaurants.
You can take oatmeal and omelets. Forgo the sugar and opt for fresh fruits instead of dried fruits.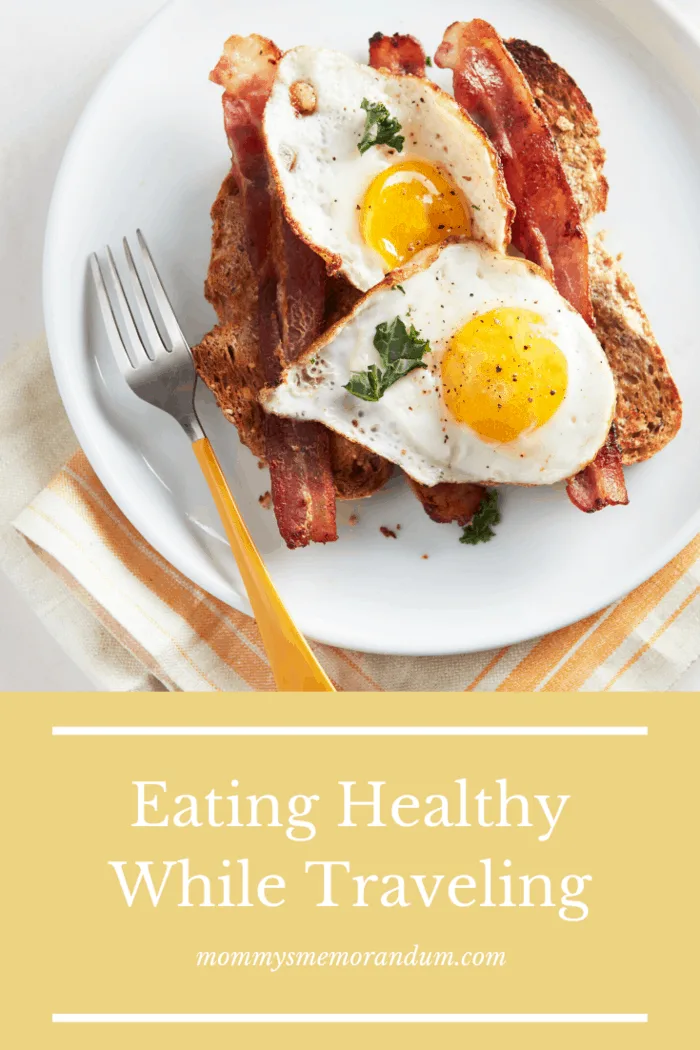 Plan about your meals
The best way to ensure you eat healthy when traveling is to plan the food you will eat.
Carry your food and snacks so that you will not be tempted to eat unhealthy options.
You can pack citrus fruits, almonds, or fruit and nut bars.
Know what you can buy along the way.
If you are going by air, remember that airline food may not be as nutritious.
However, you should not avoid it altogether.
Just eat when you are supposed to, based on your meal schedule, don't eat because the food has been presented to you.
For instance, if you have just taken lunch, do not take another meal in between.
Wait until dinner time.
One mistake most travelers make is to eat each time food is presented to them.
If you feel the airline food is not that healthy, you can buy your meals in the terminal.
The good this is, you can customize these to suit your diet.
Avoid buffets if you can. It is tempting to overeat.
If you must go, use a small plate and eat more fruits and vegetables.
Go easy on bread; it is better to eat more vegetables.
Also, avoid battered, fried, crispy, and deep-fried foods.
Go for grilled, steamed, poached, chargrilled, or stir-fried food.
Steer clear of fast foods. Eat what is healthy for you.
Make sure you request for nutritious options if they are available.
While you are advised against overeating, you need to eat.
Do not go for long periods without eating.
If you do that, you may end up overeating once you get food.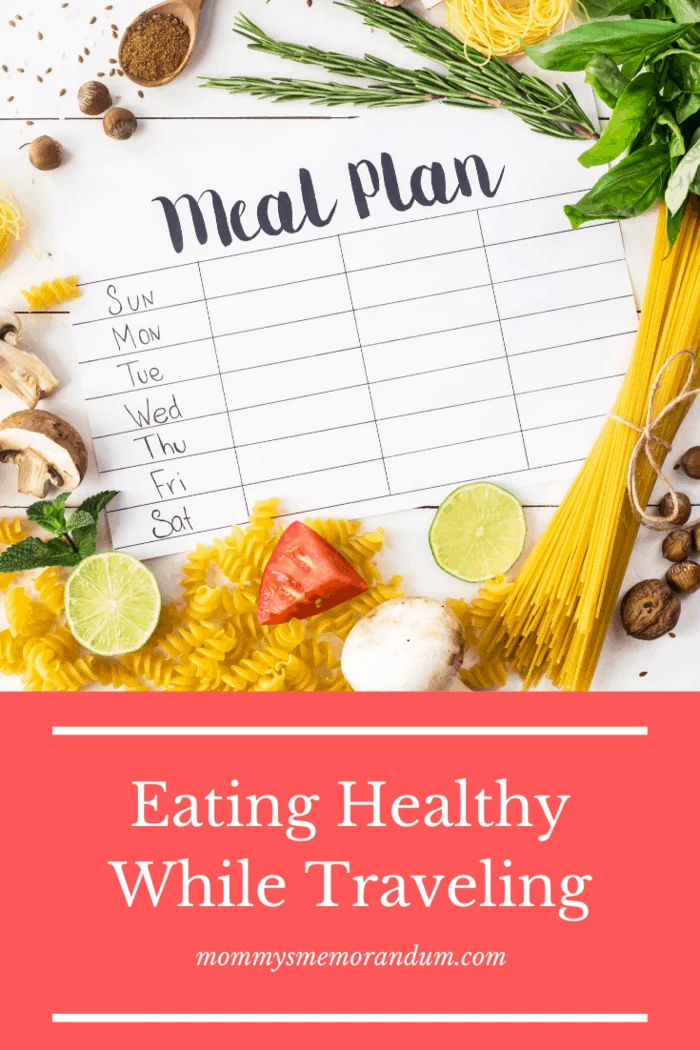 Be cautious when eating out
When traveling, you will likely eat out most of the time.
You could prepare some snacks, but choose to eat out the main meals.
Stick to healthy meals and watch portion sizes.
It is tempting to eat more and treat yourself, especially if you don't eat out a lot, so be cautious of what you eat and the amount.
Do not exceed the recommended calories and portion sizes.
If you feel you need to treat yourself, choose another option that isn't food, such as going for a massage or to the spa.
Opt for healthy options such as low-fat dressing or low-calorie salad.
Include proteins such as eggs and meat in your meals.
This will prevent you from feeling hungry too soon and so you won't keep snacking.
Eat more fruits and vegetables, take wholegrain bread, and avoid sugary snacks.
If you must snack, go for a whole grain sandwich instead of a chocolate bar.
Don't be afraid to request what you want at the restaurant.
Do you want more vegetables instead of fries?
Should your food be cooked in a particular way?
Do you have food allergies?
It is important to let your server know your wants so they can meet your expectations.
Stay hydrated
You can't talk about healthy eating without mentioning hydration.
Mostly, you are advised to take water.
However, you can include other beverages such as tea for hydration.
If you are traveling by air, carry an empty water bottle and refill it after passing security.
Take the black tea offered by the airline.
Eat the strawberries or oranges that you had packed.
Liquidly snacks such as applesauce or yogurt are allowed, provided they are in small containers.
Take them to keep you hydrated.
Avoid salty snacks, and they will dehydrate you. So, forgo the salted nuts and chips.