Lazy Chicken Alfredo #Recipe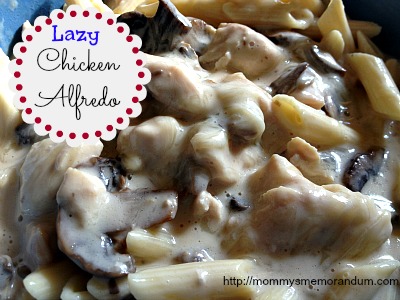 2 Tbsp. unsalted butter
8 oz. mushrooms, sliced
1-1/2 pounds chicken breasts, boneless, skinless (cut into strips or cubes)
2 cloves garlic, minced
2 jars Alfredo Sauce
½ cup cheese, we like 5 Italian Cheeses by Kraft, but Parmesan is good too.
In large skillet, melt butter over medium heat.
Add mushrooms and cook, stirring for about 5-minutes or until tender
Transfer mushrooms to slow cooker
add garlic
Add garlic
Season with salt and pepper (optional)
Stir in Alfredo Sauce
Add chicken.
Cover and cook on low for 5-6 hours or on high for 2-1/2 to 3 hours, until chicken is no longer pink inside and sauce is hot and bubbly.
Stir in cheese.
Recipe by
Mommy's Memorandum
at https://mommysmemorandum.com/lazy-chicken-alfredo-recipe/