#Recipe: Stuffed Meat Loaf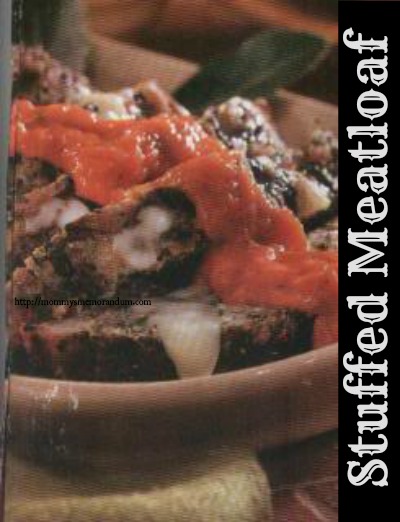 Serves:
6 man-sized servings
Meat Loaf:
2 T Olive Oil
2 Cups finely chopped onion
2 T garlic, minced
1 Cup fresh bread crumbs*
½ Cup Milk
1 pound 80% lean ground beef
1 pound mild bulk Italian Sausage
2 (10 oz.) packages frozen, chopped spinach
2 eggs, beaten
1 cup grated Romano Cheese
2 tsp. chopped, fresh rosemary
1 tsp pepper
¾ tsp. salt
8 oz. provolone cheese, cut into 3x1/2" strips
Sauce:
2 T olive oil
¼ cup chopped carrot
¼ cup chopped celery
¼ cup minced shallots
1 tsp garlic, minced
1 (14.5 oz) can Italian seasoned, diced tomatoes
⅓ cup water
1 tsp chopped, fresh rosemary
¼ tsp salt
¼ tsp. pepper
Meatloaf instructions:
Heat oven to 350 degrees.
Heat 2 T oil in medium pan over medium heat until hot.
Cook onions 4-minutes or until soft.
Add 2 T garlic; cook 30-seconds.
Combine breadcrumbs and milk in small bowl; let stand 15-minutes.
Squeeze and discard excess milk from bread.
Add bread and all remaining meatloaf ingredients except provolone cheese.
Gently combine until well blended.
Form half of the mixture into a 14.5-inch rectangle on a large rimmed baking sheet.
Arrange provolone cheese lengthwise down center of the meat, leaving a 1-inch border on edges.
Cover with remaining meat mixture, making sure edges are well-sealed.
Plump up loaf with your hands.
Bake 1 hour- 1 hour 15 minutes or until internal temperature reaches 160 degrees. Let stand 10 minutes before slicing.
Sauce Instructions:
) Heat 2 T oil in med. saucepan over medium heat until hot.
)Cook carrot, celery, shallots and 1 tsp garlic, covered, 6-10 minutes or until softened, stirring occasionally.
) Add tomatoes and water; reduce heat to low.
) Simmer, uncovered 10 minutes.
) Stir in 1 tsp rosemary and ¼ tsp each of salt and pepper, cook 5 minutes.
) Puree in blender or food processor, adding extra water if too thick.
Serve warm over meatloaf.
*One bread slice yields about ¾ cup of crumbs.
Recipe by
Mommy's Memorandum
at https://mommysmemorandum.com/recipe-jakes-stuffed-meat-loaf-2/