Welcome to the world of easy stroganoff, a classic and comforting dish that is sure to satisfy your taste buds. This recipe combines tender ground beef with a rich and creamy sauce, accented by the earthy flavors of mushrooms and a hint of onion. It's a delightful medley of flavors and textures, perfect to be enjoyed over a bed of warm rice or noodles. With just a few simple steps, you can create a hearty and delicious meal that will impress your family and friends.
To start, you'll brown the ground beef in a skillet (The Kitchn), ensuring it's crumbled and cooked to perfection. The addition of chopped onion and a touch of garlic salt adds depth and aromatic goodness to the beef. Next, a sprinkling of flour helps thicken the sauce, creating a luscious base for the stroganoff. Adding water or beef broth, condensed cream of mushroom soup, and drained mushrooms brings forth a delightful blend of flavors.
Simmering the mixture allows the ingredients to meld together, resulting in a delectable sauce that coats the beef beautifully. To elevate the creaminess, a dollop of sour cream is gently folded in and heated until warm, infusing the dish with a velvety texture. Seasonings like salt and pepper are added to enhance the taste, while fresh parsley provides a vibrant touch as a garnish.
Finally, it's time to savor the fruits of your labor. Ladle the flavorful stroganoff over a bed of cooked rice or noodles, allowing the dish to envelop your senses with its comforting aromas and satisfying taste. Whether you're hosting a dinner party or simply craving a cozy homemade meal, this easy stroganoff recipe is sure to become a favorite in your culinary repertoire. So, grab your apron and get ready to embark on a delightful culinary journey with this comforting and flavorful stroganoff.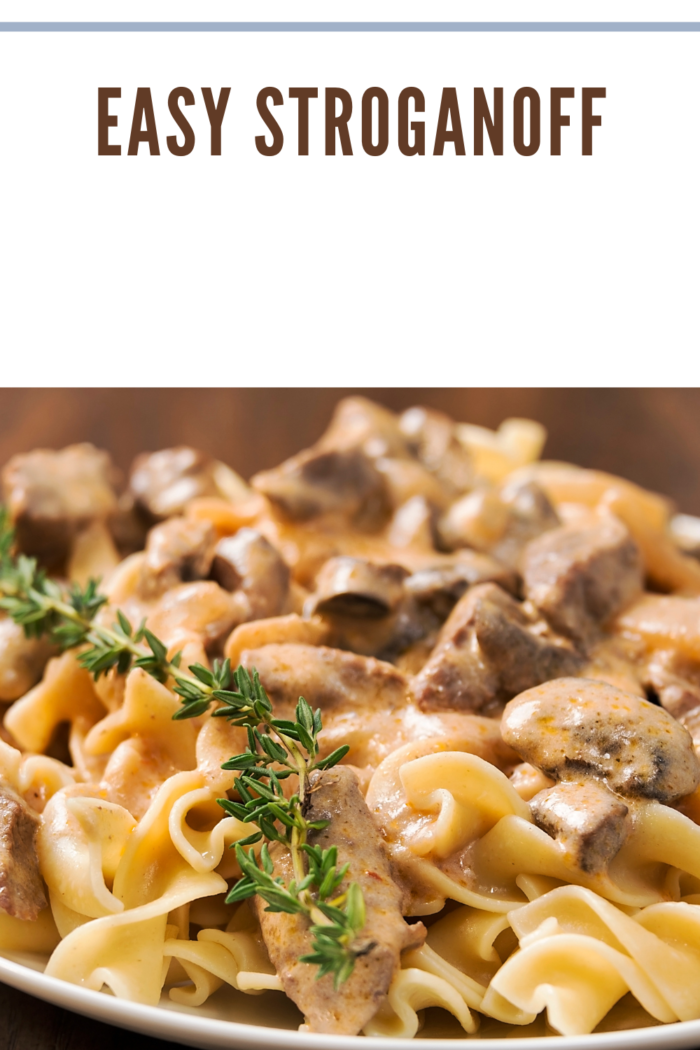 Easy Stroganoff
Prep Time: 10 minutes
Cooking Time: 25 minutes
Servings: 4-6
Ingredients:
1 1/2 pounds ground beef
1/2 cup onion, chopped
Garlic salt, to taste
2 tablespoons all-purpose flour
1 cup water or beef broth
1 (10.75-ounce) can condensed cream of mushroom soup, undiluted
1 (4.5-ounce) can mushrooms, drained
1 cup sour cream
Salt, to taste
Pepper, to taste
Fresh parsley, to taste, chopped, for garnish
Rice or noodles, to taste, cooked and warm, for serving
How to Make Easy Stroganoff
Heat a large skillet over medium heat.
Add the ground beef to the skillet and cook, while crumbling, until no longer pink, about 5-7 minutes. Drain any excess liquid from the skillet.
Add the chopped onion and garlic salt to the beef and cook until the onion is soft.
Sprinkle the flour over the beef mixture and cook, stirring regularly, for about 2-3 minutes.
Add the water (or beef broth), condensed cream of mushroom soup, and drained mushrooms to the beef mixture. Bring to a simmer.
Reduce the heat and let the beef mixture cook, stirring occasionally, for about 8-10 minutes.
Gently fold the sour cream into the beef mixture and heat until warm.
Season with salt and pepper to taste.
Sprinkle the top of the beef mixture with fresh chopped parsley.
Serve the stroganoff over cooked rice or noodles, and enjoy!
Note: Feel free to adjust the seasonings according to your taste preferences. You can also add additional vegetables, such as sliced bell peppers or peas, for extra color and flavor.
FAQs for Easy Stroganoff
Q1: Can I use a different type of meat instead of ground beef?
A1: Yes, you can substitute ground beef with other ground meats such as ground turkey, chicken, or pork. Just keep in mind that different meats may alter the flavor and texture of the dish.
Q2: Can I use fresh mushrooms instead of canned?
A2: Absolutely! While the recipe calls for canned mushrooms, you can certainly use fresh mushrooms for a more robust and natural mushroom flavor. Simply slice the fresh mushrooms and sauté them along with the onions in step 3.
Q3: Can I make this recipe ahead of time?
A3: Yes, you can make the stroganoff ahead of time and store it in the refrigerator. When reheating, gently warm it over low heat, stirring occasionally, to prevent the sour cream from separating. You may need to add a little water or broth to thin out the sauce if it thickens too much upon reheating.
Q4: Can I freeze the stroganoff?
A4: While it is possible to freeze the stroganoff, keep in mind that sour cream can sometimes change in texture when frozen and thawed. It may become slightly grainy or separate upon reheating. If you choose to freeze the stroganoff, it is recommended to do so without the sour cream. Add the sour cream after thawing and reheating the dish.
Q5: Can I adjust the seasonings to my taste?
A5: Absolutely! The seasonings listed in the recipe, such as garlic salt, salt, and pepper, are just guidelines. Feel free to adjust the amounts to suit your personal preference. You can also add other herbs and spices to enhance the flavor profile, such as thyme, paprika, or Worcestershire sauce.
Q6: Can I serve stroganoff with something other than rice or noodles?
A6: Certainly! While rice and noodles are traditional accompaniments to stroganoff, you can explore other options. It can be served with mashed potatoes, roasted vegetables, or even crusty bread for dipping into the creamy sauce.
Q7: How long will the leftovers keep in the refrigerator?
A7: Leftovers can be stored in an airtight container in the refrigerator for up to 3-4 days. Make sure to cool the stroganoff completely before refrigerating it. Reheat the leftovers gently on the stovetop or in the microwave until heated through.
Q8: Can I double the recipe to serve a larger crowd?
A8: Absolutely! This recipe can be easily doubled or halved to accommodate different serving sizes. Just adjust the ingredient quantities accordingly and ensure you have a large enough skillet or pot to accommodate the increased volume.