Mexican food might be my favorite, and this Easy Slow Cooker Chicken Enchilada Casserole is about as easy as Mexican food can be made.
Five ingredients and you are on your way to a casserole that soothes the craving for the popular enchilada.
In their original form as Mexican street food, enchiladas were simply corn tortillas dipped in chili sauce and eaten without fillings.
While typical enchiladas are corn tortillas rolled around a filling and covered with a chili pepper sauce, this casserole requires none of that effort.
It still offers the flavors and textures of an enchilada but in a casserole form.
Fun Fact: Enchiladas date back to Mayan times.
This is a favorite crockpot recipe and often rotates into our Taco Tuesday menu.
I love that this easy crockpot enchilada casserole is a one-pot meal and filled with delicious flavors.
You may also want to check out my Pinterest Recipes board for more great recipes like this enchilada casserole made in the slow cooker!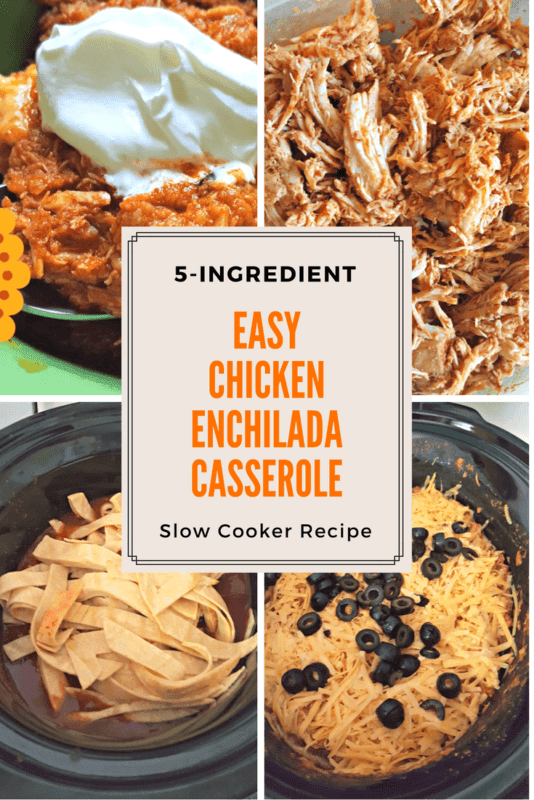 Easy Slow Cooker Chicken Enchilada Casserole Ingredients:
1.5 pounds boneless, skinless chicken breasts
1 (28-ounce) can of Red Enchilada Sauce or green enchilada sauce (use your favorite!)
11.7-ounce bag of corn tortillas
3 cups grated cheddar cheese, divided
1 (3.8 ounces) can of sliced black olives divided
Sour Cream, optional
Easy Slow Cooker Chicken Enchilada Casserole Directions:
Place uncooked chicken breasts in the bottom of the slow cooker
Pour an entire can of enchilada sauce over chicken breasts
Place lid on crockpot and cook on HIGH for 4 hours or LOW for 8 hours.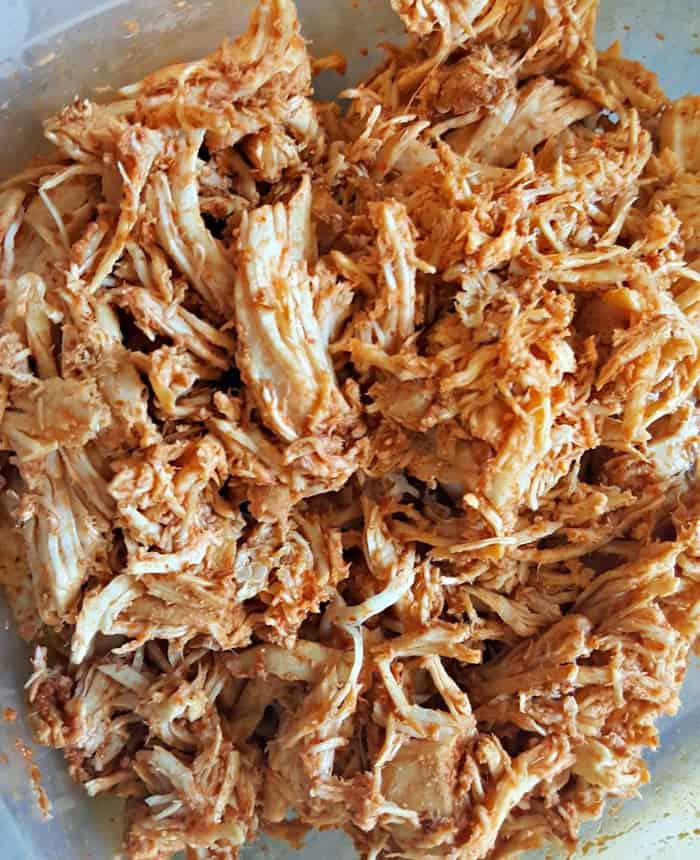 Shred the chicken with two forks or your hand mixer, right in the slow cooker (I took mine out of the crockpot to show you the steps.)
Cut the tortillas into strips (I use a pizza cutter. Just take the tortillas out of the packaged and run the pizza cutter through them!)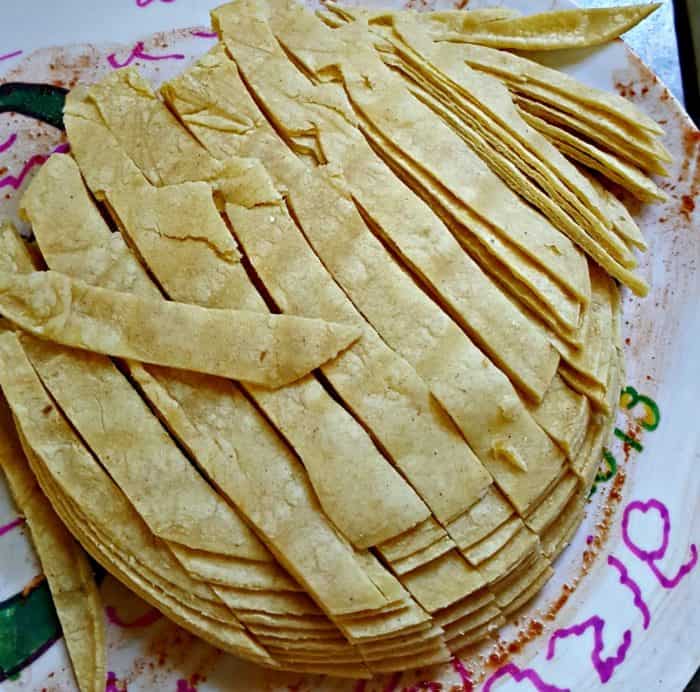 Add the corn tortillas strips into the sauce with the chicken.
Give the mixture a good stir.
Add 1 cup of the cheese and 1/2 the sliced black olives to the sauce and chicken mixture.
Stir again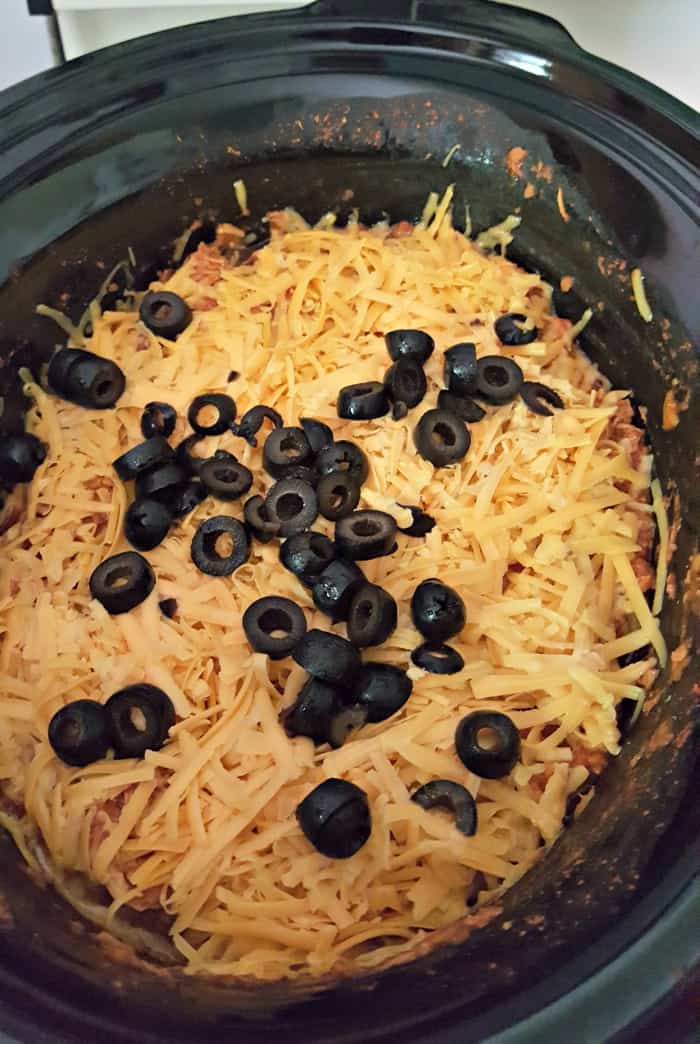 Flatten the mixture slightly
Add the rest of the cheese and olives to the top
Cover and cook on low for 40-60 minutes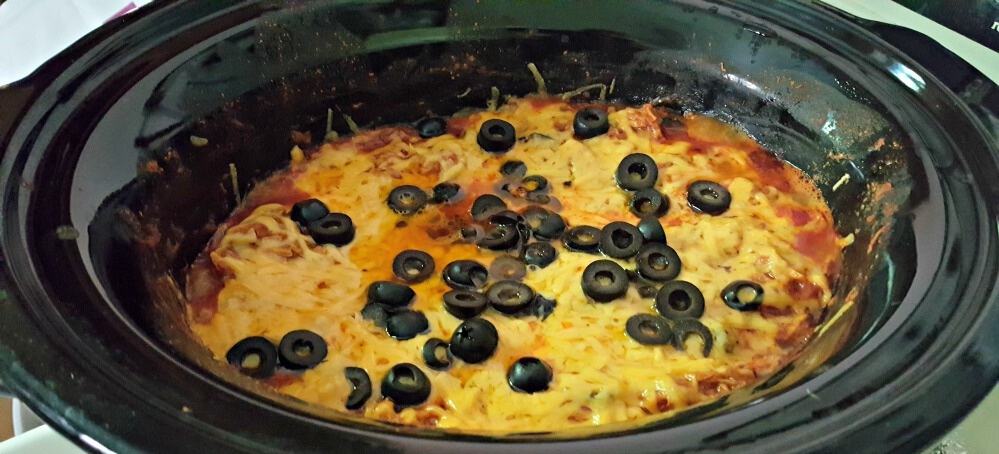 Plate and top with a dollop of sour cream and homemade guacamole or slices of avocado, optional.
Serve with extra tortillas.
For extra flavor, serve with a lime wedge or squeeze lime juice over the mixture before serving.
Top with lots of cheese (I am of the opinion cheese should not be measured!)
Dig in! My family thinks this Easy Chicken Enchilada Casserole recipe is "the whole enchilada"!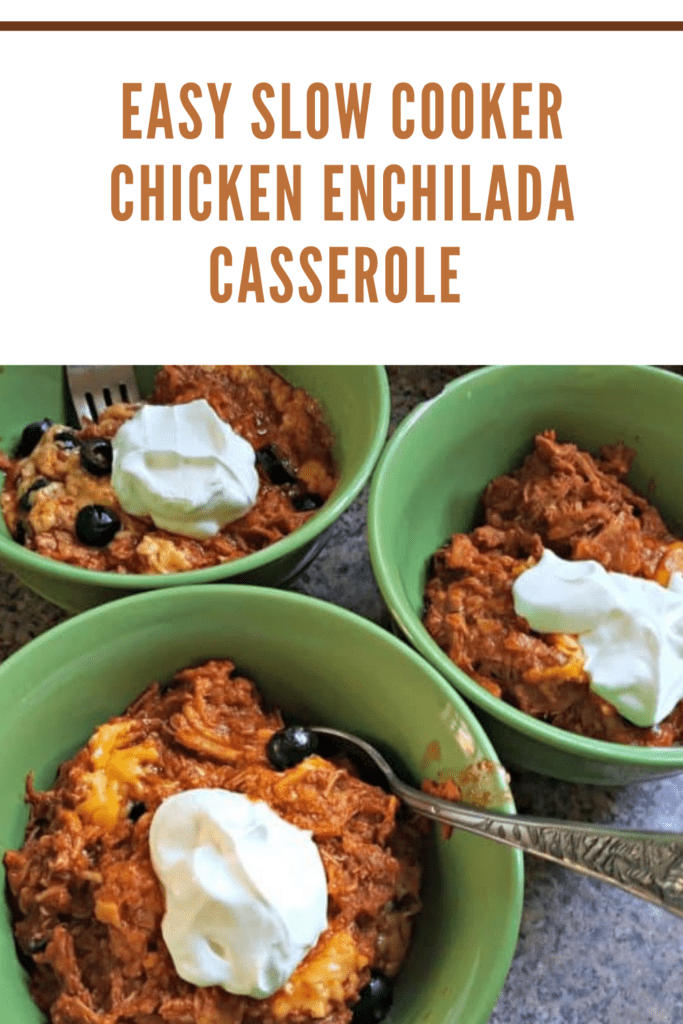 Additions:
Substitute cheddar cheese for pepper jack cheese, Monterey jack cheese, and mozzarella cheese.
Green chiles
Black Beans
fresh cilantro
Sliced green onions
Extra red sauce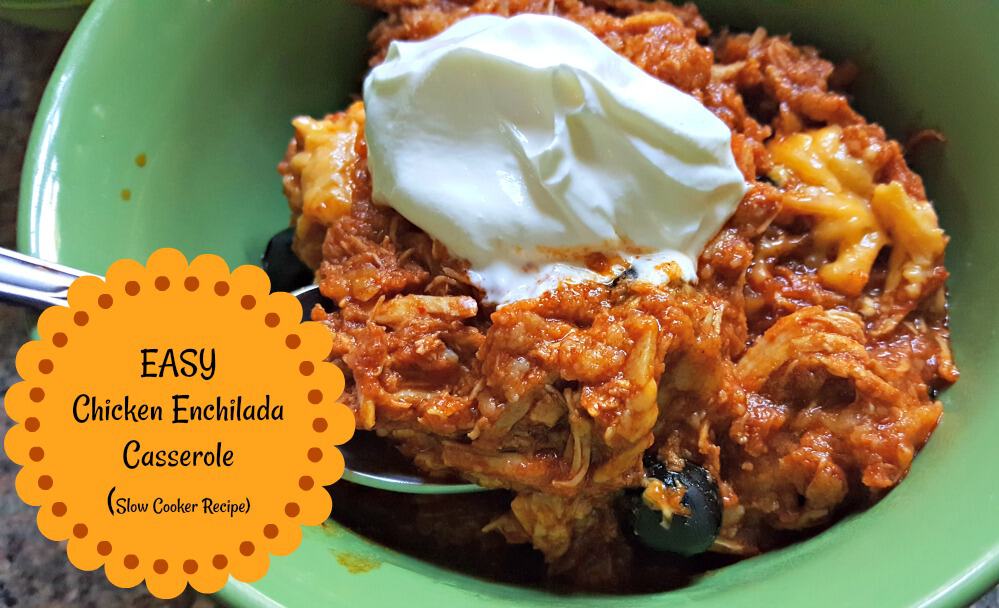 Tips:
Use leftover chicken or rotisserie chicken to reduce cooking time.
Serve with a side of homemade pinto beans.
You can cook the chicken on the stovetop:
Add 2 Tablespoons olive oil to a large skillet over medium heat.
Allow the pan and oil to heat for 1 minute.
Add chicken and allow the chicken to cook for 7 minutes.
Turn the chicken over and cook chicken on this side for 6 minutes.
Test for the internal temperature to be 165-degrees F.
Shred chicken with a fork, or by placing it in a large bowl and using your electric mixer.
We know you'll love this crock pot chicken enchilada casserole as much as we do at our dinner table.