When you're taking a drive down a long country road (or even your own neighborhood, for that matter) and you see all of the beautifully-colored leaves, doesn't it make you think about just how beautiful the autumn season is?
So, why does all of the fall allure and attraction have to stop with the outside of your house? Why not do a bit of autumn decorating on the inside as well? If you're interested, we have a few tips that are fun, fairly easy and relatively inexpensive as well below:
Scent it up. Whether it's by purchasing some candles that have the fragrances of pumpkin, cranberry, vanilla or orange& clove, or it's by picking up some traditional fall flowers such as mums, sedum or even roses in fall colors like orange and red, you can always bring an immediate presence of autumn into your living room or kitchen by making sure that it smells like fall.
Create a wall theme. Some of us remember our grandmothers taking flowers and leaves from outside, putting them in wax paper, pressing them inside of the book to make them flat and then putting them into a picture frame for display. You can still do this now. You can add to that idea by also framing photos of your children (or grandchildren) playing in the leaves or quotes about autumn that you have had enlarged.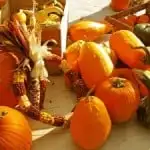 Do some reupholstering. If you've been sitting on your couch and saying to yourself that you really wish that you could afford to buy some modern living room furniture but it's simply not within your budget at the current time, there is a way to still make your wish come true without going into debt in order to do so. Choose a chair (or two) and either pay someone to reupholster it or go to a website like HGTV or DIYNetwork for step-by-step instructions on how to do it yourself. Fall has some of the richest colors like earth tones and wines. A reupholstered piece of furniture can definitely set the perfect fall tone.
Make a "fall" centerpiece. Centerpieces that are either set on a table in your entryway or on your kitchen or dining room table are always a nice conversational piece for guests. Fall is the season that provides plenty of ideas on how to make some too. You can either pick some tree limbs that have some autumn leaves on them to put on a vase, you can get a few mini-pumpkins and pears and put them in a big glass bowl, or you can purchase some golden gingko to serve as an accent for a couple of bottles of wine on a place setting.
Give thanks. Fall is also the time for Thanksgiving—when we all think of things that we are grateful for. If you have guests who will be coming to stay with you over the holiday, perhaps purchase a big chalkboard that you can accent with fall leaves to hang on a wall in the guest room that has a personalized "I am thankful for you because…" message written on it. Or, find the words that mean "thanks" in various languages across the world, purchase stencils to spell them words out and frame the end result. It may be getting colder outdoors, but a bit of gratitude always warms the heart.