Summers dwindling down and back-to-school season is gearing up as fall approaches. Every back-to-school packet is going to contain something about being a volunteer at school.
As a former PTA President, there's a reality to the need for volunteers. They are priceless beings that lend valuable time and resources to making the school function at a higher level.
There are two debates that seem to be gaining voices lately when it comes to volunteers in schools. The first is making volunteer hours mandatory. It's an oxymoron, the definition of volunteer certainly does not coincide with the definition of mandatory.
The need for volunteers becomes greater and greater as more students populate the school system. Most schools, or PTAs, who are implementing mandatory volunteering propose that each family commit to 10-15 hours of service for the year. The volunteer would check-in, complete the task and sign into a Volunteer Hours Log. The volunteer hours are then reported through the PTA or other school divisions.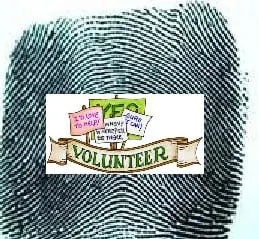 The second debate is should volunteers have background checks. This would include any individual working closely with children (teacher, coach, volunteer, etc.) be subject to a background screening before the interaction begins.
Background screenings are common practice for all school employees with access to children. The proposition is that screenings be extended to include volunteers. School Districts in
San Antonio
, Seattle, and Nashville have implemented background screenings to all volunteers who interact with students.
These two issues go hand-in-hand. With it becoming more and more difficult to find volunteers, many worry that background checks will further reduce volunteer involvement. Furthermore, with budget cuts creating higher student-to-teacher ratios, the cost of a background check may hinder another area of a child's education.
Bill Tate, a parent and human resources professional, believes that parents should inquire about the background screening policy at their child's school, allowing them a better understanding of the school's poistion and what will be required of the parent in the event the have the opportunity to volunteer. Tate says, "I believe that all concerned parents should be active in ensuring that a background screening process is in place for all people who come in contact with their child at school. There is nothing more important than the safety and security of our children."
Tate recommends that parents learn what policies and procedures may need improvement as well as where schools are exceeding expectations and seek the answers to the following questions:
1. Does the school have a policy in place to ensure background screening for all employees of the school? Are teachers, crossing guards, teaching assistants, nurses, cafeteria workers, maintenance people – virtually all paid employees – screened?
2. What type of background screening is conducted on employees? Is a national criminal background check conducted? Is the school conducting drug and alcohol testing?
3. Does the school permit parents, grandparents and other family members to volunteer?
4. Are non-familial relations (i.e., area residents, nannies, family friends) permitted to volunteer?
5. Is there mandatory background screening for all school volunteers – whether they are family members or non-familial relations?
Parents are the best advocates for our children's safety, and schools should truly be a safe haven.
What are your thoughts on these two hot topics as summer fades into the beginning of the school year?