Deodorant is a necessity at our house.
We have teenagers. Their body is changing. Puberty is here. As they grow into their long limbs, the heredity Danish nose and try and control their mood swings, they still are in need of encouragement for things like brushing teeth and cleaning rooms. There have been too many occasions where we have been out and about and I've heard one of them exclaim to the other, "Why didn't you put on deodorant!?"
We're still in the stages of fighting when it is brought up that they need to bathe or shower every day. If they play a sport, we remind them that it is necessary to shower more than one time in the day. The horror!
We have been having the discussion often. We're tackling body odor. We've explained that sweat is not a deal-breaker. It's what helps cool us off. It occurs all over our body, not just under our arms. The bad news, the adventure of puberty is going to kick up those sweat glands in the armpits and they are extra active. This means that dead skin cells and sweat are going to be working together to create bacteria that wreaks! For the record, it seems to be boys who stink first and the worst!
We have had so many talks about the importance of putting on deodorant. When I watched them sniffing all the deodorants on the aisle, we had the talk that deodorant does NOT replace the bath or shower.
Then their older brother sat them down and talked to them about the importance of a deodorant that didn't contain aluminum and the harmful effects of traditional deodorant ingredients on the human body. Suddenly, no one at my house wanted anything to do with deodorant.
Thankfully, my husband was up for discussing hygiene–trust me it comes up as soon as I disclose I have no sense of smell, he told me about a crystal his father brought back from the Philippines. He's been looking for it since he was seventeen…the whole crystal would be ground up then used under the arms or sprinkled in the shoe to absorb stinky foot odor.
I thought he was joshing me.
Turns out. The magic crystal does exist.
The magic crystal is Crystal Deodorant .
I read the story of Crystal Deodorant, it's a little different than dad's story.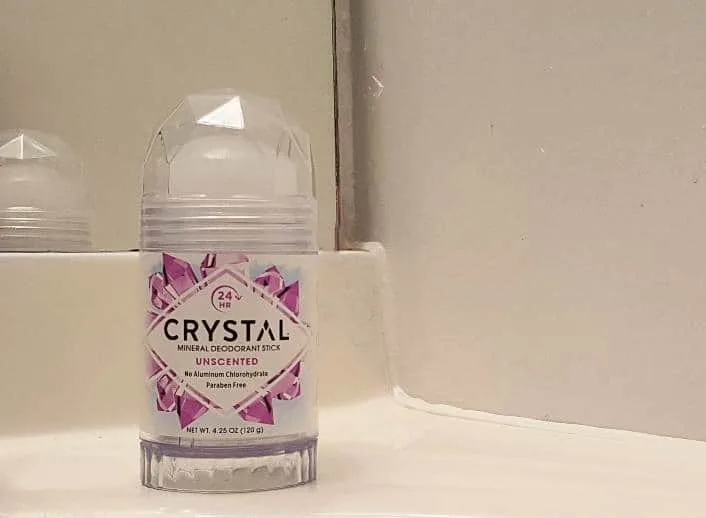 Back in 2011, we found Crystal deodorant. It has been our go-to. One by one each of our six children has migrated to this deodorant. I think it has to do with the fact that it is unique more than anything, but I can vouch that one stick lasts an incredibly long time. Crystal says one year, but my husband has the same crystal deodorant I bought him 3 years ago and it works just fine.
It took a few runs to get the hang of how to use the Crystal Mineral Deodorant stick. Just moisten the top of the rock and apply generously to clean skin. My son is a morning shower person, so he just rolls the Crystal under his arms when he gets out of the shower.
I love it because it contains No Harmful Chemicals. There's no Aluminum Chlorohydrate, Aluminum Zirconium, Parabens or Phthalates. That gives me a feeling of confidence.
The Crystal has a roller to pop the Crystal up or roll it down. It has a smooth top and dries quickly.
There's a lot of choices. Maybe you prefer something more traditional. Not a problem, Crystal offers a mineral-enriched deodorant that offers awesome protection and glides on like a deodorant stick.
Crystal offers this in amazing fragrances. My daughter uses the "Freshly Minted" Crystal deodorant and jokes that she has "Princess Sweat" because it doesn't have "stank".
Established in 1984, Crystal deodorant is the original salt deodorant and the stuff really works–it's all-day odor protection.
So how does this stuff work?
Mineral salts work as a buffer between your skin and odor-causing bacteria.
Goes on lightly, won't leave a white residue.
Won't stain clothes.
Crystal Body Deodorant Stick lasts up to a full year of daily use! NO JOKE!
Crystal deodorants do NOT need to be reapplied during the day. A single application under each arm lasts the entire day. ( Can endure even the toughest, longest workouts.)
Endorsed by Cancer Treatment Centers.
Rated safest in the Skin Deep database / Environmental Working (www.ewg.org)
Compact Signer of the Campaign for Safer Cosmetics
Never tested on animals (a member of Leaping Bunny)
Because I can't smell, my entire life I have slathered my armpits in deodorants. I've done this multiple times each day because it's better to be safe than smelly. I never want my children to feel that panic. I don't want them to ever feel the need to be discreet and ask, "Hey, can you smell me and make sure I'm okay?"
Crystal deodorant allows us to put it on and forget about it.
Isn't that how a deodorant should be?
Want a Celebrity Endorsement?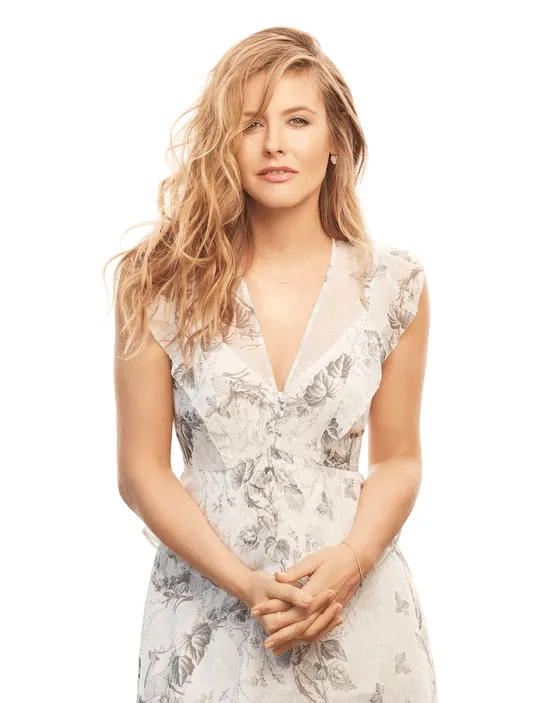 Actress, best-selling author, and health advocate,
Alicia Silverstone
has been using CRYSTAL Deodorant for 20 years because it is safe, vegan and it works. She recently signed on as Brand Ambassador due to her longtime use and loyalty to their product.
Since its founding 35 years ago,
CRYSTAL
has been providing an effective mineral-based line, that's vegan, and cruelty-free. The ingredients are non-toxic and the packaging's eco-friendly. CRYSTAL is committed to the safety, health, and welfare of both their customers and the environment, which aligns perfectly with Silverstone.ips to Washington, DC, and Sacramento lobbying for cruelty-free and plant-forward legislation.
Silverstone recently hosted an event sponsored by CRYSTAL at
The Gentle Barn
, a non-profit animal sanctuary that stands up for the innocent, and helps animals and children alike remember they matter. "I've been visiting The Gentle Barn for 20 years. I had my 25
th
birthday there! When I saw CRYSTAL, my favorite deodorant, was sponsoring a non-profit like The Gentle Barn, I knew I had to be involved. It was wonderful celebrating The Gentle Barn's 20
th
anniversary with my friends from CRYSTAL. I wish everyone was cruelty-free and conscious like these two entities are," said Silverstone.
I received Crystal Deodorants in exchange for this post. All opinions and our love for smelling good remain our own.