To celebrate the in-home launch of Marvel's Black Panther, we had the opportunity to get an inside look from acclaimed costume designer Ruth E. Carter on her inspirations behind some of the film's most iconic outfits.
Black Panther is now available on Blu-Ray and DVD and packed with bonus material such as deleted scenes, outtakes, and never-before-seen featurettes.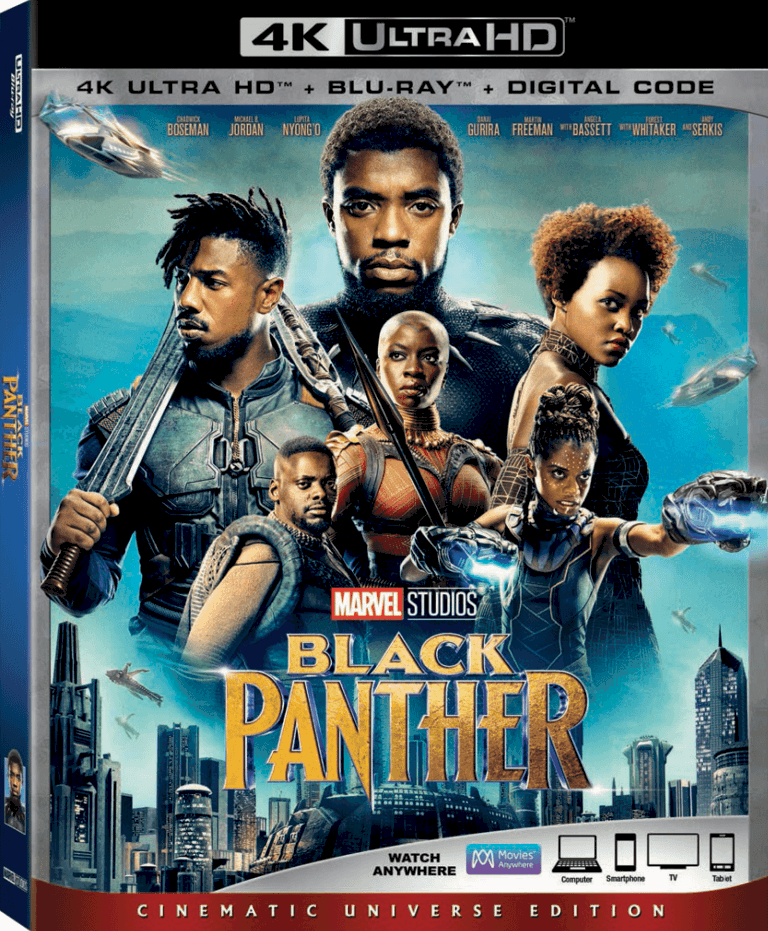 The highly-celebrated story of a young African prince named T'Challa (played by Chadwick Boseman) is one of my son's favorite movies. It is rich in culture, color and the costumes are incredible.
Acclaimed costume designer, Ruth E. Carter shares her inspirations behind the iconic outfits of Black Panther.
BLACK PANTHER: THE PALACE OUTFIT
Carter reminds us that "T'Challa is part of the royal family of Wakanda. He has royal blood, and he is inheriting the throne from his father, so he has a huge responsibility on his shoulders. That's why his outfits always have a tailored feel and a sense of royalty."
She blends textiles with cultures stating, "The embroidery on his palace piece was taken from some Nigerian embroidered tops we discovered. When you look at T'Challa versus Killmonger, T'Challa is the guy who went to private school, and Killmonger is the guy who went to public school. That's how I look at the two characters. They are worlds apart from each other."
"On the astral plane, T'Challa wakes up to greet his father and their ancestors in a white embroidered tunic. All the embroidery patterns were taken from various cultures around the world. I've had people from Pakistan look at the embroidered pattern on the white tunic and say, 'Wow, this looks exactly like the embroidery in our culture.' In that sense, I feel like the dream sequence is one that most people were thrilled to see because it relates to so many beautiful embroidered patterns in different cultures. It represents royalty that you find all over the world."
"Most of T'Challa's costumes have some form of cultural significance to them. The purple vest that he wears has a little Nsibidi language on the vest. We painstakingly chose the embroidery pattern with help from [Black Panther director] Ryan Coogler."
BLACK PANTHER: THE SUPERHERO COSTUME
"Marvel's design group – who work on all the superheroes – sent us a sketch for Black Panther's superhero costume. That's what we used to create our piece. The superhero costume is made from eurojersey, which has a four-way stretch. The fabric comes to us in white, so we have to dye it black completely, and then we print on top of it – but the ink of the print also can stretch."
"Nowadays, every superhero suit seems to have a small pattern that creates a texture on their suit, so I was excited that there was an opportunity for me to include a surface treatment to Black Panther's suit. Within the design, you can see some veining of a Wakandan language that circles around the suit – but I put a small triangle in between the line-work. I call it the Okavango pattern. The Okavango print, in combination with the veining, helps the piece feel like the roller prints you see in so many African patterns and printed fabric. Now, he's not only a superhero, but he's also an African king."
"The costume is a true catsuit. There are separate gloves and boots, but the suit itself is a catsuit that Chadwick [Boseman] wears. There is a silver muscle suit that goes underneath it, which makes it look like you can see the vibranium shining through. That's why we made the muscle suit in silver. After viewing the Man of Steel, I saw that you could see the steel suit underneath his superhero costume, so the muscles look like they are made of steel. I thought to myself, 'Well, Black Panther's main suit is made of vibranium, so let's do that.' There's a hidden zipper that goes straight up the back of the costume. You put it on just like you would put on a pair of pantyhose. You've got to move it up and wriggle into it. We also added a zipper to give Chadwick the ability to go to the bathroom."
SHURI: THE SILVER DRESS
"When we first meet Shuri in the movie, we learn that she is bored with tradition. She designs the new Black Panther suit, and she's the head of the Wakandan Design Group, so I knew it was important that we try and think outside the box for the character. Not only did we need to think outside the box regarding what Marvel was doing with nanotech and vibranium, but we also needed to contextualize what it meant and what it looked like to be forward-thinking."
"When we see Shuri at the airstrip, she talks to her brother, and he teases her about having to wear a traditional costume at Warrior Falls. Then, when we see her at Warrior Falls, she says, "Can you hurry up, people? This is very uncomfortable." I feel like that [dialogue] allows audiences to understand the character. She's saying, 'I know I am a princess and I know there's a place for tradition, but I'm moving on from that.' She also tells that to everyone when we first meet her in the lab, too."
"All these costume sketches give a general direction and a feeling for the characters. With Shuri, we wanted to show designs that feel young and vibrant. I wanted her to have vibrancy and freshness, and pop colors. There's an interesting story behind the silver dress. We never get to see the dress in the movie because it was designed for a particular scene, which was cut. However, we had already designed the silver dress with silver leggings."
SHURI: THE ORANGE OUTFIT
"It was a big challenge for me to come up with a wearable lab outfit that would fit the character of Shuri. She's the young designer genius of the Wakandan Design Group, and she's very forward-thinking, so I don't see her wearing a standard lab coat. At first, I started to poke around at some of my favorite designers. I looked at Rick Owens, Gareth Pugh, and Stella McCartney because I feel like they are always thinking ahead and they are always coming up with ideas that are very unconventional. I was heavily inspired by Stella McCartney's ability to recycle fabrics and the idea of taking recyclable materials and creating new fabrics – and that's when I decided that Shuri's lab look should be a simple dress with an overlay.
"I decided that the overlay would a type of material that is protective, cool and fun. I felt like it should look like it was made from recyclable fabric or recyclable materials. The first dress we see Shuri wear is a white dress with a mesh overlay. Overlays look like they are protecting the fabric that's underneath, or they create a story of their own, so most of her costumes have these protective layers."
"When we see Shuri in her orange and white outfit, the overlay is an organza-looking fabric because you can see through it. It has a long zipper at the back, and it's shaped like a sweatshirt, so her sweatshirt overlay is part of what gives her the protection. When it comes to the leggings in the orange outfit, we were trying to come up with a fashion idea for Shuri. We ended up using a jumpsuit that had stitching lines in it. I found a jumpsuit online, and the stitching lines looked like a panther face. It was a black jumpsuit with flared legs, but we ended up cutting the jumpsuit so that it would have a straight leg design. If you look at stills from the movie, the white stitching on the jumpsuit is amazing. I mimicked the lines in the orange vest that she wears. The vest is made of neoprene, which is a fabric that we use a lot when we're thinking of future fabric."
OKOYE: THE DORA MILAJE
"Okoye is the head of the Dora Milaje, and when I created this outfit, I wanted to bring more of the story of the Dora Milaje to the costume. I made the reds and the oranges really vibrant because we only have a few members of the Dora Milaje in the film. In total, I think there were only eight – but I wanted the eight Dora Milaje to feel like 10 or 20 women. That's why I chose vibrant and imposing colors. The beadwork is inspired by the Maasai, the Himba, and the Turkana tribes. They all use this beautiful, vibrant red and the intricate beadwork always has meaning behind it. For example, the more beads you stack on your neck, the more desirable you are to the opposite sex. Overall, I wanted the costume to look like something that would be passed on or handed down. I wanted there to be this feeling that it would be given to you with such pride and such ornate handiwork of Africa that it was a privilege and an honor to receive the uniform."
"Early on, we decided to cover the Dora Milaje from head to toe. Since that was the idea behind the costume, it also needed to look beautiful. We were not challenged to show skin because we wanted to make the costumes so beautiful that it enhanced the beauty of a woman without showing her flesh."
"The Dora Milaje wear neck rings and arm rings that are inspired by the Ndebele [people] of South Africa. Ryan Coogler wanted the armor to feel like jewelry, so I brought a jewelry designer on to the project. All the necklaces that are worn underneath were handmade. Okoye gets to wear gold because she's the leader, but all the other Dora Milaje wear silver. Usually, in filmmaking, you don't want anything to have too much shine – but we left the shine on the Dora Milaje because it looks magnificent."
NAKIA: THE HIJAB AND THE CASINO DRESS
"Nakia is a war dog. She's an operative; a spy, so she has the most looks of everyone in the film. She goes undercover as a Nigerian captive in the hijab, but then I had to quickly get her out of the hijab and give her a costume that looked like she could've been hanging out in any city in Africa. She had to look like she could walk down any street and blend in. When we see Nakia at the airstrip, we see her in jeans and a flowy top and a scarf. Then we see her at Warrior Falls in her traditional costume for the traditional ceremony as the River Tribe's primary fighter. Then we see her in her casino dress. She has a lot of different costumes."
"Nakia's more traditional outfit is inspired by the Surma and the Suri people of Africa. Nakia's tribe are fishermen, so some of her designs are based on different cultures, nations, and people of Africa who live near the water. Hence Nakia's tribe is called The River Tribe."
"There are lots of history books with photos of Surma children who have flowers and sticks that they adorn their bodies with. That was the main inspiration behind Nakia's traditional costume – but we also needed it to look like she was a warrior, so we gave a cross-body harness to go over the top."
NAKIA: THE CASINO DRESS
"Nakia's casino dress was based on a Kente pattern. When we see her in this dress, it's very 'Bond Girl.'
"We used the simple line-work from the Kente pattern, and we had it printed on the same type of eurojersey that we used for the Panther suit. Once we had an all-black dress printed, we hand-painted it so that it would have an ombré effect."
"The ombré green paint has a little fleck of metallic in it, so when you see Nakia walk through the casino, the dress illuminates in different areas. She also needed two very long slits in the dress so that she could fight."
RAMONDA: THE QUEEN OF WAKANDA
"This sketch illustrates our initial inspiration for the character of Ramonda, but we ended up losing the ropes in the design. We wanted to make Ramonda her Black Panther Queen, so I looked for fabrics that had a sheen and a print, as well as fabrics that look like they have a tiny quilted pattern. I loved the idea of the designs of a 16th century Queen of England, but I wanted her to be the Queen of Wakanda. This is the mother of Black Panther, so she had to have some strength herself."
"Eventually, Ramonda's costume was retooled. We made it out of fabrics that I felt were superhero-like, but she has a classic shape to the dress. At first glance, I felt like she needed to look the queen unmistakably, so she has a classic queen look. This kind of anachronism is important because she also represents tradition and the Wakandan past."
"We 3D-printed Ramonda's crown. We also 3D-printed her shoulder piece. I gave Ramonda this shape that you would see on royalty back in the 1600s and the 1800s. I love this look."
M'BAKU: THE JABARI TRIBESMAN
"M'Baku is inspired by the Dogon tribe of Africa. Ryan Coogler really wanted M'Baku to wear a grass skirt, so I searched around for inspiration. I saw a grass piece at The Metropolitan Museum of Art [in New York], and the way it was toned and painted felt strong and manly, which I liked. The Dogon wore grass skirts during their ceremonies, but they were bright pink and bright green. Instead, I had to come up with a grass skirt that I felt would look like a traditional grass skirt worn in Africa, but also have the coloring that could be believable for warriors and men. I decided to put a leather sheath underneath the black skirt because they are mountain-dwellers. They live in a cold climate; in the mountains where there is lots of snow."
"The original M'Baku character was called Man-Ape, and his costume design was inspired by the silverback gorilla. There are still some elements of that in the design we see on screen. We used faux fur, but I found quite a few different pieces to apply to his shoulders. We attached the faux fur with refrigerator magnets so that it wouldn't shift around or move from his shoulders. In that sense, we thought it would feel like it was the fur of the silverback ape."
"M'Baku is the head of the Jabari tribe, who are woodsmen. They believe in wood as opposed to vibranium, so it was important that his armor looked like it was made from heavy wood. We also added carvings to it from the Dogon tribe. We then had the actor [Winston Duke] stand in the fitting room, and we designed all of the strips and straps that he uses to hold this heavy armor. When you combine the Dogon look with the heavy wood, this sealed the deal to show how this tribe was very different from Black Panther."
ZURI: THE SHAMAN LOOK
"Zuri is our shaman and our priest. When we first started to talk about Zuri, we realized that he needed to represent all people of Wakanda; all the different tribes. We used every part of Africa to tell the story of Wakanda, so Zuri's costume is made up of every aspect of Africa."
"In his finished piece, Zuri has North Africa – the Tuareg – reflected on his sleeve with little silver amulets. He wears a beaded tabard down the front, which is a part of the language of Wakanda. You will see these tabards on other people as well, although Zuri has his tabard that's inspired by the Turkana."
"Zuri also wears an avagado, which is from Nigeria. It's similar to a big caftan that Nigerian men wear. Over the top of the avagado, we created a striped poncho, which is made up of 300 little silk tubes. We draped the tubes around his shoulders and into the back as part of his traditional cloak at Warrior Falls. He's made up of all people in Wakanda, so he's not based on one specific area."