Welcome to the world of homemade Taco Bell Red Sauce! Thanks to our secret recipe hack, you can now recreate the iconic Taco Bell flavor right in the comfort of your own kitchen. No more hoarding sauce packets from Taco Bell; this easy homemade Taco Bell red sauce tastes incredibly like the real deal and can be whipped up in just a few minutes.
This versatile red sauce pairs perfectly with a variety of dishes, making it a must-have condiment in your kitchen. From enhancing the flavors of Taco Bell Bean burritos, tacos, chicken tacos, quesadillas, and burritos to adding a zesty kick to nachos, pinto beans and cheese, and more, this sauce is sure to elevate your Mexican-style meals.
The best part is that our Copycat Taco Bell Red Sauce keeps incredibly well, so you can prepare a batch and enjoy it over multiple Taco Nights. Whether you're assembling your own Taco Bell-inspired creations or hosting a Taco Night Buffet, this sauce will be the star of the show. Pair it with sour cream, seasoned ground beef, refried beans, cheddar cheese, pico de Gallo, and your favorite type of tortillas for a fiesta of flavors in every bite.
Get ready to tantalize your taste buds with this homemade red sauce that mirrors the taste of Taco Bell's signature sauce. Let's dive into the recipe and embark on a flavor-packed journey right at home!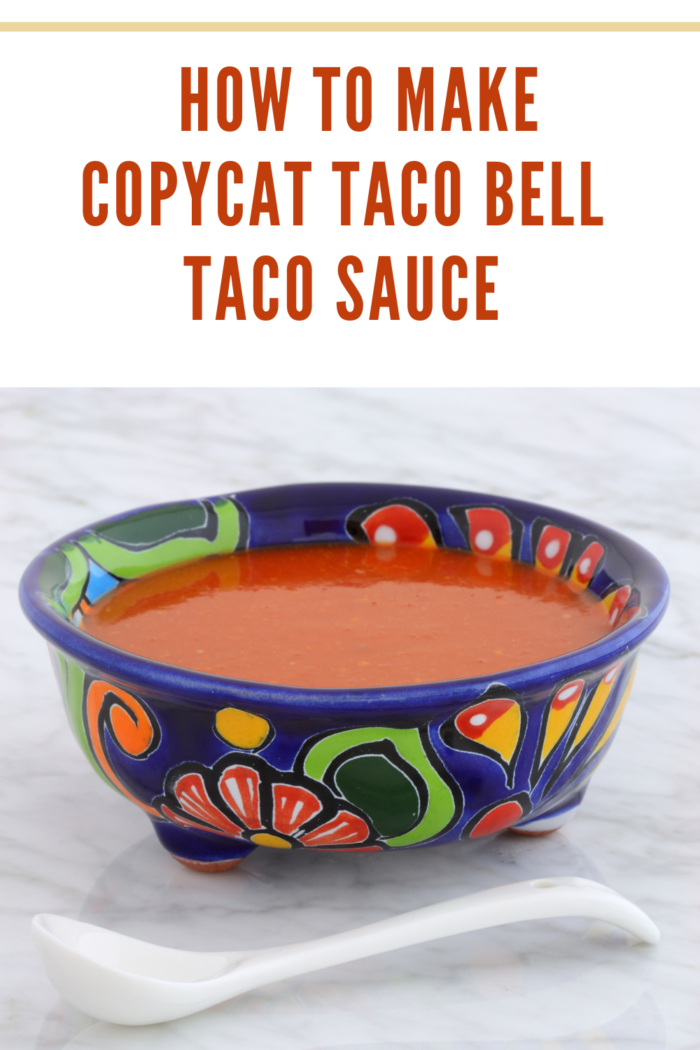 Taco Bell Red Sauce
Servings: Approximately 1 cup Prep Time: 5 minutes Cooking Time: 20 minutes
Ingredients:
1 (8-ounce) can tomato sauce
1/2 cup water
1/4 teaspoon chili powder
1-1/2 teaspoons ground cumin
1-1/2 teaspoons dried minced onions
1 tablespoon white vinegar
1/2 teaspoon garlic powder
1/2 teaspoon garlic salt
1/4 teaspoon paprika
1/4 teaspoon sugar
1/4 teaspoon cayenne pepper
Storage:
Make a big batch of this sauce.
It keeps easy for convenience when it's taco night or you have a hankering for authentic Mexican food or Taco Bell.
Room Temperature: You can keep Taco Bell Sauce at room temperature for up to a week in an airtight container stored it in a dry cool place.
Fridge: It will stay good in the fridge for up to 2 months in an airtight bottle or jar.
Freezer: You can even freeze the sauce for up to 6 months. To use, allow the sauce to defrost in the fridge before serving it on your next Mexican-style dinner.
Copycat Sauce Recipe Variations:
Elevate your spice level with these taco sauce options.
Mild Sauce: If you'd like a more mild red sauce omit the cayenne pepper and chili pepper.
Extra Spicy Sauce: You can make this mild sauce hotter by adding spicy ingredients such as chili pepper, jalapeno peppers, and habanero peppers.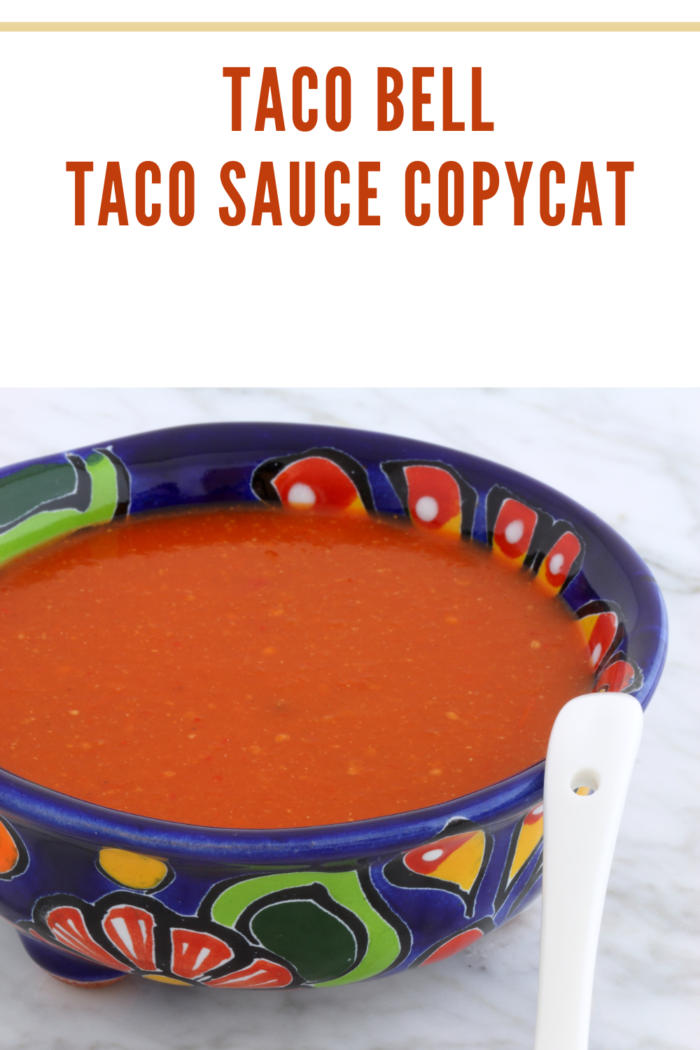 Copycat Taco Bell Fire Sauce
Servings: Approximately 2 cups Prep Time: 5 minutes Cooking Time: 15 minutes
Ingredients:
1 can (6 ounces) tomato paste
3 cups water
3 tablespoons vinegar
3 tablespoons finely minced jalapeno slices
1 tablespoon chili powder
1 tablespoon dried onion flakes
2 teaspoons salt
2 teaspoons cornstarch
1 teaspoon cayenne pepper
1 teaspoon sugar
1/4 teaspoon onion powder
1 dash garlic powder
Instructions:
In a medium-sized saucepan, combine the tomato paste, water, vinegar, finely minced jalapeno slices, chili powder, dried onion flakes, salt, cornstarch, cayenne pepper, sugar, onion powder, and garlic powder.
Stir the ingredients together until well mixed.
Place the saucepan over medium heat and bring the mixture to a gentle boil, stirring frequently.
Once the sauce starts boiling, reduce the heat to low and let it simmer for about 10 minutes. Stir occasionally to prevent sticking.
After 10 minutes, check the consistency of the sauce. If it's too thick, you can add a little more water to achieve your desired thickness.
Continue to simmer the sauce for an additional 5 minutes to allow the flavors to meld together.
Taste the sauce and adjust the seasoning if needed, adding more salt or cayenne pepper according to your spice preference.
Remove the saucepan from the heat and let the fire sauce cool slightly.
Once cooled, transfer the fire sauce to a clean and airtight jar or container for storage.
Storage:
Store the Copycat Taco Bell Fire Sauce in an airtight container in the refrigerator.
It can be kept for up to 2 months.
Enjoy this spicy, hot red sauce on your favorite tacos, burritos, or any other Mexican-style dishes!
Recipe Note:
If you prefer a smoother texture, you can blend the sauce in a food processor or blender after it cools down.
Adjust the spiciness by adding more or fewer jalapeno slices and cayenne pepper to suit your taste. Be cautious with the spiciness, as it can get very hot!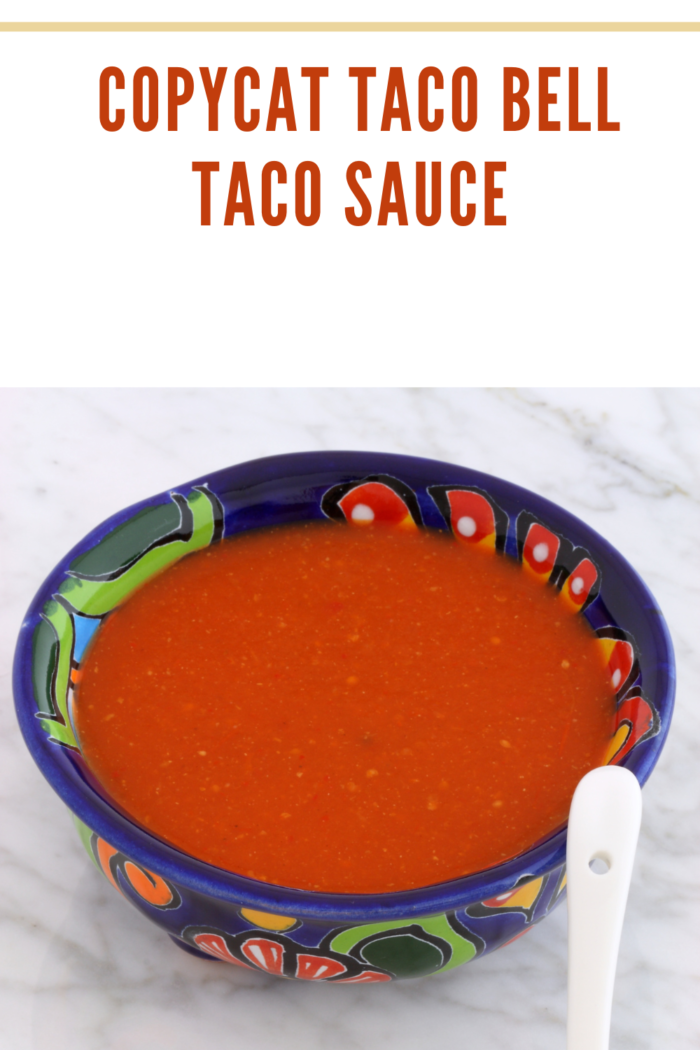 FAQs for Copycat Taco Bell Red Sauce:
Q1: Can I adjust the spiciness of the sauce? A: Absolutely! You can control the heat by adding more or less cayenne pepper and jalapeno slices to suit your taste.
Q2: How long does the red sauce last in the fridge? A: When stored in an airtight container, the sauce can stay good in the fridge for up to 2 months.
Q3: Can I freeze the Taco Bell Red Sauce? A: Yes, you can freeze the sauce for up to 6 months. Remember to thaw it in the fridge before use.
Q4: Is this red sauce suitable for vegans? A: Yes, the recipe is vegan-friendly as it does not contain any animal products.
Q5: Can I use fresh onions instead of dried onion flakes? A: Yes, you can substitute dried onion flakes with finely chopped fresh onions for a slightly different texture.
Q6: How spicy is the sauce compared to Taco Bell's original? A: Our copycat sauce closely matches Taco Bell's spicy red sauce, but you can adjust the spiciness to your preference.
Q7: Can I blend the sauce for a smoother texture? A: Yes, after the sauce cools down, you can blend it in a food processor or blender for a smoother consistency.
Q8: What dishes can I pair the red sauce with? A: The sauce pairs well with tacos, burritos, quesadillas, nachos, and more. Get creative and enjoy it with your favorite Mexican-style dishes!
Q9: Is there a milder version of the sauce? A: If you prefer a milder flavor, you can omit the cayenne pepper and reduce the amount of chili powder.
Q10: Can I use this sauce for marinating meat? A: Absolutely! This sauce works great as a marinade for chicken, beef, or tofu, adding a delicious kick to your dishes.