Rise and shine with this freshly made cinnamon sugar muffin recipe that's so easy to make in the microwave! Make the muffin in advance, remove from the mug and allow to cool completely, then tightly wrap in plastic wrap, waxed paper or foil, and store in an airtight container, if you like…or just eat it when you make it!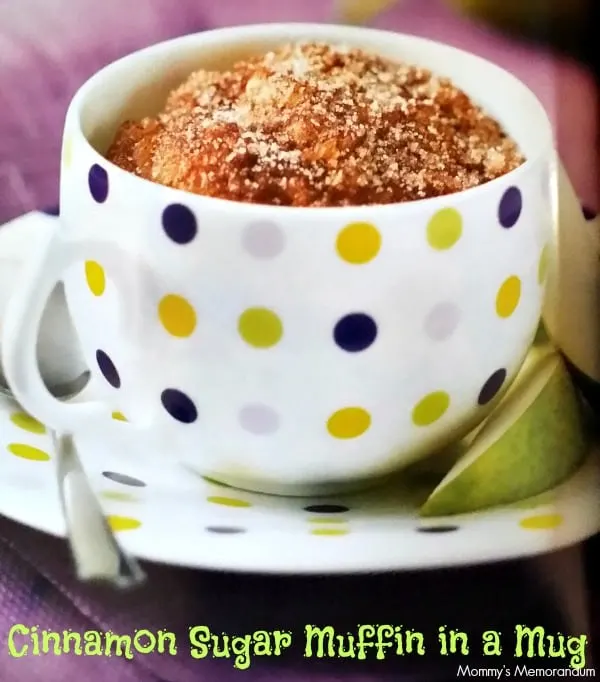 Cinnamon Sugar Muffin Recipe Ingredients:
12-16 oz mug sprayed with nonstick cooking spray
4 tsp granulated sugar
1/2 tsp ground cinnamon
1 Tbsp butter
2 Tbsp beaten egg
1 Tbsp milk
1/4 tsp vanilla extract
1/4 cup flour
1/4 tsp baking powder
1/8 tsp salt
Cinnamon Sugar Muffin Directions:
In a small bowl or cup, combine sugar and cinnamon until blended.
In the mug, microwave butter on High for 15 to 30 seconds or until melted. Using a fork, whisk in egg, milk, vanilla and half the cinnamon sugar. Still using the fork, beat in flour, baking powder and salt until smooth. Sprinkle batter with remaining cinnamon sugar.
Microwave on high for 1 to 2 minutes (checking in at 1 minute), or until center is just set. Let cool slightly or entirely in a mug. Eat directly from the mug, or gently remove to a small plate.
Try variations like:
Add 6-8 blueberries to the batter after mixing-or even this great blueberry muffin recipe.
Add 1-1/2 tbsp dried cranberries and 1/2 tsp grated orange zest with the egg
You might like this Coffee Cake Muffin Recipe
This recipe is from 250 Best Meals in a Mug cookbook by Camillia Saulsbury, page 112.