Outdoor patios often serve as an extension of your homes and provide another living space in your garden area. Hence, your patio must have a design and furnishings that fit your home's overall design.
One important structure in your patio is its cover. Patio covers made of wood are on trend right now because of its looks and function.
It provides shade from the sun, making it a good space to relax and unwind.
It provides protection from the rain, so you can still use the space without being wet.
It keeps your patio cooler, so lounging in it is comfortable.
It protects your outdoor patio furniture.
It can hold some patio decors and plants, making this space pleasing to eyes and inviting.
While having a wooden patio cover is quintessential, you must make careful consideration in picking the right wood shade by making sure that it's weather-resistant, durable, and stylish.
Here are some tips on how to choose the right wood shade patio cover for your needs.


Choose between hardwood and softwood
The first thing you must consider for the wood shade of your patio cover is whether it's hardwood or softwood. If this is your first time using wood as a building material, the difference between the two may not be very familiar with you.
Hardwood
Hardwood is wood from slow-growing trees with broad leaves.
Examples of hardwood are oak, cherry, and teak tree.
Hardwood usually has a darker shade that will fit your outdoor look.
It outperforms softwood in terms of longevity and durability.
Hardwood is usually more expensive than softwood.
Softwood
Softwood is wood from trees that grow faster, such as conifers and evergreens.
Examples are cedar, spruce, pine, and fir trees.
Softwood is usually on the lighter side.
Softwood is often be treated with preservative chemicals and will also need annual maintenance.
Pick pressure-treated wood
Pressure-treated woods are often the choice of homeowners who want a sturdy patio cover without having to spend a lot. Popular types are redwood and cedars. Both wood types will offer a very natural and classic look that'll complement your house design, making your patio a great place for entertaining guests.
Just to compare the two, redwood has a more reddish glow whereas cedar has a more yellowish glow. If you need a sleek look, you might want to go for redwood because it's smoother and has a higher wood grade. Just to add to that, redwood doesn't have any knots and has a very faint wood grain. However, cedar is often less expensive compared to redwood. On average, both kinds of wood will perform well.
Consider the lumber grade of the wood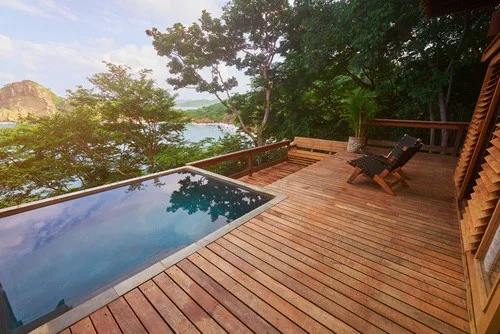 Lumber is sorted according to their quality grades at the mill using a stamp based on moisture content, quality, and grade. The grade of the lumber usually depends on natural growth characteristics, defects of the wood from milling, preservation techniques, durability, and appearance.
Typically, higher grades are the ones that have fewer blemishes and, thus, are more expensive. You don't have to get the wood with the highest grade to get the best characteristics. Instead, you just need to choose the right lumber grade. Choosing the right lumber grade will depend on the board characteristic or dimension you're looking for.
You can check out the chart from the Western Wood Products Association for a guide on the grade characteristics, dimensions, and attributes of the lumber you're looking for.
Take into account modified wood
One of the new technological advancements is modified wood. This type offers beauty, durability, low maintenance, and environment-friendly features.
Here are other advantages of modified wood:
It combines softwood and a nontoxic chemical that changes the cell structure of the wood, making it denser and perform like hardwood.
It also doesn't contain harsh chemicals, making it a safe material.
It has a good wood grade and offers a smooth and rustic look to your patio.
It doesn't attract insects and pests.
The material on modified wood is moisture resistant, making it weather any kind of climate.
Modified wood is widely used across the globe for landscaping and needs very little maintenance.
Conclusion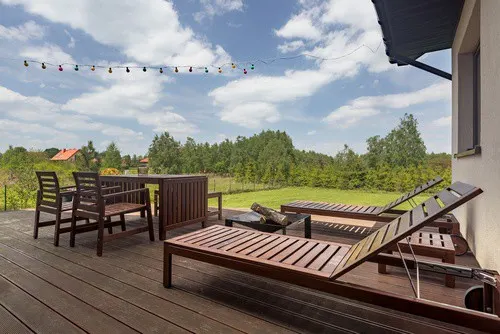 A wooden patio cover will add a finishing touch to an outdoor extension of your home. While choosing the right wood shade for your patio might be a little bit challenging, there is no right or wrong answer in selecting the wood shade for your patio. You just need to find the balance between durability, beauty, and longevity. Using the guide above, you can assess which kind of wood best suits your needs.
Author Bio-
Edward Flanagan is the founder of Edward's Enterprises, a handyman service & licensed general contractor that has been improving homes and providing facilities maintenance in Southern California since 1996. Their carpentry services include wood deck & patio cover repairs and replacements, and crown & baseboard moulding installation. Edward currently divides his time between Camarillo and Venice Beach, CA, and loves the 405.