A children's book should be fun, something children can imagine and keep their attention. Princess Cupcake Jones is a children's book that is just that–a good read. An adorable story about a little girl, like any other, who can't find her favorite tutu. In her search to find her tutu, she learns a valuable lesson: everything has a place. Eventually the tutu is found, as well as many other lost treasures.
A Children's Book Kids Will Love
PRINCESS CUPCAKE JONES AND THE MISSING TUTU is a book that most children will relate to as her clothes, toys and stuff is everywhere! At our house it's all hands on deck when someone can't find what they're looking for–book, school paper, favorite shoes, you name it. This book is a great read that reveals why Princess Cupcake should keep her room tidy if she wants to be able to find her favorite things.
The story is written in rhyme so it has a fun flow. Princess Cupcake Jones and the Missing Tutu also has a hide and seek! On every page the word "LOVE" is hidden. It is so much fun looking for the word and interacting with the story.
I loved the illustrations by Michael LaDuca. His art makes the book come to life. It was like Princess Cupcake was out of our imagination and dancing off the pages. The bright colors are fun and the characters have realistic features making this a story even more engaging.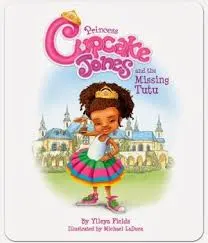 Rhyming Text Makes this Children's Book Fun
One morning, awakened right after dawn,
the princess exclaimed "My tutu is GONE!
Was it stolen by robbers? Where did it go?"
She lined her dollies all up in a row.
"Have you seen my tutu? Oh, please, please say yes."
But the dollies were quiet. They just couldn't guess.
Even after Cupcake tidies her room, her tutu is still nowhere to be found!
As she lies on her bed disappointed, Cupcake looks up and finds herself gazing at a rainbow of orange, yellow, and blue hanging from her ceiling fan! She has found her tutu!
Her mother is proud of her for cleaning up her room, and Cupcake promises to hang her tutu on its hook every night before bed so she will never lose it again.
Children will enjoy the rhyming verses, the colorful illustrations by Michael LaDuca, and the fun storyline of Cupcake's desperate search to find her tutu. They may even ponder the importance of putting things away where they belong so their own favorite things don't get lost or forgotten. Parents may even learn something from this fun story!
You can get your copy of the adorable Children's book, Princess Cupcake Jones and the Missing Tutu on Amazon. It's sure to bring many smiles and become a favorite.
About the Author of Princess Cupcake Jones and the Missing Tutu
Ylleya Fields is the mother of three beautiful children, two of whom are girls. Hunting for books to read to her eldest daughter when she was 2, Fields was struck by the small selection of titles featuring a African American character. Blending both of her daughters' images and personalities, Fields created Princess Cupcake Jones. Princess Cupcake Jones and the Missing Tutu is the first book in the series. Several more books featuring this adorable young girl are currently in the works, so watch for more adventures starring Cupcake Jones.
About the Arist of this Children's Book
Growing up with a pencil always in hand, Michael LaDuca always knew his calling was in the arts. He started taking drawing and painting classes at age eight at a Lewiston, NY, art studio and continued to hone his artistic education at Lewiston-Porter High School. He then attended Edinboro University with a focus in animation and illustration. Today, as a master of character expression and still-framed storytelling, Michael produces brilliant illustrations for children's books that charm audiences and bring storybooks to life. You can explore his collection of children's book illustrations by visiting www.luminusmedia.com.