VENA CBD Soaking Salts by Tamra Judge offers an indulgent, aromatic, CBD infused bath salts that might just be the perfect way to experience CBD's benefits, without ingestion, while lounging in the tub.
You have most likely heard about the benefits of CBD, but you're skeptical about trying it.
It took months of research to convince me about trying CBD.
So what does this calming, cannabis-derived substance we know as CBD have to do with bath time?
No doubt, if you love a hot bath, you're already familiar with the benefits of soaking in the bathtub.
CBD paired with hot water, essential oils, and relaxation elevates the experience of relaxation, soothes pain and inflammation, and skin conditions.
While reaching for that topical CBD balm, oil or cream might be ideal for localized inflammation, adding CBD to a bath will expose your entire body to the benefits.
Soaking in infused CBD bath soaks allow the nourishing cannabinoid to overcome this barrier and penetrate the skin's surface where it can soothe, fortify, and moisturize.
Right now, Self-care is important to practice.
Is there a better way to escape from the world and relax than with a book surrounded by candles in a bubble bath?
Yes.
CBD Soaking Salts.
Tamra Judge's Vena CBD has developed detoxifying CBD Soaking Salts to make your next soak, simply sensational.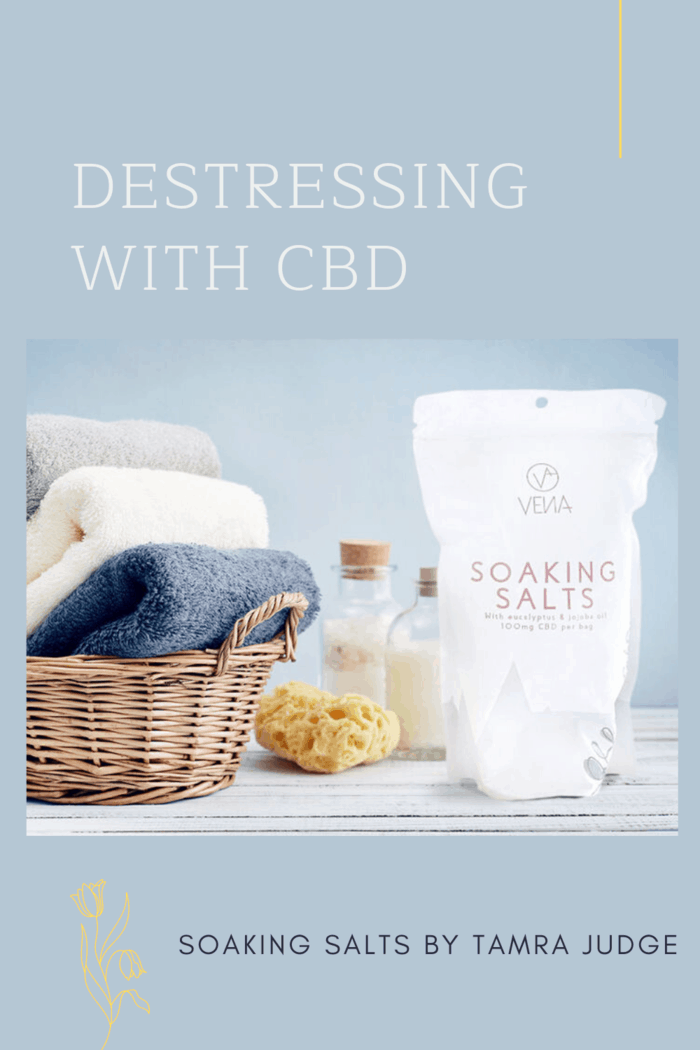 Vena CBD Soaking Salts ($24.99) are formulated with:
Pure CBD isolate to reduce inflammation.
Eucalyptus oil to relieve sore muscles
Jojoba oi to rehydrate skin
Epsom Salt to detoxify your body and reduces stress
How to Use:
Add one cup of Soaking Salts to your hot water bath.
Allow the salts to melt before getting into the bath.
20mg CBD per soak = 100mg CBD per bag
Amount Per Soak: CBD (Cannabidiol) 20mg
I ran hot water, added the VENA CBD Soaking Salts, and climbed in.
My husband was outside tending to the yard and sent me a text asking if I was taking a bath because it smelled incredible outside the window.
I ignored him.
It was full-on aromatherapy that was not overwhelming, but so relaxing.
I just soaked.
I could feel my tight muscles relaxing.
My relaxation is a hot bath.
I typically use Epsom salts and essential oil to make it more bougie.
Those baths were child play compared to the VENA CBD Soaking Salts.
The latter was luxurious.
I felt pampered.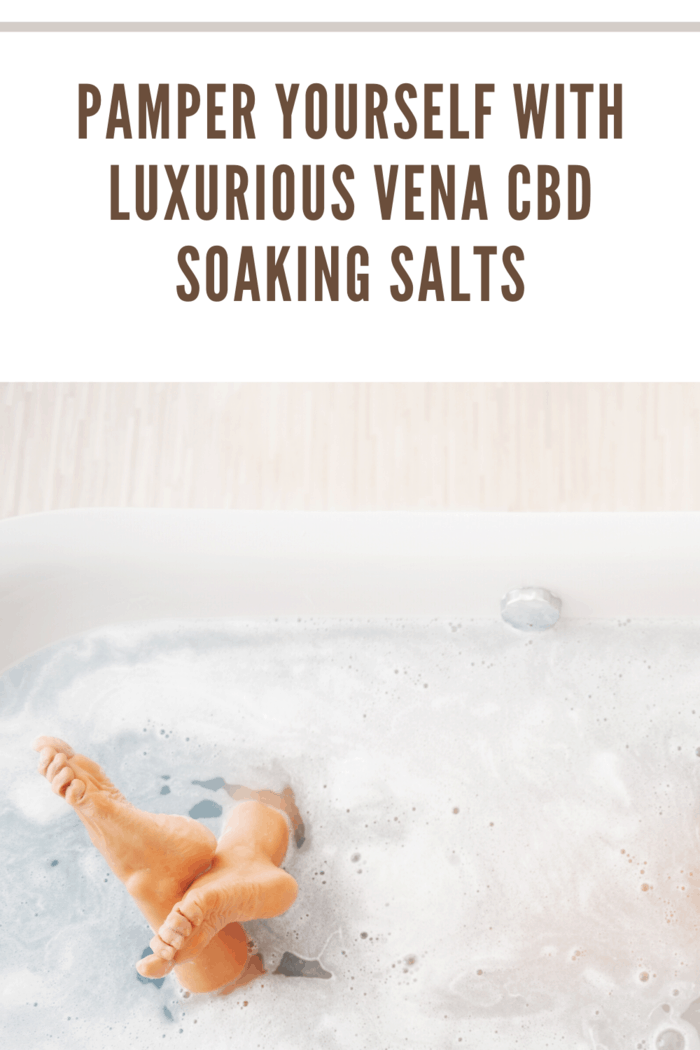 And there is something about my husband commenting on the smell that made me feel pretty when I emerged from the bathroom.
I've been challenging myself to walk every day.
My right knee was injured in my last 5K race a few years ago, and walking can sometimes cause it to flare up.
In addition to walking, I've been painting a bathroom and our dining room, including trim on the floor and ceiling.
This is by far more activity than my out of shape body is accustomed too, and as a result, it uses pain to let me know we clearly are not in this together.
The VENBO CBD Soaking Salts had me feeling so much better.
My body still let me know the pain was there, but after my bath, it was like it was telling me from a few meadows away.
I slept incredibly well–it was my first 90 on my Fit-Bit sleep score.
I use CBD tincture and creams religiously.
This was my first experience soaking in it, though there have been a few times I've whined, "I just want to soak my whole body in this stuff", and now I can.
VENA CBD Bath Salts are very fine, and moist–not too wet–not dry.
Open the bag, and the smell is amazing.
Add it to your bath, and it transforms into an incredible spa-like experience.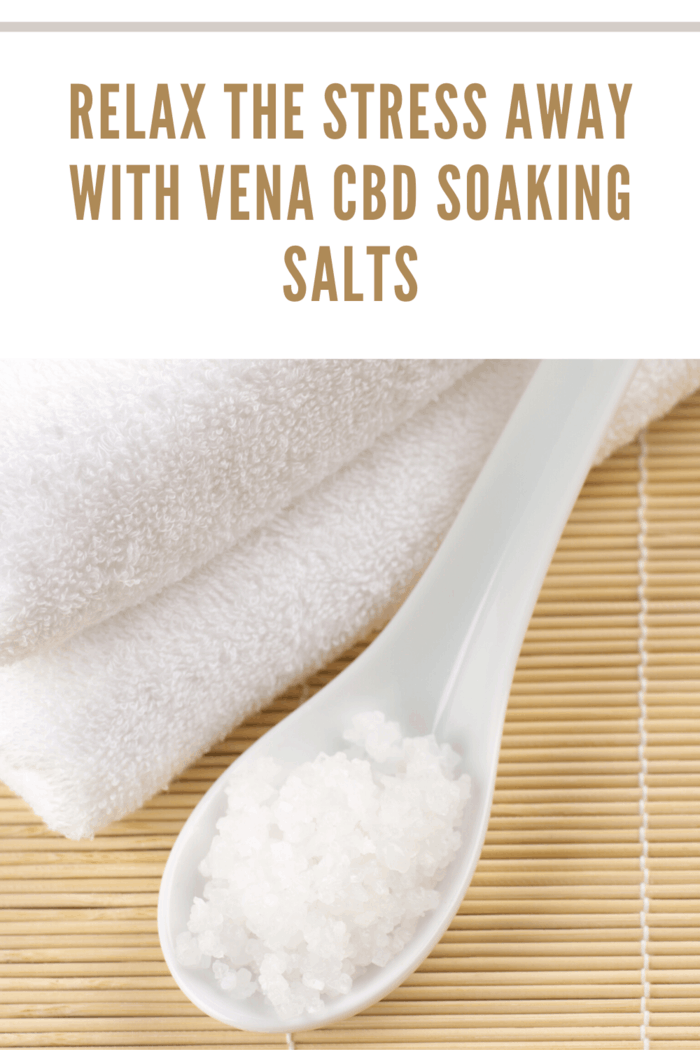 The CBD Soaking Salts work better and faster than any other CBD form I have used.
It enables the CBD to address the body as a whole, rather than spot treatments.
It was pampering.
My bathroom smelled incredible.
My skin was incredibly soft.
My pain had minimized.
I also felt like I mentally reset.
Whether you have tried CBD or not, I encourage you to try the VENMO CBD Soaking Salts.
You can thank me later.