Casseroles and stews are the ultimate comfort foods for many of us. Their slow-cooked goodness warms us from the inside out. Both casseroles and stews taste delicious and are easy to prepare.
These traditionally warming and rich dishes can be easily confused, however. Why? Because:
Both are one-pot dishes
Both are slow-cooked with lots of meat (or plant-based protein) and veggies
To effectively prepare both in the most effective and tasty way possible, you'll want to understand the difference between a casserole and a stew.
So let's take a look at what distinguishes one from the other in this breakdown of casserole vs. stew.
What is a stew
A stew is cooked in a covered pan on your stove, such as an Uno Casa casserole dish.
What's fabulous about making stew is that you can combine lots of different ingredients in one pot, let them simmer for hours, and then eat heartily.
The great thing about stews is that you can use the cheapest cuts if you are using meat.
The long-simmering time will tenderize your meat to the point where it can be falling off the bone.
The spices and vegetables combine with the juices of the meat to form a rich, flavorful gravy.
One of the main characteristics of a stew is gravy.
Gravies in stews are thick and hearty, and the meat tends to be in chunks.
You can mix together as many ingredients as you like to a stew, as long as the flavors go together.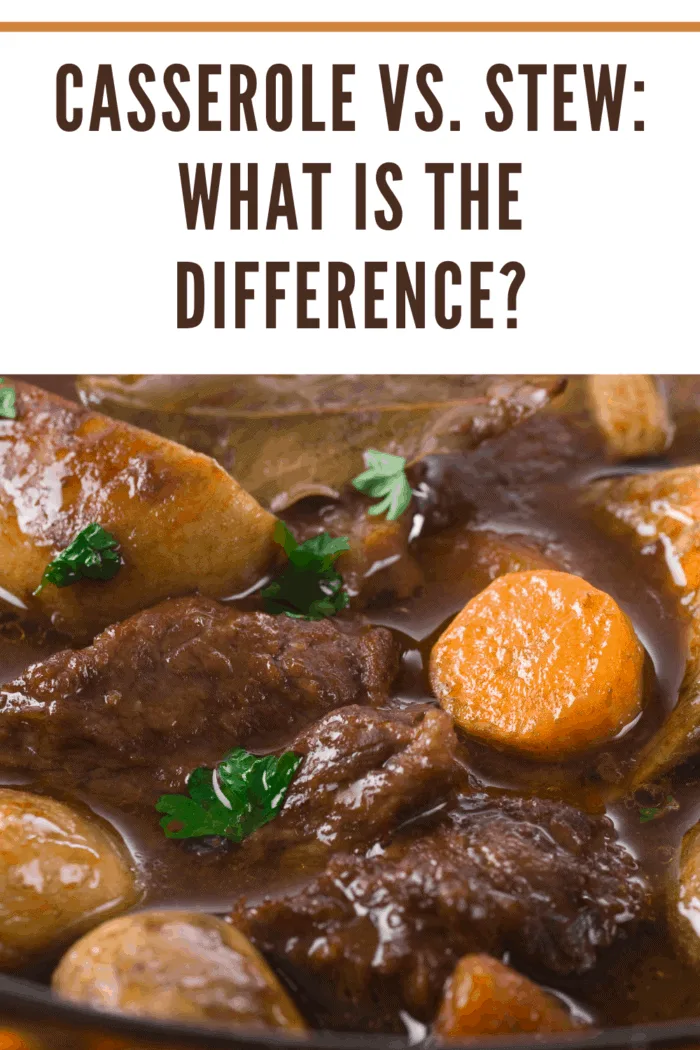 How you serve a stew
You can serve your stew on its own, and it will be filling and hearty.
Some prefer to serve fresh bread on the side, mashed potatoes, or other starch like noodles, rice, or dumplings.
Also, you can add any of the toppings you like to bowls of stew.
Some examples of stews
Stews are popular dishes in many cultures. Some examples are:
Puerto Rican beef stew
Italian fish stew
Polish bean and sausage stew
Greek lamb stew
Creole seafood gumbo
Instant Pot Beef Stew
What is a casserole
Casseroles are made of three main ingredients:
A base protein, vegetables, and a starch.
The starch, such as noodles, rice, or potatoes, holds the other ingredients together.
A casserole tends to be made of layers of ingredients rather than a mixture as in a stew.
So, for example, you might layer your slices of potato with pieces of ham and then some broccoli with a topping of cheese.
Unlike a stew which has a rich, thick gravy, casseroles don't have gravy as such.
Once you assemble your casserole, you add the liquid on top for flavor and help the other ingredients cook.
So in our example above, you might add a bit of vegetable stock.
Casseroles aren't dry, but they are not as soupy as stews.
How to assemble a casserole
With a stew, you put all of the ingredients into one pot and mix them.
A casserole, however, usually has layers that require assembly, a bit like a lasagna.
Both dishes are simple to eat, but casseroles appeal more to people who like to have definite layers to their food.
Starch is often the main layer, followed by protein and vegetables.
Unlike stews which are cooked on the stovetop, casseroles are cooked in an oven.
The even heat distribution through the casserole dish ensures that the layers are evenly cooked.
Towards the end of cooking your casserole, you usually uncover it so that the top layer can brown nicely.
The top layer of a casserole is often made of breadcrumbs or cheese, which helps hold the flavor nicely within the food as it simmers.
The crispy texture on top is delicious.
Some examples of casseroles
Casseroles have many variations throughout the world. Here are some types of casseroles that you can try:
Italian eggplant parmesan
Mexican-style enchilada bake
Israeli shakshuka (tomatoes and other veggies with poached eggs)
British shepherd's pie (ground beef layered with mashed potato casserole)
John Wayne Casserole
Persian layered chicken and rice
German Spaetzle (egg noodle casserole)
Coca-Cola BBQ Chicken Casserole
Slow Cooker Hashbrown Casserole
WW Macaroni and Cheese
Conclusion
Both casseroles and stews are important dishes for anyone to have in their recipe collection.
If you prefer a rich gravy, you may want to start with making stews.
If you like more structured dishes, you may want to go with making casseroles.
The great thing about both is that you only need one pot, and they make great family meals.
Stews and casseroles are also perfect for parties and other special occasions.
These dishes may not be the fanciest, but they are usually warmly appreciated by everyone.
In casserole vs. stew both dishes are worthy of being served.