Sharing is caring!
Home sweet home – sometimes it doesn't feel so sweet, right? You need a place to get away to, where you can vacation and feel safe at the same time.
If you have the funds, consider buying a vacation home. With a little finesse and befriending of the neighbors, you can even turn it into a vacation rental. Get tips on how to smoothly go through the process, below.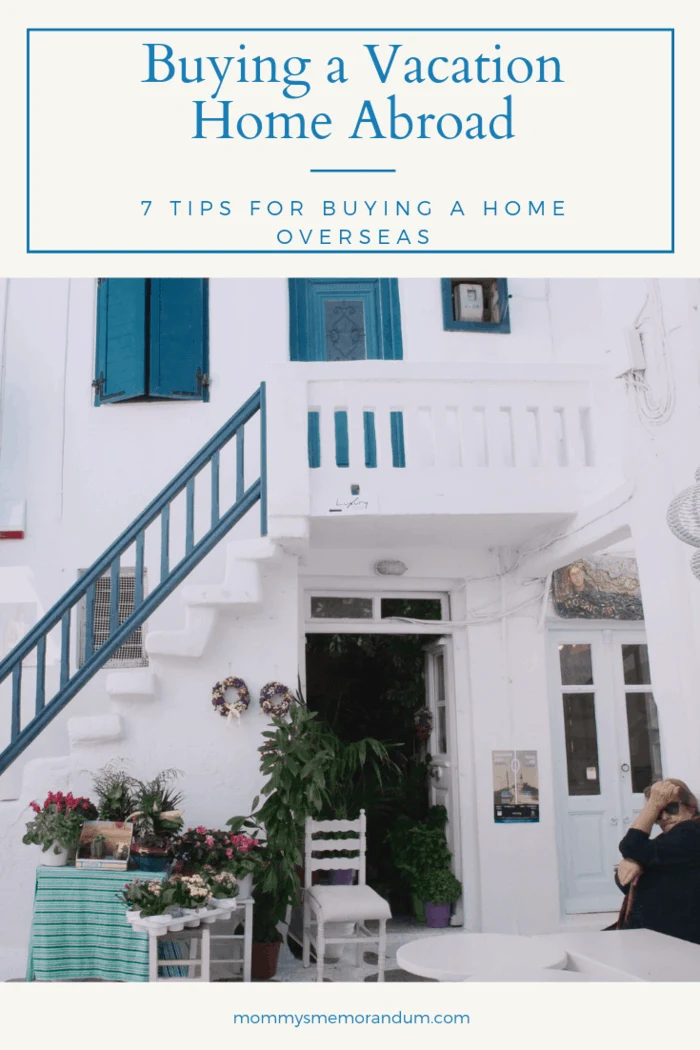 Buying a Vacation Home Abroad? 7 Tips for Buying a Home Overseas
Apply for Global Entry
This isn't a real estate tip – but it will make following our next tips that much easier (and more pleasant).
If you're a US citizen or have a select type of citizenship as a lawful permanent resident, you can apply for the program.
What's the program, you ask? It's basically the fast-pass of the airport customs world. Just like TSA PreCheck, you get in a different line and you don't have to go through as many screening processes/questions as people who don't have it.
That may mean not having to re-check your bags (depending on where you're coming from).
It's quicker and makes your life a lot better, especially if you had to catch a last-minute red-eye flight.
The membership is good for five years and, get this … only costs $100 total. If you have a premium travel credit card (which you should look into if this is the next vacation home you're buying) the cost may be part of your membership benefits.
If you choose to do TSA PreCheck as well, you're spending $50 a year to wait in fewer lines, don't have to take off your shoes, and you get a whole list of other benefits.
Trust us – it's the international travelers best friend.
Check the Cost of Living
Housing prices should be some indication of the price of living, but real estate markets don't always align with day-to-day items. You don't want to spend the top of your budget on the house to find out you can't get a decent couch for less than 5,000 euros (or whatever you deem an appropriate price for a couch).
This means you should stay away from Switzerland unless you've accepted some sort of Swiss job. The salaries and the cost of living there make it reasonable to live there.
We're not saying you have to move to Eastern Europe where less than a dollar will buy you a whole meal like in the movie Eurotrip, but it's something to be aware of.
How Easy it Is to Own Property
Some people, like the French specifically, make it difficult but not impossible for foreigners to own property. The problem in France is that you will most likely have to open a French bank account, which entails lots of paperwork.
But with enough money, anything is possible – in France and anywhere else.
You can read personal accounts of other foreigners who bought property in the country you're looking for online. If you do this, remember that people are more likely to write down the bad than the good – so take it with a grain of salt.
Have a Plan for When You're Done
Contrary to what you might think now, having an international vacation home might not be something you want your whole life.
Maybe there will come a time where you need to liquidate assets or you realize you haven't been there in ten years and don't plan to go.
It's a lot harder to rent internationally and, while you could Airbnb it, you'd need someone onsite to act as the caretaker.
When you're buying the home, talk to the real estate agent about what selling conditions are like. You can get a second opinion if you'd like, to make sure they're not telling you the good news only, so they get the commission.
Build Housewares into Your Budget
A lot of people don't think about how much it costs to outfit a home because they move the same stuff from property to property. But if you buy a home internationally, you're starting from scratch.
It's possible that your home could come with the furniture basics (if it's in a city) but you'll still need to buy plates, silverware, pots and pans, linens – the list goes on.
Build at least $5- to $10- thousand in your budget for outfitting the house – and that's a low estimate.
Figure Out the Laundry Situation
If you're buying a home or property in a city, then your laundry situation might be dicey. It's rare to find a historic building in the heart of London that has an in-home washer-dryer (unless it's been put in).
That's not something you want to find out when you get there after 24 hours of traveling and want to wash the smell of the airplane off your clothes.
Find an Attorney
Closing on a house takes at least a month and up to three, depending on where you are. You can't be there the whole time, so you need someone that can handle things for you, on location.
Find a local lawyer who speaks English (or your native tongue) as well as the local language.
The lawyer and your real estate or buying agent will help make sure everything goes smoothly.
To see why you need someone who knows the area, especially if you're considering somewhere like Lima, check out this site.
Buying a Vacation Home
If you have the budget to buy a second home in a foreign country – you should do it. You can leave that asset to your children or make some serious money off of it in the future when the market is right.
Just make sure you've taken all the preparation steps you need to. And know that buying a vacation home in another country is going to take longer than buying one at home.
Click around on our blog for more relevant advice!