BRAVO! Cucina Italiana Seasonal 2-Course Meals Now Thru April 15, 2017 #MyBravo #Delish #ad
Dining out can be hit or miss. Recently, I partnered with BRAVO Cucina Italiana. We headed to Greensboro, North Carolina for their seasonal "Taste Good — Feel Good" two-course dinner menu (also available as a lunch menu). Featuring BRAVO's quality Italian cuisine and unique offerings at a great value, this special offer is available now through Saturday, April 15.
My family loves Italian food. I am particularly fond of any Italian restaurant that makes me feel like I flew to Italy for dinner. Bravo Cucina captured the whole experience from friendly staff, atmosphere, and amazingly great-tasting cuisine.
I love the kitchen that is open so we can see everything happening behind the scenes! This is a great feature.
Since technology hasn't really captured the full scratch-and-sniff availability, I thought it would be fun to share my experience with you as if you and I were dining together.
BRAVO's seasonal "Taste Good — Feel Good" two-course dinner menu prices start at $14.99 at lunch and $16.99 at dinner, the two-course menus feature a variety of delicious options.
While I introduce you to our waitress and the chef, enjoy this Chicken and Spinach Flatbread appetizer. One bite and my mouth is drooling.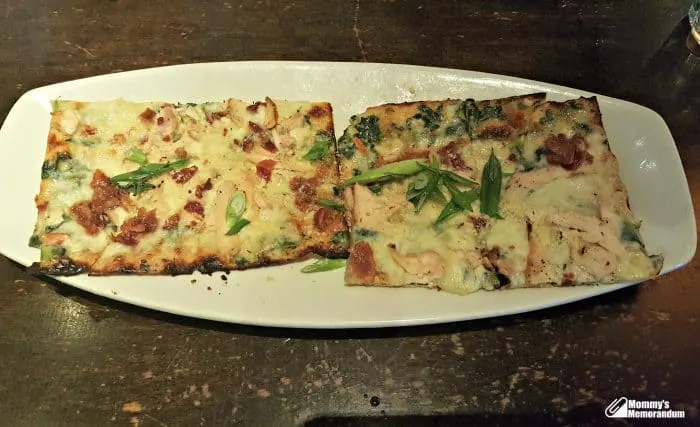 This is our waitress, Ashley. She will make you feel like a rockstar. Her attention to detail and smile are an incredible part of the meal.
Executive Chef Dean grew up in a restaurant and has been at Bravo Cucina Italiana for ten years. He's from Detroit and has serious culinary skills.
Let's take a seat.
Don't you just love the fun on the menu?! I love the latitude and longitude salute to Rome in the upper left corner!
We'll be sticking to the Seasonal two-course Bravo menu tonight.
Bravo Cucina Italiana Soup or side salad (choose one):
It's not going to be easy to choose just one. They are all amazing. I'll describe the options and throw in a picture or two of our meal.
BRAVO Chopped Salad: Chopped greens, cucumbers, red onions, tomatoes, olives, Feta, red wine vinaigrette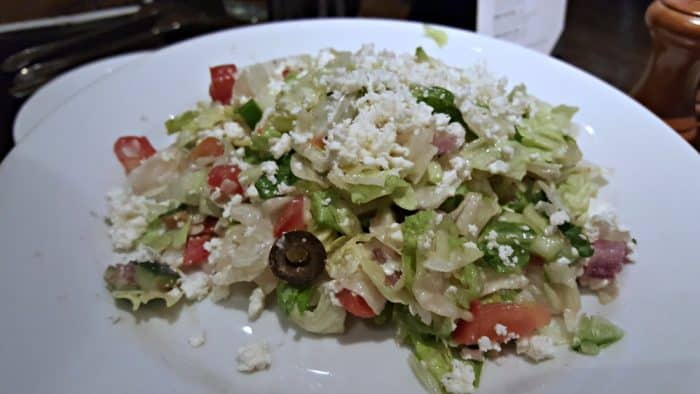 Caesar Classica: Traditional Caesar salad with housemade croutons

Insalata Della Casa: Chopped greens, cucumbers, tomatoes, bacon, crispy pasta, Parmesan dressing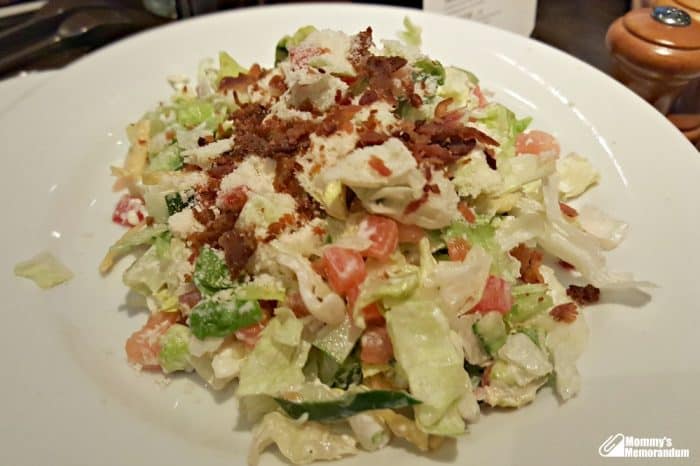 Soup Del Giorno
Lobster Bisque with Sherry and diced shrimp (for an additional $1)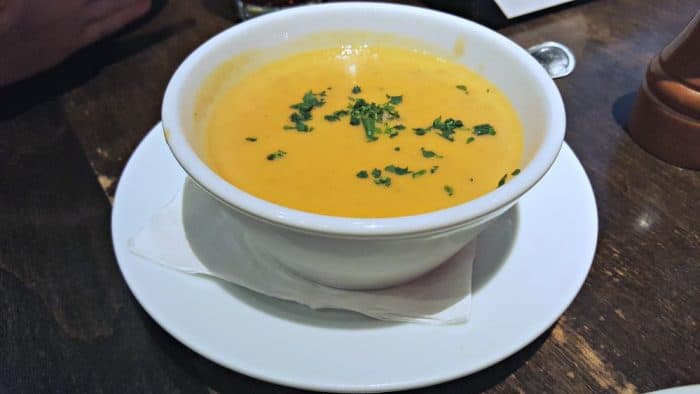 If I had to do it again, I'm opting for the Lobster Bisque. It was creamy. It had incredible flavor and the chunks of lobster melted in my mouth.
It is heaven…just ask MacKenzie who just kept eating it!
Bravo Cucina ItalianaEntrée (choose one):
Be warned, every one of these is incredible. We commented on what we would have selected and what we liked best. My husband chose the Grilled Jumbo Shrimp as his favorite, followed by the Chianti Braised Beef Ravioli. I liked the Romano Crusted Tilapia best and the Grilled Jumbo Shrimp a close second.
Get ready to salivate!
Romano Crusted Tilapia: Crispy fingerling potatoes, spinach, Napoli sauce, Sriracha aioli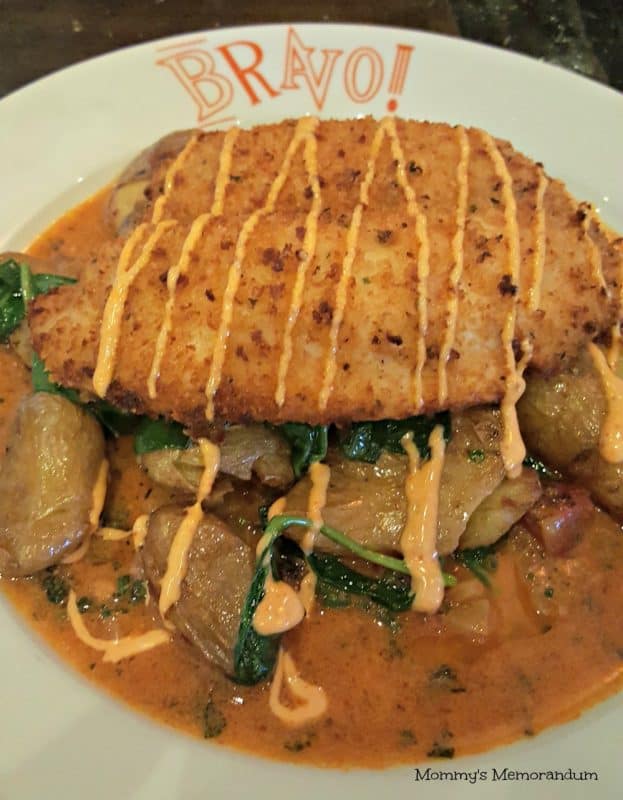 Can we just talk about this dish for a moment?
I am huge on potatoes–like on a deserted island and only one food–I'm hoping for potatoes. These fingerling potatoes were perfectly cooked. They had great texture and flavor, and the Sriracha aioli sauce came to life with them.
I'm a wimp when it comes to spices (this has been since having my last child–before I loved the heat). This said, the sauce has some zip, but I was the only one that thought it was "hot" and even then, I didn't let it stop me.
The next thing I want to tell you is in 2003, my husband and I went to Anchorage Alaska. While there we ate halibut. It's the fish we compare everything to because it was so good. There has not been a contender in 13 years…until Bravo Cucina Italiana.
I'm not kidding!
The Romano Crust is wicked good and inside that crisp coating is the flakiest, most incredible flavored tilapia.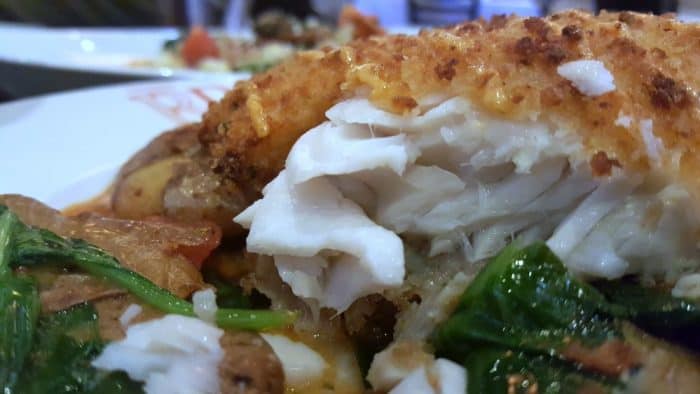 Grilled Jumbo Shrimp: Orzo, farro, red peppers, zucchini, haricot vert, Feta, fennel cream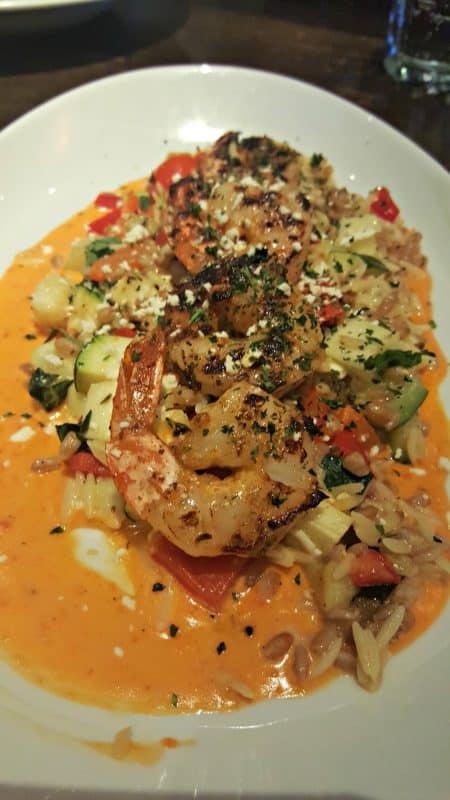 When the Grilled Jumbo Shrimp was brought to our table, I couldn't believe the size! They are J-U-M-B-O!
The vegetables and sauce are perfect harmonies in flavor. The entire dish just works so well.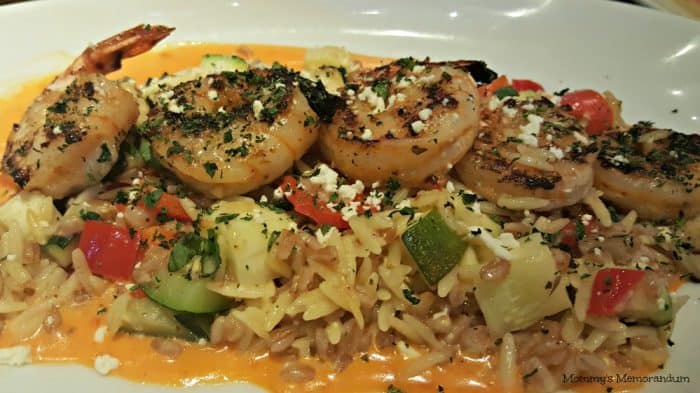 Chianti Braised Beef Ravioli: Sangiovese braised beef-filled ravioli, roasted sweet potatoes, brown butter, sage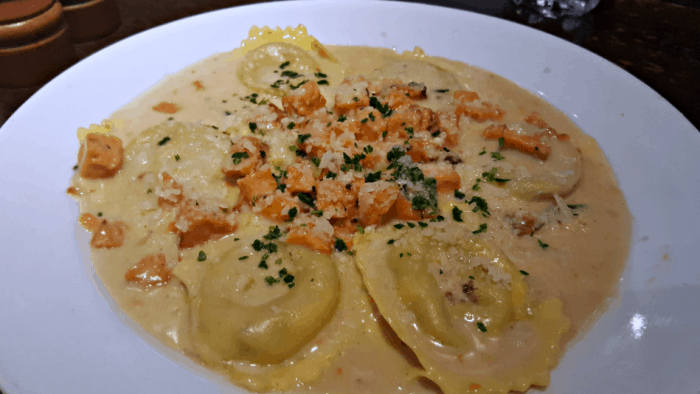 This dish was my husband's second favorite and he said it was neck-and-neck to his first choice (Grilled Jumbo Shrimp). This surprised me because my husband isn't a sweet potato guy. At. All. This dish changed that. The sweet potatoes were perfect, the sauce was good enough he was eating it by the spoonful, and the ravioli is perfectly packed with braised beef.
Bravo Cucina Italiana Has Kid's Meals
Bravo Cucina Italiana makes a great date night, but they also have a great Kid's Menu. My kiddos love the Create Your Own Pasta where they pick their favorite pasta (spaghetti, rigatoni or gluten-free) and sauce (tomato, alfredo, or butter).
The Kid's Menu also has activities to entertain the kiddos.
Just a recap.
The Two-Course Meal is seasonal now through April 15th and includes your choice of soup or salad plus entree.
Bravo Cucina Italiana Desserts!
You'll want to save room for dessert!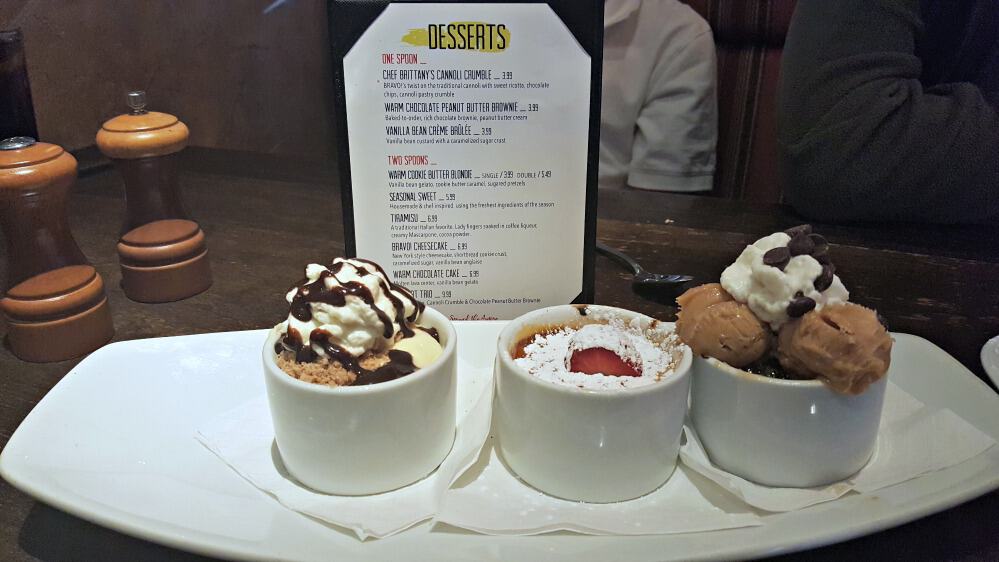 I don't think I have ever met a dessert I didn't' like, and the choices at Bravo Cucina Italiana are gourmet delights.
Dessert Trio
Three individual petite desserts. Vanilla Bean Crème Brulee, Cannoli Crumble, and Warm Chocolate Peanut Butter Brownie
Petite – Vanilla Bean Creme Brulee
Decadent vanilla bean custard with a caramelized sugar crust.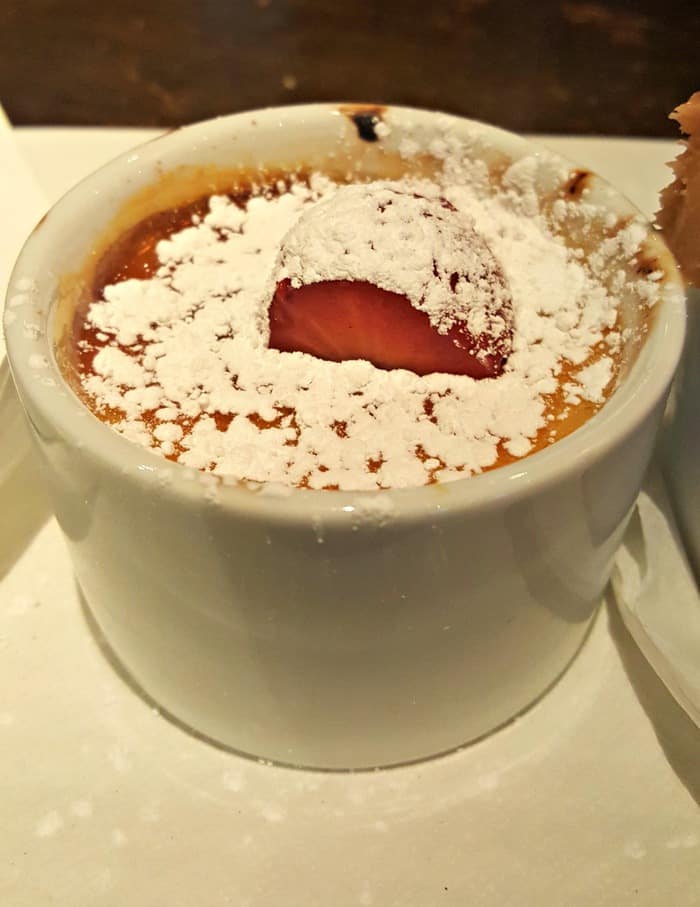 Petite- Chef Brittany's Cannoli Crumble
Bravo!'s twist on the traditional cannoli. Lightly sweetened ricotta filling with chocolate chips and cannoli pastry crumble.
Petite – Warm Chocolate Peanut Butter Brownie
Baked-to-order rich chocolate brownie topped with peanut butter cream.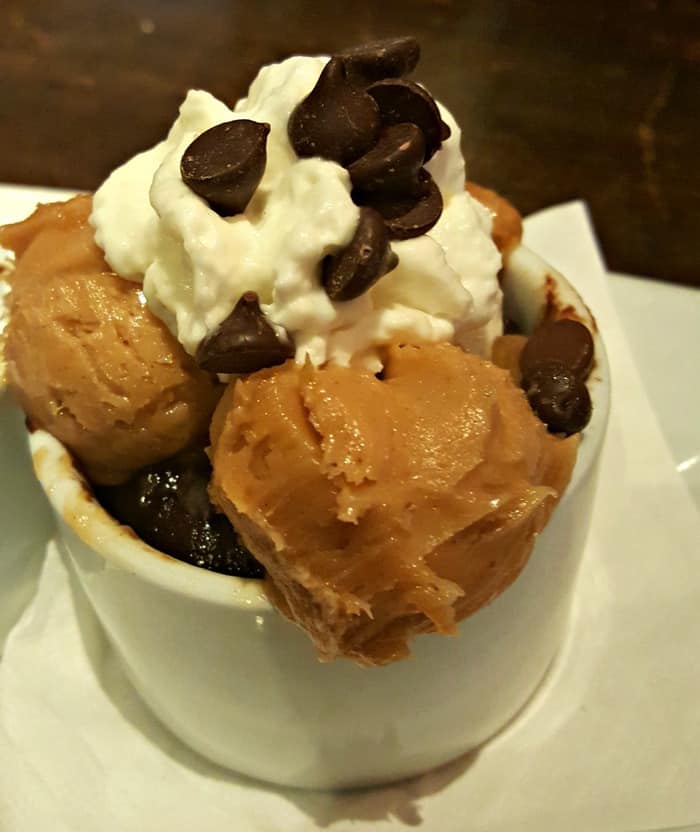 Warm Cookie Butter Blondie
Vanilla bean gelato, cookie butter caramel, and sugared pretzels.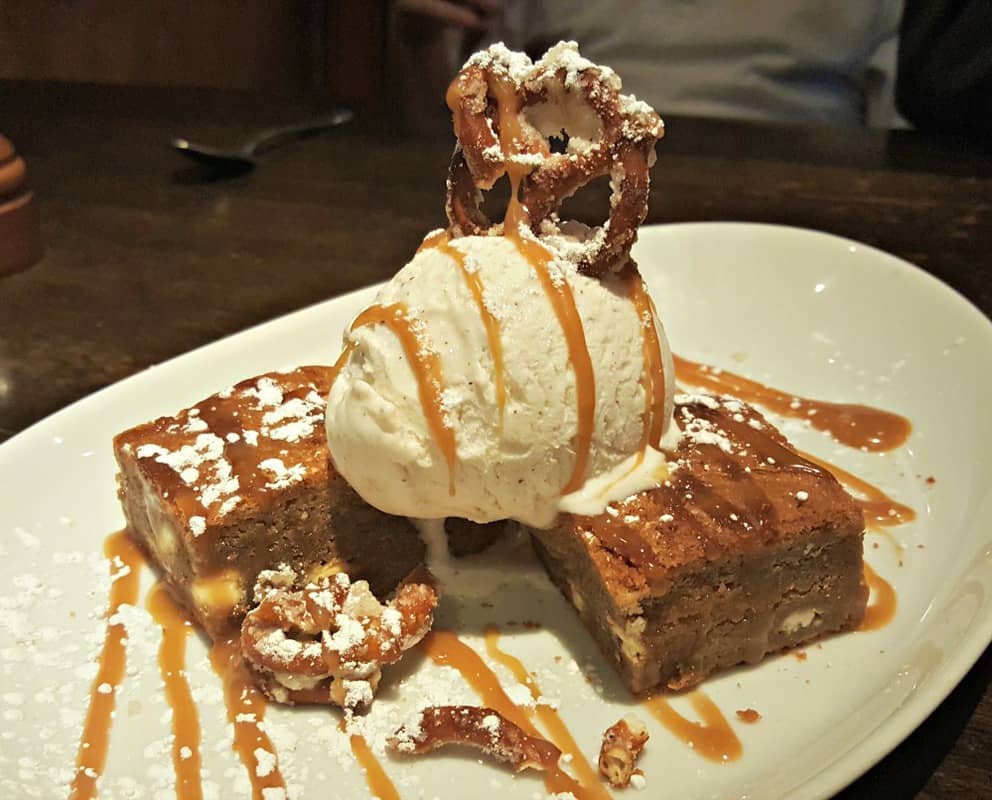 Guests can now make reservations online for all BRAVO restaurants by visiting www.BravoItalian.com. For a list of locations, please visit www.BravoItalian.com.
Your table at Bravo Cucina Italiana is waiting.