When you blend the classic American road trip with American icon Bruce Springsteen, we're talking some serious red, white, and blue.
"Born in the USA" is more or less an anthem for all Americans. Except, did you know that this song was actually one of frustration during the Vietnam War era? Although the chorus is patriotic and bright (after all, Bruce was proud to be born in the USA), its verses explore the realities of what that means.
But, let's not get into politics. It's time for another Great American Road Trip – this time, choosing our destinations based on Springsteen songs.
Springsteen is known for his storytelling through music. Many feature specific characters dealing with complex problems. When he places a character in a certain time and place, usually an iconic part of the country, it helps set the mood. From its setting, you somehow have a deeper understanding of what the song is about.
So, how many destinations can we pull from classic Springsteen songs? It's probably more than you think.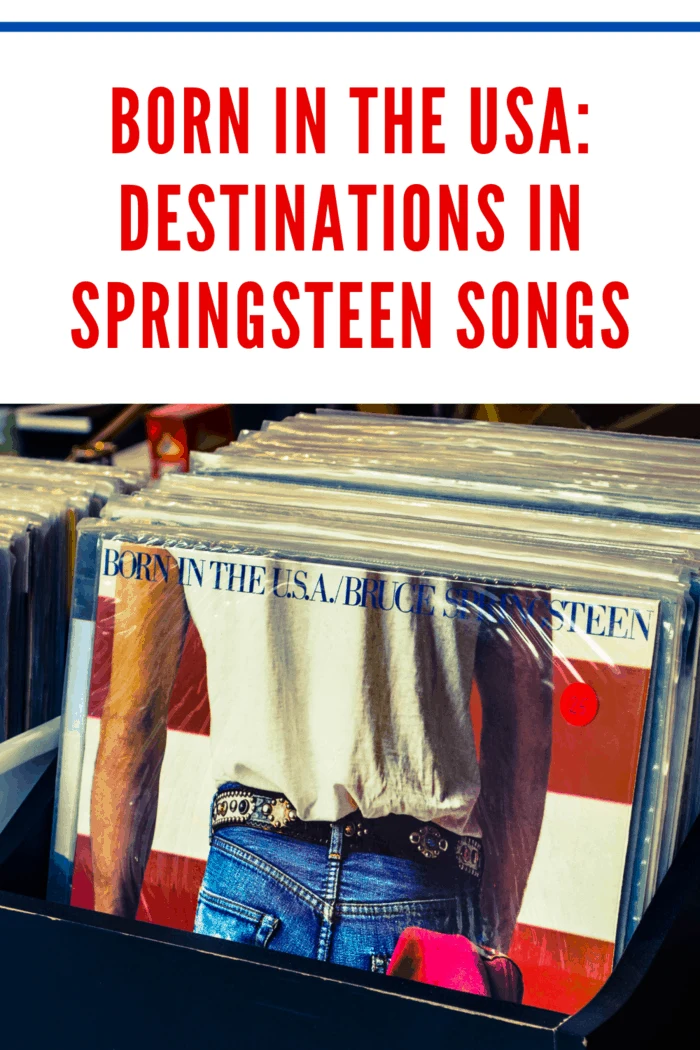 "New York City Serenade"
We're starting off in the Big Apple because it's 'midnight in Manhattan.'
The protagonists of Springsteen's "New York City Serenade" Billy and Jackie make their way through the city as they 'boogaloo down Broadway' and there's mention of Jackie not taking the train.
In addition to seeing a Broadway show while you're in New York, make sure to check out Central Park in all its glory, the countless world-class museums on 5th Avenue, the Empire State Building, and fresh pasta in Little Italy.
Honestly, there's so much to do in New York that you're bound to stumble upon something exciting.
"Growin' Up" and "Sandy"
Outside of New York in Freehold, New Jersey is Bruce Springsteen's hometown.
Well, he's from Asbury Park to be exact and the city has become the hub of Springsteen fandom since he became a star.
The songs "Growin' Up" and "Sandy" both don't mention Freehold or Asbury Park outright, but if you assume the song's about Springsteen's experience of growing into an adult, consider it the next town on your road trip list.
These days, Asbury Park has made a name for itself in its own right with hip downtown restaurants and beachside residences that draw newcomers.
However, it's a must to check out Stone Pony, the music venue where Springsteen and others got their start.
"Atlantic City"
Ah, Atlantic City. Home to gambling and tales of the Roaring '20s. With Springsteen being born and raised in New Jersey, it seems fitting that he'd write a song about the biggest city on the Jersey Shore.
Make a stop in Atlantic City to try your luck at the famous casinos in the area. Or take your kids to play arcade games on the Steel Pier.
Stroll the boardwalk and enjoy the beach. Just make sure to 'fix your hair up pretty' in honor of Bruce.
"Hungry Heart"
The song "Hungry Heart" opens with the line, 'Got a wife and kids in Baltimore, Jack' and although that's the only mention of this Maryland city, it's worth a visit on your Bruce Springsteen road trip.
Baltimore is a lively waterfront town with an aquarium that rates as one of the best in the country, the American Visionary Art Museum, and a little-known yet incredible foodie scene.
"Rosalita (Come Out Tonight)"
Now, we're making our way out west.
This song tells the story of Rosie as her lover begs her to be released from the chains of her overbearing parents.
He mentions, 'I know a pretty little place in Southern California, down San Diego way.' And that is indeed the next stop on our Springsteen road trip.
San Diego is an incredible place to visit and is often the last stop on the iconic Pacific Highway road trip.
Its gorgeous year-round weather, impeccable beaches, Balboa Park with countless museums and art galleries, and the world-famous San Diego Zoo means this hot spot is a must-see city in the US.
If you plan to make the rounds, drop your bags at a San Diego luggage storage shop so you can easily hop from beach to town.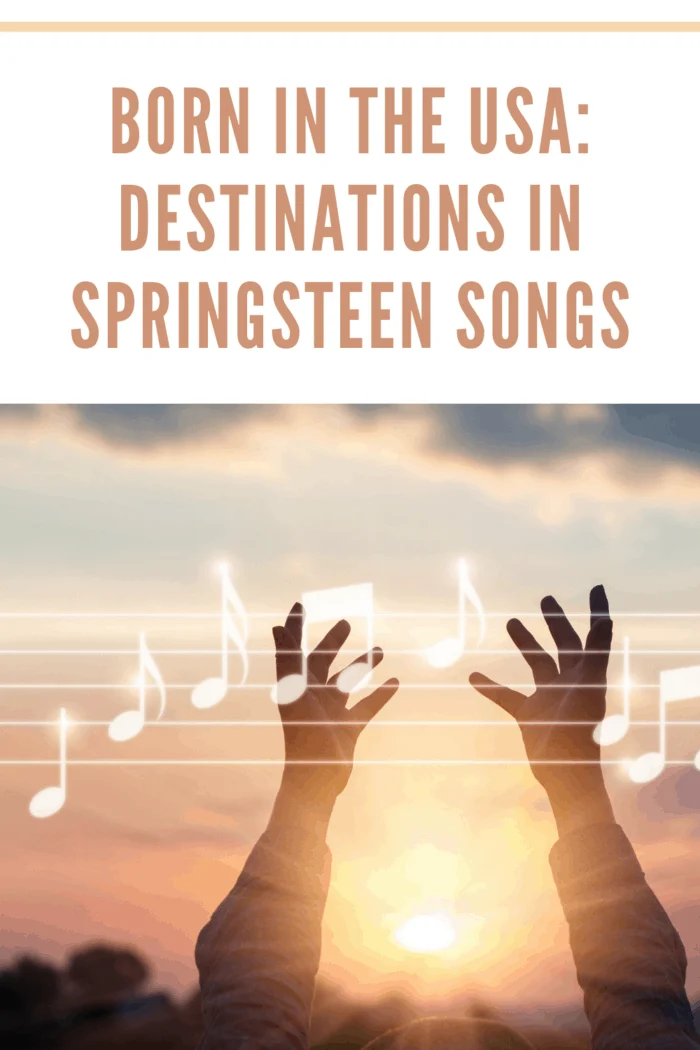 "The Promised Land"
In the very first line of "The Promised Land," Springsteen mentions 'rattlesnake speedway in the Utah-Nevada desert.'
Well, that doesn't seem too inviting, especially when you consider this song's main character gets lost chasing a mirage.
However, the Utah desert is heaven for an outdoor lover.
If you enjoy hiking, camping, and taking in the majesty of nature, be sure to stop in Moab.
Ride mountain bikes on the Intrepid Trail, go white-water rafting through Westwater Canyon and take a sunset hike through Fisher Towers Trail.
No mirages here. Just gorgeous landscapes and adventures of a lifetime.
"Badlands"
Although Springsteen's song about the Badlands focuses more on a state of mind than an actual place, Badlands National Park in South Dakota is a stellar pit stop to make on your Springsteen road trip.
The 40-mile drive on Badlands Loop Road takes you through its major sites for stunning views.
Park the car and embark on one of the park's epic hiking trails or stay behind the wheel as you look out for bighorn sheep and prairie dogs.
Take a detour of about an hour and a half and catch a glimpse of Mount Rushmore.
It's a part of America that many people don't get to see, so you might as well make the most of it.
"Cadillac Ranch"
Springsteen's song "Cadillac Ranch" is an ode to the cars we love and how they'll all eventually end up in a junkyard.
Well, Cadillac Ranch is a real place in Amarillo, Texas where Cadallics were "saved" from being sent to the junkyard and turned into art instead.
If you happen to drive through the Lone Star state, stop to see this row of old school Cadillacs buried hood first into the ground.
Over the years, people have left their mark on cars. So, if you bring some paint, you can become part of the history of this work of art.
—
As you can see, the Springsteen road trip can bring you all across America. Springsteen himself started from humble beginnings in the Northeast and eventually made his way to California.
So, make a Springsteen playlist, set your itinerary, and let's hit the road!
Sources
https://www.lonelyplanet.com/articles/destinations-in-springsteen-songs
https://www.npr.org/2019/03/26/706566556/bruce-springsteen-born-in-the-usa-american-anthem
https://medium.com/codait/mapping-the-songs-of-bruce-springsteen-bb7eccb5cfe1
https://www.theguardian.com/travel/2017/oct/18/10-best-bruce-springsteen-landmarks-new-jersey-us