Here's a fun mud pie recipe to create with your kids, and they will have a lot of fun eating it too! Enjoy this super easy Strange Magic Bog King Mud Pie recipe.
You might also like our dirt cup pudding cups recipe.
Ingredients
Cold Milk
Oreo Cookies
Gummy Worms
Chopped Walnuts
Instant Chocolate Pudding Mix
Chocolate Graham Cracker Pie Crust
How to Make Bog King Mud Pie with a Strange Magic Twist
Make the chocolate pudding.
Throw the cookies in a plastic bag and crush them to make 'dirt.'
Spread the pudding in the pie crust and sprinkle walnuts, cookie crumb 'dirt,' and gummy worms on top.
Refrigerate for a couple of hours, then dig in!
Be sure to check out our other great Strange Magic Recipes below:
Strange Magic Cookie Bars
Strange Magic Hot Cocoa
Plus, Strange Magic Printable Activity Sheets for kids!
About Strange Magic:
Strange Magic arrives in theaters January 23rd. My kiddos are on the edge of their seats.
"Strange Magic," a new animated film from Lucasfilm Ltd., is a madcap fairy tale musical inspired by "A Midsummer Night's Dream." Popular songs from the past six decades help tell the tale of a colorful cast of goblins, elves, fairies and imps and their hilarious misadventures sparked by the battle over a powerful potion.
Lucasfilm Animation Singapore and Industrial Light & Magic bring to life the fanciful forest turned upside down with world-class animation and visual effects. Directed by Gary Rydstrom ("Toy Story Toons: Hawaiian Vacation," "Lifted") from a story by George Lucas, "Strange Magic" will be released by Touchstone Pictures.
To add to the excitement of Strange Magic and make life a little more magical.
Let's start with the Bog King Mud Pie Recipe: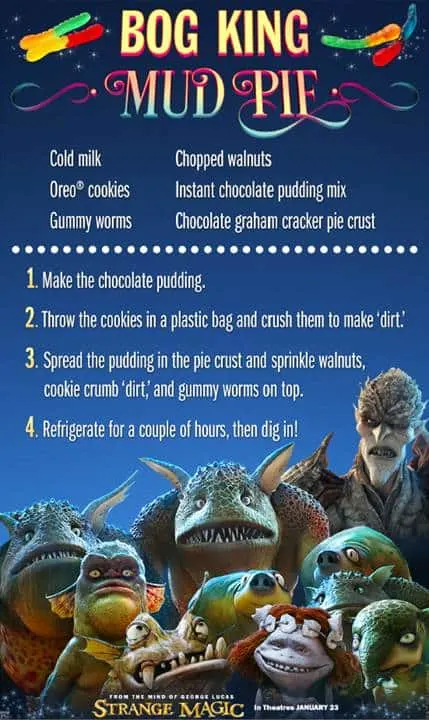 Click the image below to download and print the recipe.
#StrangeMagic Bog KING Mud Pie Recipe