Li'l Man is an outdoor child. As soon as the car arrives home, he flings the door open and heads out to explore the woods. Over dinner, his stories tell of creepy, crawling bugs, bird discoveries, and more. Backyard Safari Outfitters packs the perfect arsenal of toys and accessories to keep his adventures coming.
Backyard Safari Outfitters Sparks Creative Outdoor Play
I had to call him inside when the box arrived to open it. When the Cargo Vest came out, he put it on and was ready to roll. It is a must-have piece. He loves the cargo pockets and fills them to the brim daily with rocks, "diamonds," and other "artifacts" from his secret place. To him, the Cargo Vest offers an authentic look that makes his play genuine from the six D-rings and two shoulder epaulets, and he can clip and hang even more gear. His favorite thing about the vest is the clear chest pocket's contents–a Pop-Up Field guide!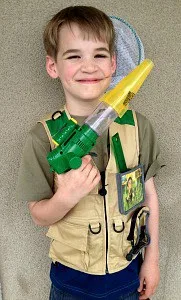 I pulled out the mini-scoop net as he was shooting his arm through the Cargo Vest. He immediately shared big plans of using this net to scoop up a butterfly to examine closely and the probability that this excellent adventure will have him plucking fish from streams still looms. The nylon mesh is light yet sturdy and, thankfully, floats!
There was tension and a heated "Dibbs!" calling as the Lazer Light Bug Vacuum came from the box. The possibilities of bug catching just entered the future with this bug vac, allowing them to light up bugs and suck them up for up-close examination with the built-in magnifying glass. There's even an extra nose cone for those huge bugs! Thankfully it also comes with a pop-up field guide, "The 7-steps to Bug Wrangling," which kept one of them reading while the other scored bugs.
Sitting on our shelf is the Land and Water Habitat. It's being saved for when they finally find tadpoles or a turtle! The clear dome will allow them a 360-degree view. It will be a penthouse for whatever lands in this piece of real estate with a built-in pool, sculpted terrain, and a great view of the kiddos that will be observing. The habitat allows the addition of scenic backdrops and transferring of bugs safely into the habitat with the added port that will enable them to doc the capture core from their Light Bug Vacuum.
It's all being observed through the Magnifying Glass. The kiddos are getting up close to look at plants, rocks, bugs, and more! Li'l Man loves that it includes built-in scales to help him measure his specimens and document them in his notebook.
Outdoor play has never been so much fun! Backyard Safari Outfitters is available at Toys R Us, Wal-Mart, Barnes and Noble, Amazon.com, and Target. Make it a season to remember!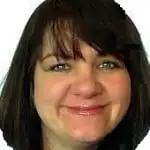 Julee is a quirky, dorky North Carolina Transplant with an appetite to taste the world, meet its desserts, and blog about them. When she's not behind the computer, you can find her playing with her family, reading a good book, being a Bon Jovi fangirl, and celebrating the little things.
Disclosure of Material Connection: I received one or more of the products or services mentioned above for free, hoping that I would mention them on my blog. Regardless, I only recommend products or services I use personally and believe will be good for my readers. I am disclosing this per the Federal Trade Commission's 16 CFR, Part 255: "Guides Concerning the Use of Endorsements and Testimonials in Advertising.".Julee Morrison