Although summer doesn't officially start until the third week of June, most of us start celebrating the summer season on Memorial Weekend. That's the time when we break out the grills, put on the white shorts and shoes and hang out on our backyard decks until our hearts are content.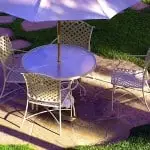 For some of us, however, our backyards are not as fun as they could be. That's because we haven't "summer-ized" it yet. If you're wondering what you can do to get your backyard ready for fun in the summer sun, check out these three cool tips:
Landscape your lawn. If a lot of us are really honest with ourselves, we'll admit that we tend to put more energy into our front yards because that is what people tend to see the most often. Yet, when it's summertime, very few people of us hold parties on the front lawn, right? No, most of us actually feel more comfortable hanging out in the back. This means that there has to be landscaping that's done. You can hire a professional landscaper for yard work, for consultation purposes or you can even do some of the work yourself. LandscapingNetwork.com has a ton of ideas as it relates to all three options.
Clean your patio furniture (or purchase some more). In looking at the patio furniture that's on your deck, in hindsight, you probably wished that you had put it all in the garage during the winter months. Consider it a lesson learned. But for this summer, you can go one of two routes. If you really like your patio furniture or you're on a strict budget, you can clean it yourself by mixing a teaspoon of dishwashing detergent with one quart of warm water and one tablespoon of borax. It's great for washing outdoor cushions and chair backs. For colored plastic, the cleaning recipe would be a gallon of warm water mixed with three tablespoons of dishwashing detergent. Of course, if you can afford to make some new purchases, late spring-early summer is the time of year to get some pretty good deals both in the stores and online.
Accent your yard. There are all kinds of things that you can add to your backyard to liven it up. There are bird baths, weather stations, big umbrellas, potted plants, home automated lighting and, of course, don't forget about man-made ponds and outdoor fountains. By adding some kind of "water accessory" to your backyard, there are several benefits. For one thing, it's beautiful to look at. Another benefit is that it's a great way to irrigate your lawn and provide water for your outdoor pets. If you opt to purchase a solar powered fountain, it's also good for your wallet because it doesn't require any electricity to keep it running; it gets all of its energy from the sun. Just like with any other accent, there are a large variety of fountains to choose from. If you would like to do a bit of "online window shopping", check out HomeDepot.com, SimplyFountains.com, SerenityHealth.com and Overstock.com.