It's 3:42 pm, and my after-lunch slump has kicked in. Awake Chocolate just arrived, so it is the opportune time to fight the slump and put Awake caffeinated chocolate to the test.
I'm forfeiting the Keurig K-cup or expensive brick-and-mortar drive-thru to see if this chocolate has that caffeine kick.
What is AWAKE Chocolate?
Out of the wrapper, I can tell you it is a delicious chocolate that promises caffeine. ONE small chocolate bite is equivalent to a HALF CUP of coffee.
It's what the label says!
A caffeine alternative that ends the slump and gets me out of the coffee shop line? Yes, please!
Awake comes in chocolate bars and chocolate bites. Awake Chocolate has the same caffeine content as coffee or your favorite energy drinks.
The packaging is adorable and features the AWAKE official spokesperson Nevil, "the intelligent, wry, and energetic owl who never sleeps."
I committed to give up my morning caramel macchiato and afternoon cup of Joe for a week and skip the brick-and-mortar coffee place, replacing it with AWAKE caffeinated chocolate bites.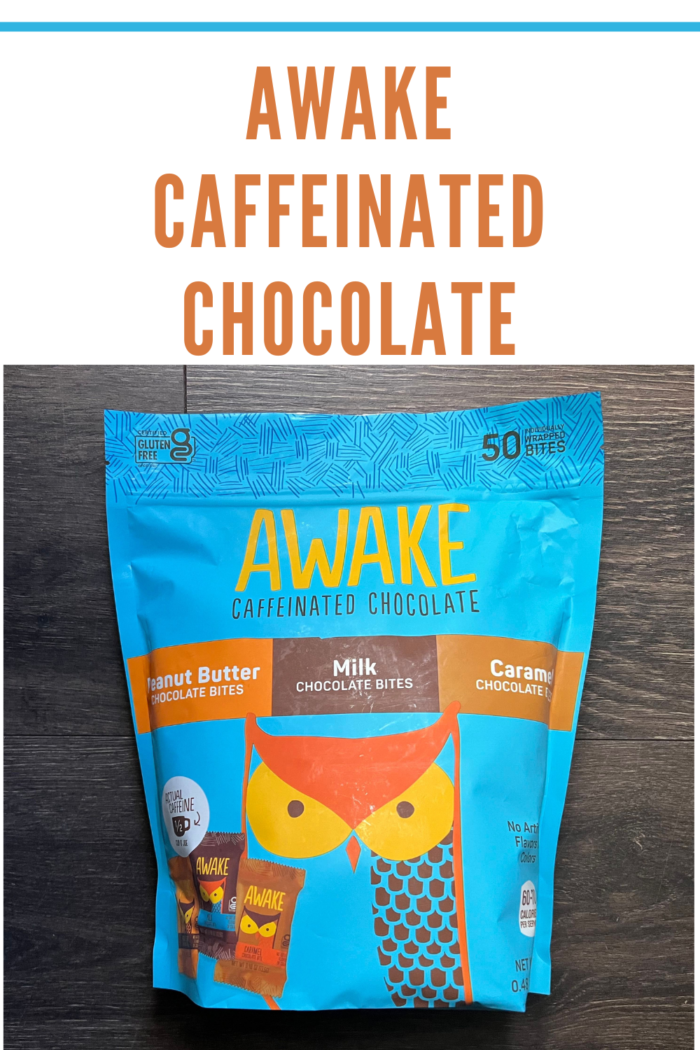 AWAKE Chocolate Taste:
On a holiday chocolate scale, these Awake bites rank worthy of EASTER chocolate. It's actually much better chocolate than I was expecting. It's indulgent!
Also, I expected these chocolate bites to be bitter, but they are not. The caffeine adds some complexity to the chocolate's taste.
There are three flavors of Awake Chocolate:
Milk Chocolate

Peanut Butter
Caramel
I like them all. I am a die-hard caramel fan, and Awake Caramel does not disappoint.
Every flavor is indulgence!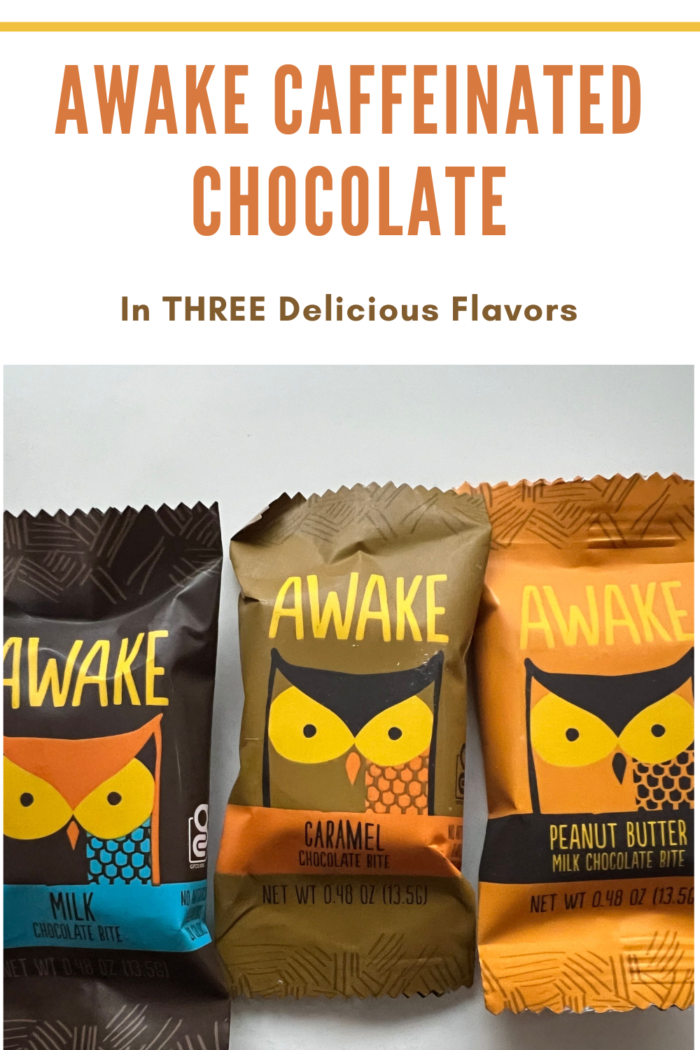 The Pros
I love the convenience of Awake Caffeine Chocolate. When the slump hits, I can grab one or two and take a little "break" of deliciousness.
I also appreciate that the caloric consumption is far less with Awake than with my typical fancy coffee.
I'm not opposed to chocolate over coffee in the morning, but I mainly used Aware Chocolate in the afternoon when I needed help getting my motivation back.
The Cons
I noticed if I ate more than two of these in a sitting, I experienced a headache. It's serious caffeine. My coffee habit, I can drink coffee all day and not experience a headache. Perhaps it's the concentrated caffeine or trying to decipher how much caffeine your usual beverage has–Spoon University did the work for us. According to Mayo Clinic, there is between 95-165 milligrams of caffeine in an average cup of brewed coffee.
Note: For those with peanut/nut allergies, you may want to read the ingredients before trying this out.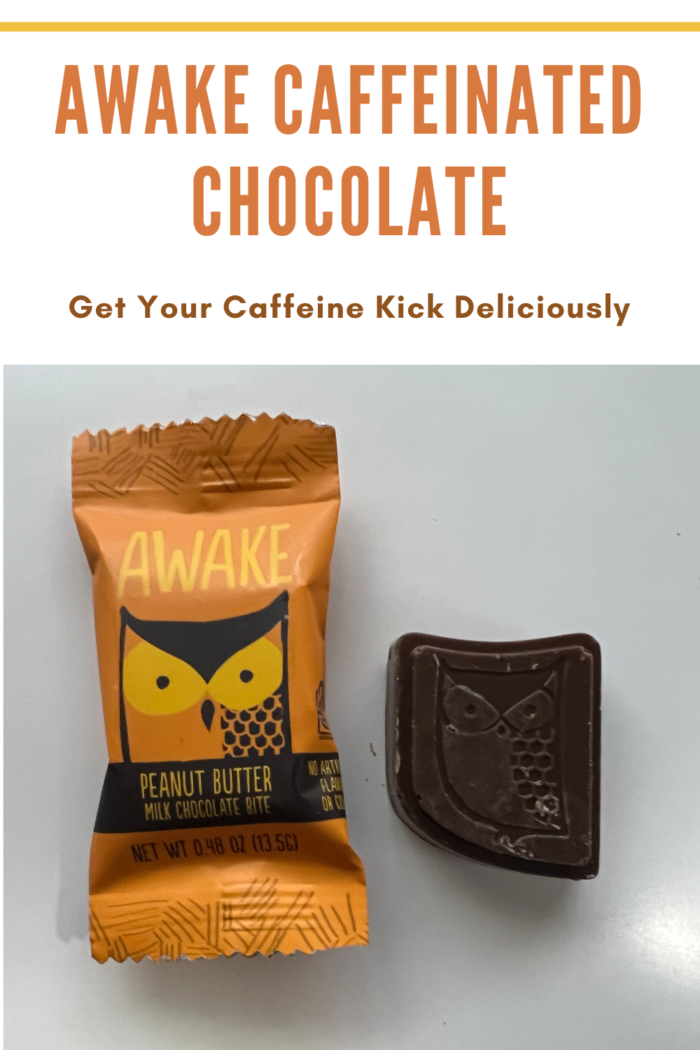 Awake Review
All in all, this little caffeine bar packs a punch. They are delicious chocolate and a fun way to get the caffeine kick. They are budget friendly compared to the everyday coffee at the local brick-and-mortar. You may not get the same results if you have a greater caffeine tolerance, but it's worth trying.
American consume 400 million cups of coffee, says the Huffington Post.
Market Watch estimates that an average cup of coffee costs about $2.99. Awake Chocolate can help caffeine junkies get their kick AND save money.
I get my boost about 10 minutes after eating an Awake Chocolate Bite. Maybe slower than a cup of coffee, but it does work. I also feel the "let down" doesn't bottom out as hard or quickly as my cup of coffee.
One of the things I REALLY am a fan of is I can pack Awake in my purse, and I don't have to pull off the highway or make an extra stop to get some caffeine. It's caffeine where I am and when I want it.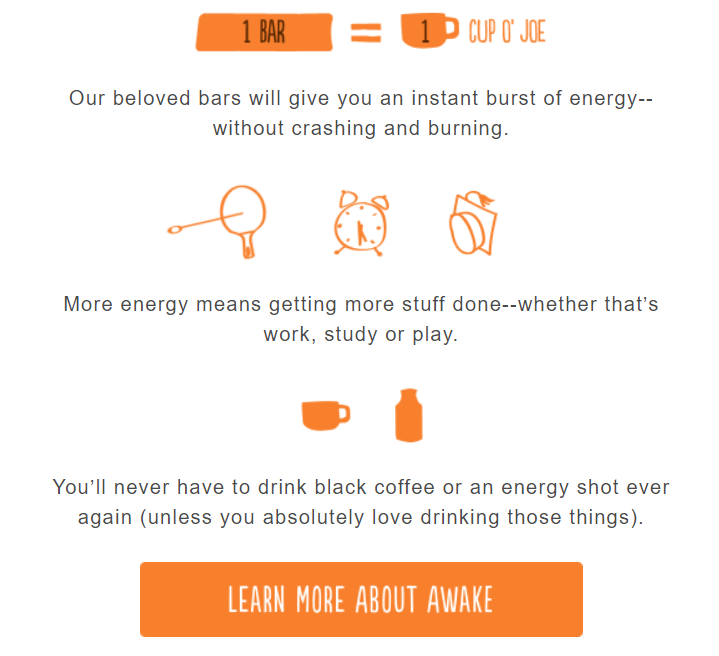 How Much Caffeine is in an Awake Caffienated Chocolate Bite?
Each AWAKE Chocolate 0.58 oz per bite has the amount of caffeine equivalent to ½ a Cup O' Joe.
There is also an Awake Chocolate Bar equal to the size of two Awake Chocolate Bites, and it holds the same amount of caffeine as one Cup O' Joe.
What are Awake Chocolate Nutrition Facts?
As a fan of Coca-Cola and cupcakes for breakfast, eating chocolate bites for breakfast may not be a good start, so consider nutrition in each Awake Chocolate Bite.
NUTRITION FACTS:
Total Calories: 70 (0.58 oz per serving)
Total Fat: 4.5 g
Cholesterol: 0 mg
Sodium: 10 mg
Total Carbohydrate: 10 g
Protein: <1 g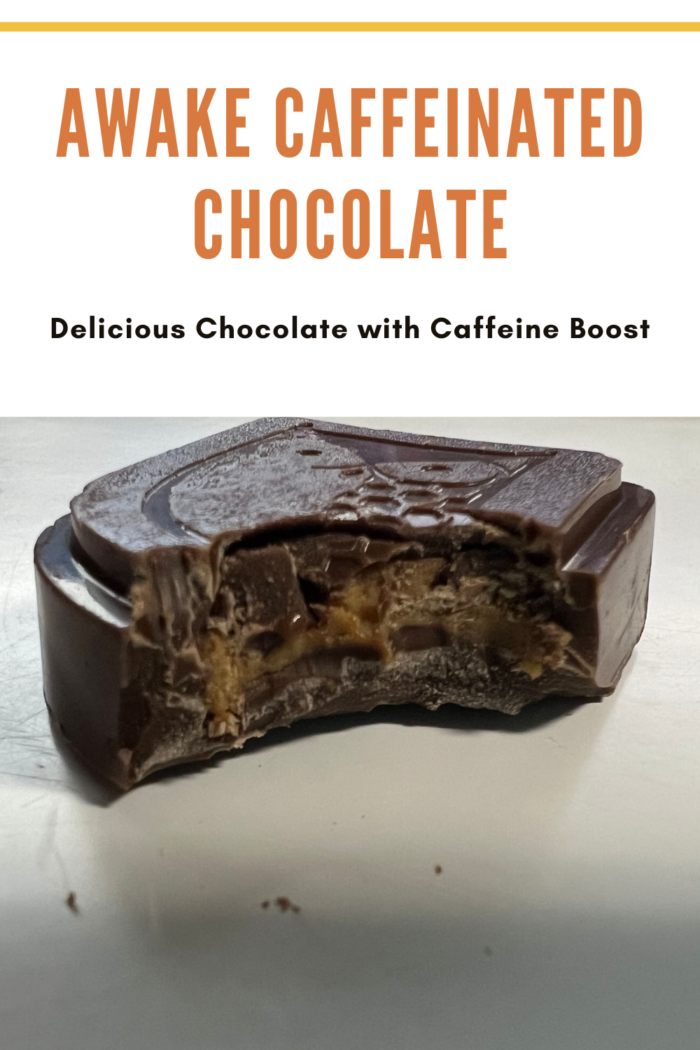 Where Can You Buy AWAKE Caffeinated Chocolate Bars and Bites?
The best place to buy Awake Chocolate is directly from the Awake Chocolate website or on Amazon.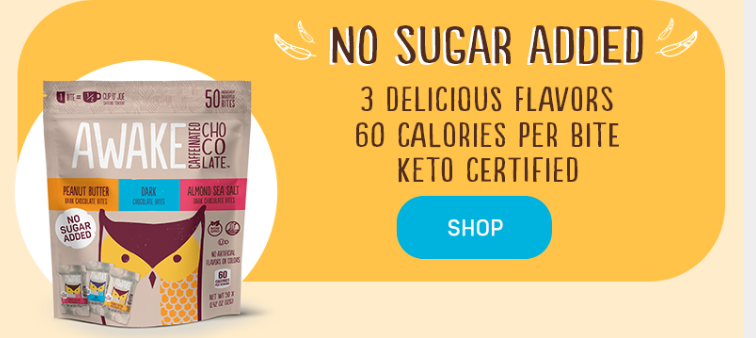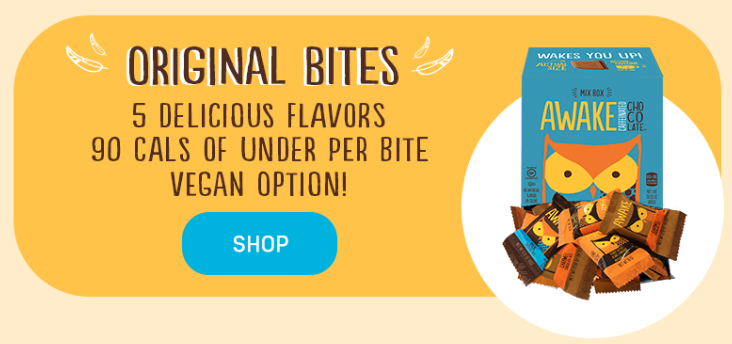 Take advantage of Amazon's two-day shipping and get your Awake Chocolate bar delivered right to your doorstep.