Quench Your Thirst with the Ant-Man and the Wasp: Quantumania Ooze Drink Recipe! 🍹🐜
Get ready to experience the taste of the Quantum Realm with our electrifying Ooze Drink recipe inspired by the epic film Ant-Man and the Wasp: Quantumania! Sip on this refreshing and mysterious concoction as you embark on your own Quantum-sized adventure.
Ooze Drink Highlights:
Mind-Bending Flavor: Immerse yourself in a taste sensation that captures the essence of quantum.
Energizing Ingredients: Discover a blend of tantalizing flavors and invigorating elements that will awaken your senses.
DIY Adventure: Follow our easy step-by-step recipe to create your own Ooze Drink at home.
Discover the Essence of the Quantum Realm in Every Sip!
Don't miss the opportunity to taste the essence of the Quantum Realm with the Ant-Man and the Wasp: Quantumania Ooze Drink. Unleash your inner hero, share the experience with friends and family, and let the Quantum Realm's energy flow through you!
Step into the Quantum Realm and Create Your Ooze Drink Now!
Click the link below to access the Ooze Drink recipe and embark on a flavorful journey. Get ready to sip on excitement and refreshment like never before! Don't wait—start mixing your own Ooze Drink today!
How to Make Your Ant-Man and the Wasp: Quantumania Ooze Drink: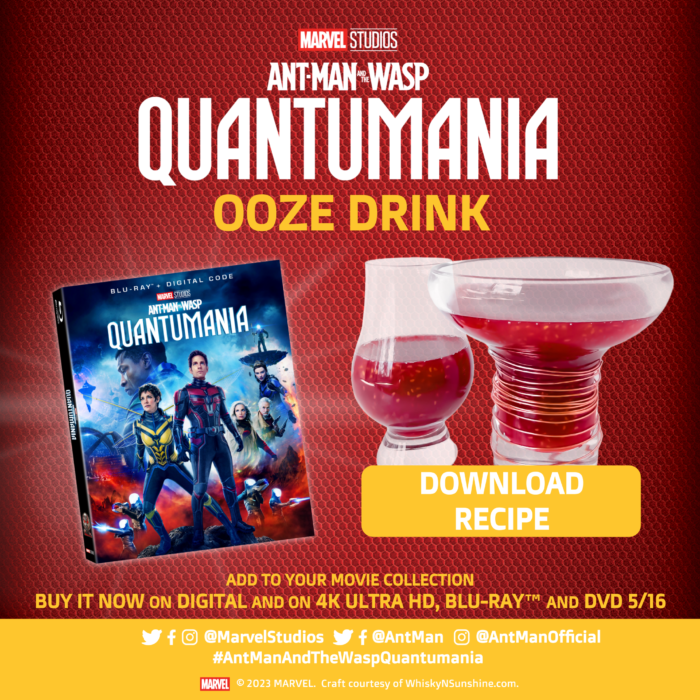 Ingredients:
6 oz fresh raspberries,or frozen thawed
1/2 cup sugar
1/3 cup water
1 packet unflavored gelatin
Saucepan
Spoon or potato masher
Heat resistant bowl
How To Make Ant-Man and the Wasp: Quantumania Ooze Drink
In a small saucepan, add all ingredients. Stir and mash berries with a spoon or potato masher. Over medium-high heat, bring to a boil. Boil for 3-5 minutes or until berries begin to break down and the mixture begins to thicken. Transfer the mixture to heat resistant bowl and cool on the counter until room temperature. Serve immediately or cool and store in the refrigerator for up to 5-7 days. Makes4 small Ooze servings, not guaranteed to help you understand alien languages.
Ant-Man and the Wasp: Quantumania Ooze Drink recipe

Don't Forget to Catch "Ant-Man and the Wasp: Quantumania" on Digital and Blu-ray!
After enjoying the mind-bending activities, make sure to watch the epic film itself! Join Scott, Hope, and their incredible family on the big screen as they take on Kang the Conqueror in their most daring adventure yet. Available on Digital and Blu-ray, this action-packed movie will leave you on the edge of your seat!
But wait, there's more! Blu-ray purchases include exclusive bonus content like deleted scenes, a gag reel, and director commentary!
You can also watch this movie on Amazon Prime.
Film Synopsis:
In "Ant-Man and the Wasp: Quantumania," the dynamic duo of Scott Lang (Paul Rudd) and Hope Van Dyne (Evangeline Lilly) return as Ant-Man and The Wasp to embark on an electrifying new adventure. This time, they join forces with Hope's parents, Janet Van Dyne (Michelle Pfeiffer) and Hank Pym (Michael Douglas), as well as Scott's daughter Cassie Lang (Kathryn Newton). Together, they set out to explore the enigmatic Quantum Realm, a realm of infinite possibilities and untapped power.
As they navigate the perilous dimensions within the Quantum Realm, our heroes encounter peculiar and mysterious creatures, unveiling a whole new world full of wonders and dangers. However, their journey takes an unexpected turn when they come face-to-face with their greatest adversary yet: Kang the Conqueror (Jonathan Majors), an all-powerful and formidable force determined to conquer everything in his path.
With the fate of not only their own reality but also the entire Marvel Cinematic Universe at stake, Ant-Man, The Wasp, and their remarkable family must rise to the challenge and push themselves to the limits. As they confront Kang's devastating power, they must rely on their wit, courage, and unity to outsmart the conqueror and protect all that they hold dear.
Directed by Peyton Reed and produced by Kevin Feige and Stephen Broussard, "Ant-Man and the Wasp: Quantumania" delivers a thrilling and action-packed cinematic experience. Prepare to be captivated as the heroes journey into the unknown, discovering extraordinary abilities, facing extraordinary threats, and unleashing extraordinary heroism in their quest to save the world from the clutches of Kang the Conqueror.